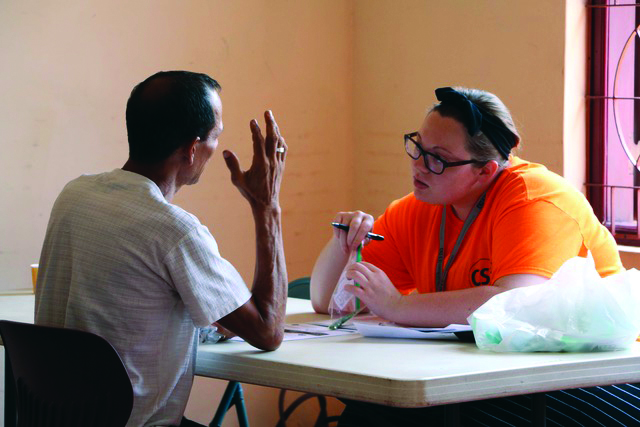 "I've always loved missions work," said Sis. Jessica Driggers of Indianapolis, Indiana. "When I was younger, my brother went on a missions trip to Trinidad and Tobago. It sparked something in me." That spark quickly turned into three Global Missions AYC trips. After high school, Sis. Driggers attended Indiana Bible College for a time before she felt a change of direction. She then followed her passion for missions but paired it with nursing. She graduated with her BS in Nursing from Anderson University and worked in an ICU for three years, gaining valuable experience in the medical field. While working as a nurse, she sought the best way to join her calling to nursing with her calling to missions.
When Compassion Services International (CSI) announced Southeast Asia as its medical missions destination for the summer of 2018, Sis. Driggers knew immediately that she wanted to be involved. For the first time, CSI partnered with Global Missions Next Steps, which promised a valuable synergy. "It was my first time with CSI; I was so excited and it was a great partnership with Next Steps," she said.
During the health fairs in Asia, Sis. Driggers focused on health education. The medical fairs were usually held at local churches, which helped the churches, local ministry and Next Steps team make new connections within the community. Of the partnership, Sis. Driggers observed, "It allowed the Next Steps members to see a different aspect of missions. It showed them how beneficial a program like CSI can be through disaster relief, medical attention and education." In certain areas of the world, proselytizing is illegal. Humanitarian aid of all kinds, but especially the personal connections made through medical fairs, builds bridges of trust that would not otherwise exist. "That's the aspect of CSI I love the most," she said. "We go to tend to needs while simultaneously opening the door to reach souls."
The health fairs usually began with a line of people wrapping around the block. That was both encouraging and disheartening. "The truth is that for every person we aid, there will always be another person in need. It's easy to wonder if it's worth it," she said. "But just when I was feeling discouraged, God sent a man through my line that uplifted me. I gave him basic education for a health condition he had suffered with for years. The man looked at me with tears in his eyes and said, 'No one has ever told me these things. I've taken pills for years but have never been taught this way. Thank you for helping me.'"
Sis. Driggers advised that "if missions work is what you are led to do, then do it wholeheartedly. Approach it in prayer and discuss that burden with your pastor. Then find a way to get involved. If you've never gone on an AYC trip, go on an AYC trip! There are all kinds of ways to get involved in missions — CSI just happens to be my favorite."
To find upcoming medical missions trips and ways to get involved with CSI, visit compassionservices.org.