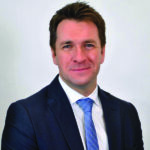 Rev Jason Gallion
Let My People Go
Exodus 5:1 reads, "And afterward Moses and Aaron went in, and told Pharaoh, Thus saith the LORD God of Israel, Let my people go, that they may hold a feast unto me in the wilderness."
This passage illustrates the beginning of God's deliverance for His people. As Bishop Harvey Goodwin commented, "Their ultimate settlement in the land of promise, bears a striking analogy to the history of the human soul."
When God said, "Let my people go," it spoke volumes. He is personally claiming these unwanted slaves, the lowest of the low by human understanding. God saw these people at their worst, and yet, He had chosen them. It seems that, on occasion, the Israelites had forgotten that they were God's people. But through this process with Pharaoh and the plagues, God showed them that not only were they His people, but He was also their God.
When we are God's people, we are not bound by the things of man. We are not controlled by the thoughts of secularism or destined to cave to the snares of the enemy. God has claimed us as His own, and that claim allows us to have confidence in who we are in Him.
The aforementioned writer continues, "That which forms the basis of the Holy Scripture is the fact that man committed sin. He rebelled against his Maker, and became the slave of one to whom he owed no obedience."
To this, God says, "Let my people go." This connects us directly to the New Testament in such an incredible way. God is proclaiming to every human being, "I can deliver you from the bonds of sin and slavery." That deliverance comes through the gospel message, and that is the message we Apostolics must continue to preach.
The opening of this passage has resonated with me repeatedly. First of all, God has established His people. In doing so, He desires that they would establish Him as their God, being obedient to His Word in covenant relationship. Secondly, God gave them a promise. When He declared, "Let my people go," He was proclaiming victory through deliverance from slavery, and subsequently, blessing in the Promised Land.
The journey to the Promised Land begins with repentance, baptism in the name of Jesus, and the infilling of the Holy Ghost evidenced by speaking with other tongues. These are essential, but we do a disservice to people when we seek to convert them, only to leave them at this experience. After deliverance from slavery, they will need help in their journey from Egypt to that land of promise, where streets of gold and pearly gates await. It will be the fulfillment of everything that Scripture promises it will be, and it all starts when God declares, "Let my people go."