Compassion Services International (CSI) is an endorsed ministry project of the United Pentecostal Church International (UPCI) that provides a direct pathway by which we can reach out to those suffering and in need around the world through medical missions, and humanitarian, disaster and hunger relief.
According to the Bible, Jesus Himself stated, "It is more blessed to give than to receive." This seeming contradiction is woven throughout the scriptures as we see people give to meet the needs of others. Giving — both in times of abundance and sacrificially — is a foundational principal of Christianity. Paul said it well in Acts as he instructed the body to labor together to support the weak.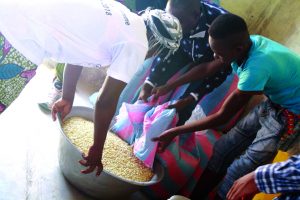 "And now, brethren, I commend you to God, and to the word of his grace, which is able to build you up, and to give you an inheritance among all them which are sanctified. I have coveted no man's silver, or gold, or apparel. Yea, ye yourselves know, that these hands have ministered unto my necessities, and to them that were with me. I have shewed you all things, how that so labouring ye ought to support the weak, and to remember the words of the Lord Jesus, how he said, It is more blessed to give than to receive. And when he had thus spoken, he kneeled down, and prayed with them all" (20:32-36).
This is the purpose and mission of Compassion Services International (CSI): to provide a means by which we can work together to support those who have been weakened by and suffered natural disasters, political turmoil, ethnic, racial and religious persecution.
One way you can help now is by participating in Compassion Sunday 2019.  Every year the UPCI designates the last Sunday of February as Compassion Sunday to raise awareness, funds and support for Compassion Services International. This year, Compassion Sunday is February 24, 2019, but pastors, churches and ministries are welcome to move that date as best fits their respective schedules. Churches that give offerings and donations to CSI's international relief efforts may receive direct offering credit from UPCI Global Missions.
CSI was started in 1986 by the Foreign Missions Division of the UPCI (now UPCI Global Missions) and since 2008 it has functioned as a bona fide separate non-profit corporation and IRS recognized 501(c)(3) tax-exempt organization.  One of CSI's founding board members, Rev. Edwin Judd, was quoted as saying: "The ministry of COMPASSION must be ongoing. Let us love 'in deed.'"
The funds raised on Compassion Sunday enable CSI to continue meeting ongoing needs, like CSI's Feed Our Family campaign, which provides food and other supplies to areas devastated by famine. CSI's Feed our Family campaign was started when CSI became aware that the recent famine in Africa had claimed the lives of thousands of individuals including the wives of two Apostolic pastors, both of whom died from malnutrition-related illnesses. In addition, it is important for CSI to be ready to send teams prepared to immediately respond when unexpected disasters strike.  Your continued gifts help make all of this possible.