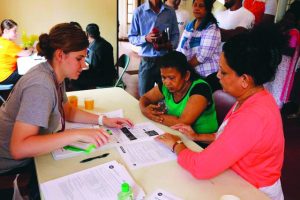 Jane-Claire Turner knew she wanted to be involved in missions since she was a child. Yet, it wasn't until a high school Anatomy class that she realized her love for science and medicine. While she may have followed that inclination into research, she chose a path of medicine because of the complement to ministry. "Nursing is where I could bring the two things together, to be involved in science but also be people and ministry-oriented as well," she said. Today, Sis. Turner holds a B.S. in Nursing from Marian University, a B.A. in Biblical Studies from Indiana Bible College, and is currently pursuing a Master of Science in Nursing and a Masters Certificate in Global Public Health from Cedarville University. This past summer, she participated in the CSI and Next Steps partnership during the Next Steps trip to Sri Lanka. Her involvement in the Next Steps and CSI partnership was a coalescence of preparation, passion and divine purpose.
The path to Sri Lanka included many AYC trips; four specifically. Her first AYC trip in 2012 was to Russia, El Salvador in 2013, Sri Lanka in 2014, and Thailand in 2017. When asked about her decision to join Next Steps, she said, "It really started when I went to Sri Lanka in 2014. I really felt at home." Still vivid in her memory, she recounted the words a man from a local church spoke to her on that trip, "The same God that you serve in America is the same God we serve here in Sri Lanka. America is your home, but Sri Lanka is your home too." Sis. Turner's feeling for the people of Sri Lanka is apparent in her voice when she speaks. She said, "When Next Steps announced they were going to Sri Lanka, I knew that was the right step." When she applied for Next Steps in the summer of 2017, she had no idea it would be more than a return to Sri Lanka and doing missions, but it would also include the opportunity to join her medical expertise through a joint effort with CSI. "I had wanted to do CSI for a long time as well, so it was kind of crazy how everything aligned," she said.
In Sri Lanka, Sis. Turner arrived with the Next Steps team, became acquainted with the churches and helped Dr. Camra Faulkner prepare for the upcoming health fairs. At the health fairs, Sis. Turner worked with an interpreter from a local church to educate people about improving their wellness, tailoring each conversation to their medical screening results. Of the health fairs, she recalled, "It was a really busy atmosphere, but it was one in which we made connections quickly. One of the most beneficial things was to use church members as translators to connect them to the community."
Reflecting on the results of the CSI, Next Steps and local church cooperation, Sis. Turner said, "It did a lot to connect the church with the community and put their name out there more. I think it showed the heartbeat of the church in a way they hadn't necessarily been able to express before. As a whole, CSI did that and connected them with a lot of people who came to church in the weeks following." A couple of weeks after the health fairs, one couple walked into the church the Next Steps team was at during pre-service prayer prior to a midweek service. They approached the ministers of the church, spoke with them and asked for prayer. During the conversation, they said they had both attended the CSI health fairs. Though the CSI medical volunteers had left at that point, Sis. Turner, still there with the Next Steps team, witnessed one example of the lasting effects of the health fairs.
In the short-term, she is focused on getting through school and becoming a nurse practitioner. Long term, she desires to be a part of a system that allows healthcare professionals to use their career skills in missions evangelism. She stated, "I would love to see missions use healthcare outreach as an evangelism tool. Being in Sri Lanka, I saw how it could work. I want to be a part of making that possible in every missions field." Regarding how that can happen, she continued, "We need a lot of people who will catch the vision and see how God will use us in a unique way. I feel there are a lot of healthcare workers in our movement who want to get involved, but they are not sure how or where to do it." Her advice to others considering involvement is, "Find a place where you can contribute and jump in with both feet and see what God will do."