The Church Triumphant 
Transcribed by: Gregg Stone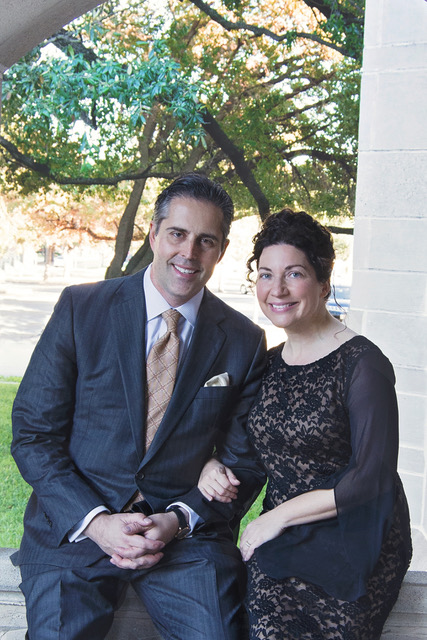 Pastor and First Lady Siscoe
Honor God, Love People, Transform the World. This is the mantra and mission of The Church Triumphant, located in Pasadena, Texas, a suburb of Houston.   Pastored by Rev. Jason and Kimberly Sciscoe, The Church Triumphant is passionate about The Great Commission and making disciples. Bro. Sciscoe says, "With Houston being the most multicultural city in the United States, we think globally and act locally at the same time.  We are a multilingual, multicultural church with a big heart. Our biggest consistent compliment we receive is that people feel the love of God in our church.  We view our main campus as a sending center. Our vision is to reach the nations around the world and the nations in our backyard. We are believing God for an endtime, world-wide, Jesus name revival."
Personal History
Growing up in Racine, Wisconsin where his dad, William Sciscoe was pastor, Bro. Sciscoe was not only exposed to many powerful preachers, his dad was also a great example to follow. "My dad has always been a powerful influence in my life,"  said Bro. Sciscoe. "He started preaching the gospel to me when I was four and I received the Holy Ghost when I was five. I received the Holy Ghost during the preaching of one of my favorite evangelists. He promised to preach about Sampson if I would stay awake all service. When I started to get tired, he would give me a look. I started praying to stay awake and ended up getting the Holy Ghost."
I felt the call to ministry when I was eight years old and preached my first sermon at age 12. I preached for five minutes when I was 12 at a kids church event, but my first formal sermon was preached to my high school Sunday School class at the age of 15. I preached my first revival for Murrell Cornwell at age 16, and I have been preaching ever since. I became a full-time evangelist straight out of high School and held my first extended revival at 19. I preached 33 times in 31 days. At 19, I also did my first summer mission trip to Russia. I went to Australia, Ethiopia, Israel, and Greece. I preached singles conferences, Holy Ghost crusades and revivals in more than 20 states in my early twenties. At age 24, I was blessed to be able to minister in Ethiopia to more than 100,000 people. At 25, I was honored to preach at our General Conference, then spent three weeks in England preaching and teaching with Bro. James Dallas.  My most significant ministry event, however, was when I married my best friend and prayer partner Kimberly Brown at 25. We enjoyed evangelizing our first five years of marriage. At 30, we were voted co-pastors of The Apostolic Church of Beaumont, TX with Rev. Marvin Cole. We learned a lot during our four years there and developed lifelong ministry friendships. In 2004, we moved to Dallas, TX and founded Triumph Ministries International Network. God blessed us with our daughter Julianna in 2005. We developed ministry resources, and traveled full-time domestically and internationally for seven years. Our long-promised son Kaleb came at the end of 2011. We were then voted in as Lead Pastors in Pasadena, TX in February 2012."
Knowing what you are called to do and not called to do is important. "I have tried my best to be true to what God called me to do," said Bro. Sciscoe. "What was I born to do? How can I make the biggest impact? I have been blessed with many great teachers and mentors and they exposed me to realms I did not know existed. At the highest level is love, the most universal truth of the gospel. Knowing love and living love are two different things. My #1 lifetime goal is to love like Jesus loves."
Principles of Growth & Revival
Having sat on many revival and prayer committees, Bro. Sciscoe has a simple approach to growth and revival, one that connects with people and they always respond to – Love! "Apostolic ministry, leadership development, and genuine love for people is key," said Bro. Sciscoe. "We live our mission statement – Honor God, Love People and Transform the World. We target people who are hungry to learn and grow; whether it is someone who has never known or obeyed the gospel or a long-time member. I love being with and teaching people who are hungry for God."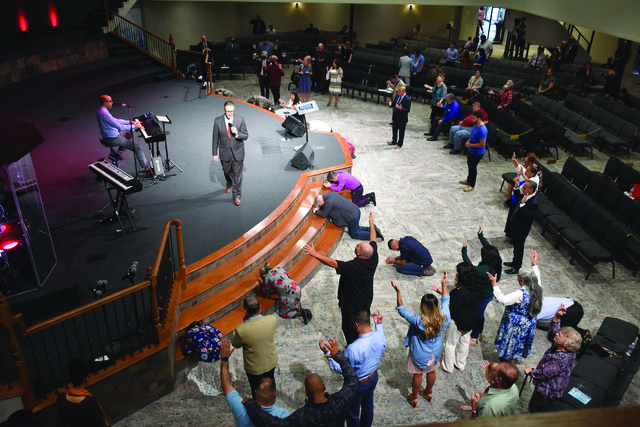 "Our goal is to be a disciple-making church: to be disciples who make disciples. We accomplish that through relevant teaching, preaching and our
discipleship process. Our discipleship program, Discipleshift, has four levels. Each level lasts six weeks and consists of 50% teaching the Word and 50% group discussion of the content. Classrooms are designed in a relaxed setting that promotes participation. Relationship building through weekly accountability with peers and teachers are our power tools that aide in the transformation of students taking in the Word
of God. In level four, students learn how to effectively be a witness by crafting their testimony, overcoming fears of talking to people, role playing and learning how to teach a Bible Study. It is very hands on.  Many in this level, actually make their first disciple. After that, they are hooked.  With Discipleshift, we're doing less event-based evangelism and doing more small group and one-on-one disciple making. The best part is that we are keeping much more of our harvest. We see evangelism as a lifestyle and core value of The Church Triumphant. Every person that goes through our disciple
ship course is taught the importance of being evangelistic. In addition to discipling our new members, we are in the process of bringing our whole church family through the 24-week discipleship course." Discipleship is THE biggest focus of our church. The course is so coveted, that we consistently have a waiting list to get in. It is an amazing program designed by members of our church Cameron and Mikelle Secord and you can see a sample of this program at Discipleshift on the app store."
Altar Filled With Hungry Souls                                          
Organization & Management
Organizational management refers to the art of getting people together on a common platform to make them work towards a common pre-defined goal. This is key to keeping a church, with a host of ministries, working like a well-oiled machine. "We do a lot of people grouping, online reports, communications and surveys through our church online management system, Breeze," explains Bro. Sciscoe. "Job descriptions are clear but can be flexible. They are written, discussed, and adjusted during the year as needed.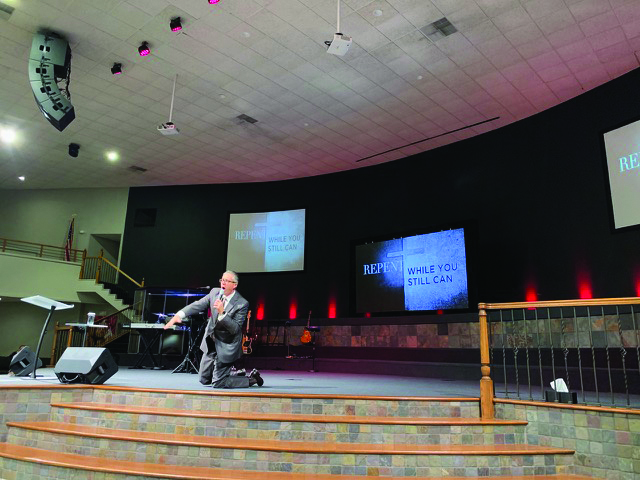 We conduct leadership trainings and have used Colors, Strength Finder 2.0, Meyers Briggs, Five Dysfunctions of a Team, 17 Laws of Teamwork, as well as our own curriculum-The Happiness fac
tor. Most recently, we've enjoyed Working Genius.com.  We conduct weekly strategizing and planning meetings with our Lead Team and Creative teams. We also do quarterly and annual strategizing meetings with our Core Team (department heads, ministry team leads) for implementing a new focus or event."
Involvement is crucial and Bro. Sciscoe has a variety of ways to connect people and get them involved in kingdom work. "The goal is to get everyone involved in Bible Studies, discipleship and serving soon after they've been to our bi-monthly Join the Family luncheon," says Bro. Sciscoe. "During the luncheon, we introduce who we are as a church, our mission, vision, culture, and core values. We also find out the interests and talents of our new members. With involvement comes purpose, accountability, commitment and best of all, joy.  Because of COVID, we have lost some momentum in the area of serving. During the shutdown, we focused on ways our church family could serve from their home and in their community. Since we are back to in-person services, we are pulling our serve teams back together and recruiting new volunteers.
Pastor Siscoe Preaching                        
Special Miracles
There are many testimonies of financial miracles, bonuses, raises and blessings from unexpected sources as a result of the giving hearts of the The Church Triumphant family,  "However, Our greatest miracles are our conversion stories," said Bro. Sciscoe. "We have ex-everything in our church family – prisoners, prostitutes, addicts, and everything in between.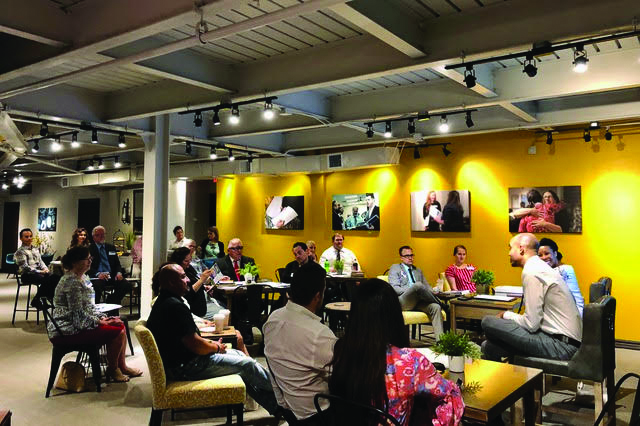 The before and after testimonies are our favorites. We also have been involved in special events that have been a blessing to our community as well as us. During Hurricane Harvey, we served 5,000+ people in our community. We were a distribution center for several weeks, and $1.5 million worth of goods were donated to us from multiple sources and given to those effected by the storm. We were also a shelter for two days housing 30+ people in our building and a temporary hospital for three days. One month later we baptized 156 people in Jesus name in one weekend. We were baptizing them five or six at a time in an outdoor, inflatable pool. To God be the glory! Our annual missions conference is a big highlight of the year. We give sacrificially to the global church, and in return, our local church is incredibly blessed. Sometimes we give by going and often we go by giving."
Current Facility
Located in the historic district of Pasadena, the church was established when the heart of the city was vibrant and thriving. The building has remained there through the years, closely connected to local government buildings. They share a parking garage with a neighboring police station on one side and the municipal government building on the other. "The Church was founded in 1951 by Bro Galloway," explained Bro. Sciscoe.  "In 1962, Rev. Arless Glass became the Pastor. His son Rich worked alongside his dad for almost twenty years before becoming pastor. Rich Glass was lead pastor for seven years before I came. We were elected in February 2012. Because Arless Glass had given fifty years into the foundation, it was strong and easy to build upon. He remains our beloved Bishop. We have a beautiful relationship that I treasure."
The building has been through three additions, and it is now as big as it can go in the present location. Bishop Arless Glass oversaw all the additions," explains Bro. Sciscoe." He wanted the building to be hurricane proof, and because of that, there are very few windows. It has a unique rectangular configuration due to the expansions. There are three floors which makes the most of our space. We couldn't expand out further, so we expanded up. The main floor has a large commercial kitchen, fellowship hall, Cafe1030 (coffee shop and bookstore), staff offices, four discipleship rooms, and a sanctuary that seats 950 when all the chairs are out. Our second level has a nursery on one side and a large storage area on the other side. On the third floor, there are fourteen Sunday School classrooms, bathrooms, and a chapel that seats 100 kids. We currently have plans to expand the chapel space to hold 150 which will be used for youth as well as kids."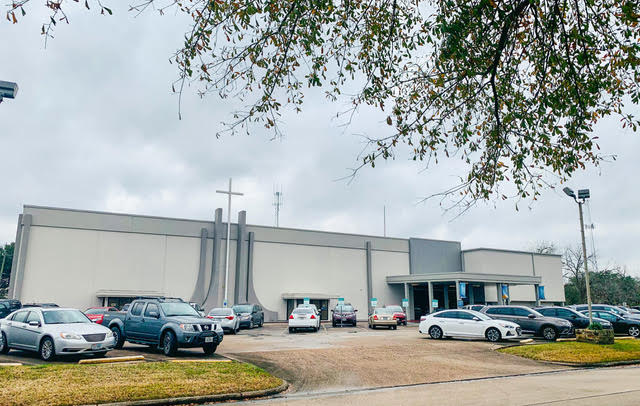 Despite Covid, The Church Triumphant is experiencing exponential growth and revival. "We have 1,000 members that call TCT home, and we have 450-500 consistently faithful in attendance," said Bro. Sciscoe. "In our best harvest year to date, we have had as many as 200 guests visit in a month. We believe true discipleship is the best reflection of our effectiveness. Over 150 people finished the 24-week Discipleship course last year. Those disciples are making disciples. We have added more than 40 new assimilated members since we reopened for in-person services. Our online presence has grown exponentially during COVID, and we average between 75,000 – 100,000 unique devices reached every month. When the world changed, we changed with it to meet the needs of the people. Our goal is to finish the church renovation, then expand our reach into the community. We see our building as multipurposed and intend it to be a daily church, not just Sunday and Wednesday. Bible studies happen 4 nights a week on campus and other Bible studies happen around the city. We would like to make our new sanctuary available for community events, meetings, etc. We would eventually like to have our Cafe1030 open Tuesday-Friday to the city. Beyond that, our next steps are more campuses launched through small groups."
Future Plans
The future is bright at The Church Triumphant and they are working to complete their 5 lifetime goals. "We want to build a training center for Apostolic ministry, church planting, and discipleship making," said Bro. Sciscoe. We also want to build a global media house consisting of, 24 hour prayer, Social Media connection, leadership, books, music, multi-lingual online training modules and more. We desire to create a literacy training program as a community service as well as language studies to open up new communities to the gospel. We also want to build a home for battered women. We see a lot of broken families. The Church Triumphant has worked with other non-profits serving the community by providing housing and Bible based teaching. We want to have our own program/house. Last but certainly not least, we desire to build an orphanage. We have sponsored orphanages overseas, but we have a vision to establish an orphanage and help reform the foster care system. Most importantly, we want to build upon the solid foundation already laid and see the greatest revival in the history of the world. We serve a big God. He is not angry when we ask too big. He is angry when we ask too small. Nothing is impossible with God!"
Jason Sciscoe
The Church Triumphant