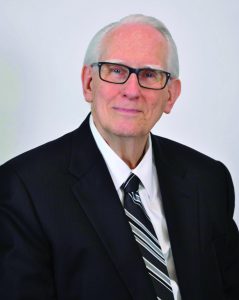 Robert K. Rodenbush
More than 50 years ago I preached a revival for home missionaries, Jim and Bev Galbraith, in Wilmington, Illinois. The Hoffman family was in that new church plant, assisting in every way they could. On Saturday, six of us went to the streets to invite people to church. Several children from the housing project agreed to come. The Hoffman's filled their station wagon to the brim with children that Sunday morning, who needed someone to care about them and teach them about God.
Two little twin girls, Jane and Jean, received the Holy Ghost that day. They were not project kids- they were the daughters of Paul David and Charlotte Hoffman. God rewards what we do for others. We were all rejoicing to break the Sunday School attendance record and had two receive the Holy Ghost!
Several years later, I was serving on the Global Missions Board when a young man, Richard Lucas, sought appointment for missionary work. He said, "Bro. Rodenbush you believed in me and told me that I seemed like someone who was ready to make a lifetime commitment to missions. I was!" This young man married a girl by the name of Jean Hoffman, the same girl who received the Holy Ghost years before in the revival in Wilmington and they have served more than 35 years in Global Missions service in Japan. You never know whose life you are touching– a child praying in the altar or a young man seeking a missionary appointment.
But that is not the end of this story. Jane, the other twin, grew up and married a preacher too, Mark Cottrill. For decades they have successfully pastor an amazing United Pentecostal Church in Bourbon, Indiana, and their son Mark is now the pastor. Together, Jean and Jane have five sons who are ministers. And the story continues!
A child in a Sunday School class, youth group or revival service may be called of God to do great things in God's Kingdom. A child we pray with at the altar may become a successful pastor, pastor's wife, a great missionary, or a valuable laborer in the harvest.
You just never know.
(359 words)
Robert K. Rodenbush and his wife served as missionaries for UPCI Global Missions for 42 years. Currently, he is Dean of Missiology at Indiana Bible College training the next generation of Apostolic missionaries.