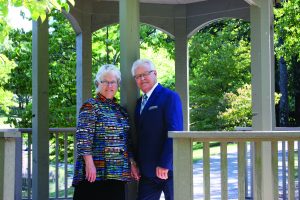 Experience life now. Those three words tell the story of New Life Church in Bridgeton, Missouri, a bustling suburb of greater St. Louis. With a history as rich as the city itself, New Life was established in 1948 in the home of Bro. and Sis. Guy Roam and is currently housed in a 64,000 square feet facility. Though the times have changed, the mission remains the same: to help people EXPERIENCE the love of God, find LIFE in Jesus, and serve others NOW.
"Those three words in our vision statement tell the story of how we are endeavoring to make disciples of Jesus Christ," said Bishop Garry Tracy. "God has an amazing purpose for your life. You were intended to have a place now in His kingdom. It doesn't matter your race, age, pedigree or spiritual experience. He has given each of us gifts to be used for His purpose. Once you connect with your passion and purpose, you will find out how significant you really are."
Growing up in the small town of McAdam in New Brunswick, Canada, Bro. Tracy was third generation Pentecost and raised in the Apostolic faith. His ministry has led him to be a missionary, regional director and director for AIM/Education (Global Missions), and he currently serves as bishop at New Life St Louis and is the presbyter of Section One UPCI Missouri District.
After receiving the Holy Ghost and being baptized at the age of 10, Bro. Tracy's call to ministry was a gradual process. "I served in every possible capacity in a small church as I pursued a career in engineering," he said. "I served as a Sunday school worker, youth leader, assisted a home missionary pastor plant a church and, at age 30, I became a full-time assistant pastor. My family and I were appointed as missionaries to Pakistan in 1978 and served for 10 years. My wife, Susan, and I were chosen as regional director for the Asian region and served for seven years before becoming the director of AIM and Education for The Global Mission Division. I served there for three years before being elected to be lead pastor at New Life Center in Bridgeton in 1999. I have been lead pastor for 16 years. I'm thankful for the honor to lead a church that was well established. Bro. and Sis. Aaron Batchelor were elected my successor in 2015, and I became bishop. We are now mid-way through a five-year transition period that will culminate in Pastor Batchelor assuming all leadership responsibility."
Principles of Growth and Revival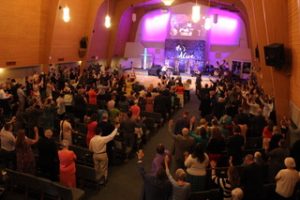 The majority of the lead pastor's time must be given to developing other leaders and keeping the church and its ministries on track with his vision for the church. He must have time to model the kind of Christian he wants his followers to become. This is essential to growth and revival. "Spiritual health is essential for sustained church growth," said Bishop Tracy. "This requires a balanced spiritual diet and exercise. Having everyone involved (from new people to mature saints) in serving others is a key to church growth. A church culture of love and acceptance is essential to church growth. Leaders and members making disciples are essential for church growth."
New Life St. Louis has 3-4 major events each year designed to bring new people into their building. Detailed follow-up is required to encourage the guests to return, get them into a "First Steps" class and become part of a small group. "Small groups have become effective in bringing new people in, making disciples and caring for them," said Bishop Tracy. "Our goal is to expand small groups for a total of 68 by end of 2018. Our most effective method for growth has been developing personal relationships that results in spiritual formation."
Organization & Management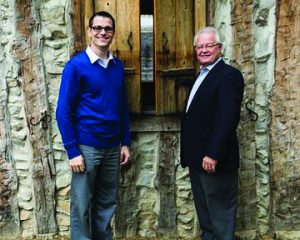 With 40 percent of members involved in some form of ministry and 23 percent involved in evangelism and 40-plus active ministry departments in the church, organization and management are critical to keeping things moving in the right direction. "We meet with our leaders monthly for prayer, training and accountability," explained Bishop Tracy. "Monthly reports are submitted electronically for most ministries and weekly reports for small groups that meet weekly. All leaders agree to a written signed job description. These are reviewed annually. Training takes place during the monthly leadership meetings, and we periodically bring in a guest speaker and/or take our leaders to a training seminar. We also have an annual staff planning retreat (three days) in October to establish our vision, plan events and our calendar, and discuss the process to accomplish these things. This is followed with a planning session with all ministry/small group leaders."
Involvement is the life of a church and the process is important: getting the right people in the right place at the right time. "All new people who become part of our church family take a 'gifting assessment' and are encouraged to participate in a ministry," said Bishop Tracy. "We periodically have a ministry focus event, speak on the subject of involvement and give opportunity for all to sign up for service. Ministry leaders are encouraged to meet first-time guests at the 'Meet and Greet' function after each Sunday morning service to get acquainted, find people's interest and explain their respective ministry or small group."
Special Miracles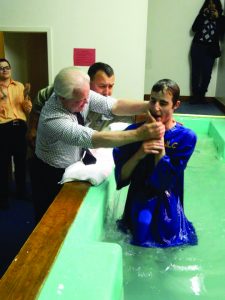 If the definition of a miracle is "a surprising and welcome event that is not explicable by natural or scientific laws and is therefore considered to be the work of a divine agency," New Life St. Louis has seen its share. "John was attending our church regularly but was an alcoholic for 30 years," shared Bishop Tracy. "A mix of alcohol and prescription drugs resulted in him going into a coma, during which he was kept alive by machine. The doctor said if he ever regained consciousness he most likely would never be able to function normally. Prayer was offered for his healing and deliverance. After eight days he regained consciousness, his vitals returned to normal and after a time of rehabilitation he went back to work. His job as a mechanical expert on Boeing fighter aircrafts is physically and mentally challenging. John was also delivered from alcoholism and lives a victorious life today."
Church History/Current Facility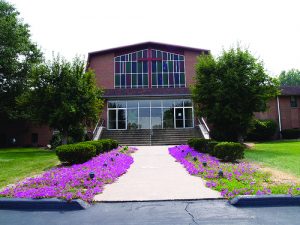 New Life was planted in the home of Bro. and Sis. Guy Roam in 1948, but the church soon outgrew that structure. "As the congregation grew, they moved to a small frame church near their home," said Bishop Tracy. "Continued growth required the purchase of a brick building in University City (St Louis suburb). The church continued to grow, and new property was purchased on the west side of St Louis. A new building was erected in 1968. We are currently in that expanded facility. Our present facility is made up of 64,000 square feet (most of it is two story) with a gymnasium and classrooms. The main building was constructed under the leadership of pioneer pastor, Guy Roam, in 1968 and the gymnasium and more classrooms added in 1999. Seating capacity is 600. We are currently doing a study to determine the feasibility of relocating to find a facility that would better serve our new pastor's (Aaron Batchelor) vision for the future."
Personal Ministry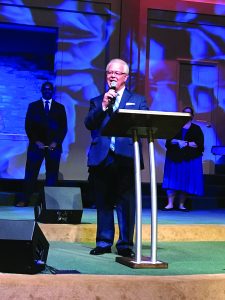 Bishop Tracy likes to preach doctrine with a practical application, believing this is the foundation for strong faith. Subjects that lead to spiritual growth, maturity, a disciplined life and service are also a priority. "Build your life and ministry on prayer and God's Word," said Bishop Tracy. "Be led daily by the Spirit. Serve wherever there is a need until your gifts and calling are known, then focus most of your efforts in that area of ministry. Constantly read, study and learn. Connect with people who can add value to your life and for accountability."
He especially enjoys working with people who have a passion to serve, lead and grow in ministry. "I have been rewarded to see a consistent flow of Christian workers go from this church into greater ministry," he said. "Perhaps a unique characteristic of New Life and its ministry is the raising up of ministers and Christian workers and sending them from our church to other locations to serve. It is not uncommon to send out 3 to 5 families or single persons annually to serve elsewhere."
Bishop Tracy enjoys many extracurricular activities outside of ministry. He and his wife, Susan [who passed away in March of 2015] have three children: Jeffrey, Judy and Joy, and he enjoys spending time with them. In October of 2017, Bishop Tracy married Victoria, and they are enjoying life and ministry together. "I also enjoy yard work, cycling, construction work, reading and hiking," he said. "Also, the one thing people would be surprised to learn about me is that I am afraid of crowds and don't like to stand before people!"
The Future of New Life
Entering the third year of a five-year pastoral transition, the vision for New Life St. Louis is greatly influenced by the pastor elect, Aaron Batchelor. "We are excited about our future," said Bishop Tracy. "Our vision for New Life includes completion of the pastoral transition, implementation of a growth plan to double all aspects of the church in 24 months (attendance, finances, volunteers, leaders, ministries, small groups), increase our involvement in mission work at home and abroad, and either improve our present facility or relocate our main campus and start other campuses of New Life in surrounding areas of metro St Louis."