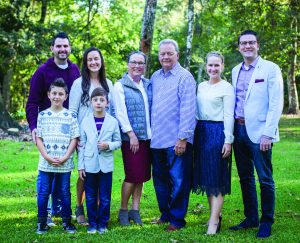 Tell us a little about yourself and your ministry. I have been in ministry for 36 years. My wife, Paula, and I have been married for almost 42 years. We have a son, Marcus, a daughter, Casey, and two grandsons, Noah, 9, and Joseph, 8. I was born and raised in Baton Rouge, Louisiana and attended the First Pentecostal Church of Baton Rouge until I left to go into ministry at the age of 25. I went to Youngstown, Ohio as a home missionary and started a church in our living room. Then God called us back to the Baton Rouge area. I was elected pastor of a very broken church of about 12 people in Baker, La. It was very challenging in that the public's view of the church was very negative. Businesses did not want to do business with us. But we persevered, and 15 years later we moved the church to the City of Central on the northeast side of Baton Rouge. God has blessed Grace Church of Central with a beautiful campus, and we now average about 230 wonderful people in attendance every Sunday.
If someone comes to you and says, "I think God is calling me into the ministry," how do you respond? How can people know if they are called of God?
I believe that God calls people to the ministry in different ways, and some even have had their calling come through someone else. I believe a call from God can come through prayer, a dream or vision, a verse in the Bible or listening to someone preach. A call of God can come in any number of ways or sources. I believe where most people struggle is being able to hear the call and then believe it. Samuel did not discern the voice of God the first time he heard it. I believe people who are truly called of God will "burn" so badly on the inside and will cry and sob and call out to God until God "persuades" them through prayer and commitment, and they'll finally believe it and accept their calling.
Once someone is assured of their calling, where do they go from there?
If it resonates with me, I will open up to that person and spend as much time with them as I can, to learn more about their heartbeat for ministry and discover their desires, vision, purpose, etc. I'll do my best to "prescribe" them a regime of responsibility, such as prayer, fasting and personal Bible study. Personal evangelism is a must. I strive for all of our in-house ministers to teach at least one home Bible study per week. I'll also place them under strict accountability to me as pastor. If they are married, my wife and I will work with them and especially the spouse to help that person understand the calling that their spouse is feeling. I believe this is critical.
How do they best equip themselves for a vocation in ministry?
To be honest, I encourage the person to weigh out a secular degree as well as a Bible college degree, depending on where they believe their ministry will take them. I recommend Bible college if they believe their calling is to be a pastor, evangelist, missionary, etc. If they want to work in a school or some other administrative role in ministry, then I think a secular degree would be of most benefit, such as a degree in business, accounting, music, etc. I believe that it is good to attend Bible college whether a person is called to ministry or not but especially if they are called. That being said, I believe a person should equip themselves for Bible college by working closely with their pastor, being involved in a significant role of responsibility or leadership in their local church.
Tell us about your book, The Called Man.
The Called Man is written specifically to those who believe they may be called to ministry. The first chapter is written to the pastor, to encourage him to be ready for that moment when someone says, "Hey pastor, I need to talk to you. I believe God has called me to the ministry." I wrote The Called Man so every pastor can keep one or two copies of the book in his library, and when someone comes to talk to him, he can give them a copy and say, "Go read this book and when you are finished, come back and we'll talk about your calling!" I want to make it easier on the person who believes they are called to ministry to discern it along with their pastor. The second chapter is written to the person who feels called to ministry. Beginning with chapter 3, I use Bible characters to illustrate the call of God … how it may happen and how to discern it. In addition, I show the reader, again, through biblical example, that it doesn't matter who you are, what your family is like, or what's in your past. God can use anybody. I also wrote about commitment, sacrifice and ethics.
Why did you write the book?
I really believe God inspired me to write it. I have been so passionate about the "call to ministry" through the years, and I know God put it there because I have seen the demise of too many who didn't accept their calling. At the time it was published, there weren't a lot of resources available on that specific topic. I desire to save people from the pitfalls, mistakes and dangers about not approaching the call of God seriously enough. I want people to understand that it is not an option, and it is the greatest thing after being saved that can happen to them. It's not a game, it's not "cool" to be called to ministry, it's not to put anyone on an ego trip. It's humbling, and it requires a lot of sincerity, commitment and sacrifice.
How to order, cost, etc.
You can order your copies(s) through the Pentecostal Publishing House directly or you can access it through our church website, www.gracechurchofcentral.com. Select the media tab. The cost is $11.95 plus shipping. You can email me at pastor@gracechurchofcentral.com.