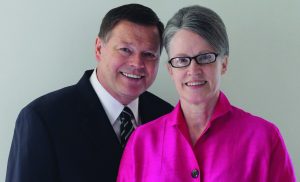 My mind fought for its sanity. The LSD was taking me on a freakish journey. The walls began to breathe, cockroaches were grinning, and the dripping faucet pinged louder and louder. Hideous voices screamed at me. Bloodthirsty hounds — no, demons — pursued me. Condemned me. Can anyone help? Can I ever make things right again?
A 9mm pistol lay in my luggage on the bed. I walked to the gun, pulled it from its holster, toyed with it. The steel felt cold, clammy. What would it feel like if I pulled the trigger?
The pistol weighed heavy in my hand. Death called to me, yet I resisted. Suicide went against everything that was in me. I gripped the gun, hands shaking, as I struggled for the courage to live.
I felt another presence beside me, and I became still — then, for some reason, calm. I had felt this Presence and its calm before. I heard a soft whisper, though I was alone in the room.
"John, I love you.  I can help you.  Trust Me."
The End or Beginning?
The above excerpt from Bro. John Wolfram's book, Splashdown, The Rescue of a Navy Frogman, describes the moment he held a pistol to his head in a Vietnam hotel room during the war, contemplating ending his life. His story could have ended right there if it were not for the amazing grace of God!
"Without heaven's intervention," Bro. Wolfram said, "I never would have seen the newspaper article that led me to a Oneness Pentecostal church revival. There wouldn't have been any repentance, baptism in the name of Jesus Christ, or the infilling of the Holy Spirit. I would have died a sinner and gone to hell. Revival among my UDT teammates never would have happened. Five Navy frogmen wouldn't have been called to preach the Gospel. Forty-seven years of serving God as an evangelist, pastor, missionary, Bible school president, teacher and soul winner would have been non-existent."
Sin Is a Dark Place
Bro. Wolfram's life took a nosedive soon after Apollo 11. "My recreational drug abuse accelerated into a serious problem. Losing my high school friends at such a young age tore a huge hunk out of my insides. I fought fear. I fought depression. I fought rage. Drugs didn't help. They only dulled my senses until they wore off."
Fortunately for Bro. Wolfram and the thousands his ministry has impacted around the world, his life did not end in that hotel room. God was at work behind the scenes, waiting for the moment He could break through and establish a foothold in Bro. Wolfram's life. For almost five decades, he has served God faithfully in one capacity or the other.
First Moon Landing Remembered
The 50th anniversary of Apollo 11 is just around the corner — July 2019. Celebrations and gatherings have already begun for all involved in that moment of history. The recovery ship, now the USS Hornet Museum, will host thousands of visitors at Alameda, California. All NASA-related institutions and space centers plan to conduct special events. The two living astronauts, Buzz Aldrin and Michael Collins, will be sought after to attend dozens of events around the world. Neil Armstrong is being honored by a movie of his life, "First Man."
For Bro. Wolfram, the Apollo 11 anniversary is all about sharing Jesus Christ! Being the first frogman in the water to help secure the capsule and rescue the astronauts is newsworthy.
"To not use this event to reach the lost would be paramount to a sin and a huge waste of a once-in-a-lifetime opportunity," said Bro. Wolfram. "Church members find it fun and exciting to invite people out to an Apollo 11-themed service. When properly planned, these services are a virtual crowd magnet. Congregations get thousands of dollars of free media advertising, and their community will hear a heartfelt story of God's amazing grace. They're truly powerful soul-winning events!"
Gold Foil and Other Historical Mementos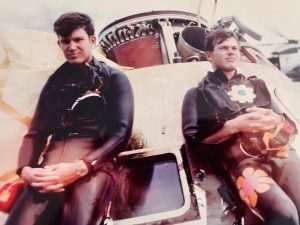 At all his Apollo 11 anniversary events, Bro. Wolfram will display collectables, including rare Kapton gold foil he personally removed from the Columbia capsule.
"Part of the rescue team's job was to decontaminate the capsule, astronauts and the equipment used at splashdown—a precaution taken in case of bacteria or germs brought from space. After disinfecting the module, we pulled off hunks of the shredded foil that had come loose during reentry," Bro. Wolfram laughed. "We stuffed it down our wetsuits."
Flower Power and Other Memories of the Splashdown
The whole world was mesmerized by the first Moon landing. Wolfram remembers the excitement among those on the USS Hornet, the recovery ship. "Everyone knew history was being made. I felt very special to have been chosen for a key role, especially as a twenty-year old sailor, just two years out of high school.
"People always ask me about the flowers on my wetsuit. Remember, it was the '60s.  'Flower power' was code for making love, not war. It was a gesture for peace in the midst of a very controversial era. Navy frogmen were also known to have fun. On Apollo 10, we placed a flower decal on the module's hatch window — which sent NASA into conniptions. They didn't share our sense of humor, and we were specifically instructed not to mess with Apollo 11. So I put the decals on my wetsuit instead, as a statement for peace and a shout-out to my family and friends back home."
Joining the Navy Was No Mistake
Bro. Wolfram's hometown buddies thought it foolish of him to enlist in the Navy after high school graduation, in the midst of an unpopular war, and even more foolish to become a frogman. But something inside compelled him to follow his dreams.
"Those four years in the service weren't easy ones," Bro. Wolfram recounted. "I grew up fast—too fast. Losing close friends and teammates in Vietnam was devastating. I was wounded but made it home alive. I have friends that wish they had a Purple Heart, but not too many want to go through the experiences I endured to get one."
In the war, Bro. Wolfram served on a Mobile Tactical Support Base on the Song Cua Long, called Sea Float. "Our primary purpose for being there was to stop the momentum of the Viet Cong by destroying their bunkers, food and ammunition supplies, securing the waterways, and eventually driving them out of the area. This required skill in diving and demolition, plus a plethora of other things.
"On the way to disrupt a VC stronghold, we were hit hard. Their tactic was the element of surprise, setting up ambushes then fading into the forest by foot or underground tunnels. Our boat took eight direct hits from the VC's B-40 rockets and shrapnel tore into my leg. One rocket lodged a few inches from me but didn't detonate. While I was in the hospital, recovering from my wounds, five of my SEAL teammates were killed."
The Vietnam War — Fertile Ground For Finding Jesus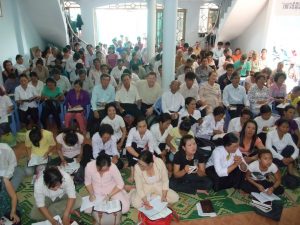 After seeing so much death around him during the war, Bro. Wolfram couldn't help but think about the hereafter. "I give much credit to my mother who sent us kids to a Lutheran Sunday school down the street while growing up. Learning about Jesus at a tender age gave God a platform on which to continue dealing with my sinful heart.
"From birth to death, we all have significant moments. Even while not being aware of it, we are closely monitored and gently nudged forward by an invisible hand. Behind the scenes there's a loving God, orchestrating things on our behalf, for our good—for His purposes.
"It's easy for me now to look back and see the marvelous hand of God at work at every station of my life. It was unrecognizable to me then but so obvious today, especially my being led to a Pentecostal revival meeting through a newspaper advertisement."
Bro. Wolfram believes Vietnam was in God's plan for him before he was born. "My coming to Jesus moment began there. My call to return, years later, was superlatively magnetic. Seasoned prophets told me to minister in the office of an apostle. Vietnam is very hard soil and extremely policed, but God has shown Himself faithful and has arranged one miracle after another. Since I joined hands with Him to reach that nation, I've learned God's will is unstoppable."
Memorial Bible School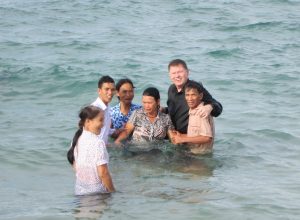 Bro. Wolfram just finished building a beautiful Memorial Bible College in Vietnam, in honor of his friends and teammates who were killed there during the war. "The cost to build the school was less than most missionary budgets for one year," said Bro. Wolfram. "As someone who served as a president of a Bible school in the Philippines, I know the importance of training up the next generation. For 25 years, God has sent human angels to partner with us to see a work established. The rewards will be shared equally in heaven.
"The war in Vietnam was ugly for both sides. Some estimate more than three million people died. I wanted to give back to that nation what I found at a Pentecostal altar: love, peace and eternal life. I don't want my friends' sacrifices to be in vain. "
Final Thoughts
"I could never have been effective in mission work without Deborah, my loving wife of 42 years," shared Bro. Wolfram. "Our first appointment to American Samoa in 1983 could have been our last. We were assigned a house infested with termites, rats, spiders, roaches, geckos, and seemingly hundreds of other scary-looking insects, including mosquitoes the size of quarters! The barn-like structure of our home was impossible to keep cool and had a tin roof that leaked. It was a living nightmare! But, to Deborah's credit, she hung in there like a trooper, as she has throughout our entire missionary journey.
"My life, like yours, has become a tapestry woven together by many challenges. Growing up isn't easy. It never is — it's not supposed to be. God designed it that way. God uses the struggles of life to help us discover Him. He desires to redeem us, to save us from our selves, our sins, and our foolish ways. He craves our fellowship—someone He can talk to, someone to love Him back and praise Him for all that He accomplished at Calvary. Completing the mission of God's call is the least we can do for Him."
Bro. Wolfram heard the call, laid his pistol down, and cried out to Jesus.  Jesus wrapped His arms around him that night in Vietnam 48 years ago and never let go.
A Powerful Soul Winning Tool
Bro. Wolfram's compelling book about his experiences in the Navy and his journey to God, called Splashdown, The Rescue of a Navy Frogman, is a fascinating read and tremendous soul-winning tool. It can be ordered on his website: johnwolfram.com