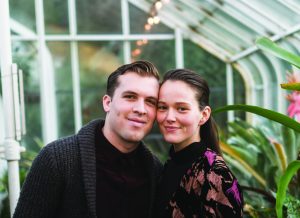 "And he said unto me, 'My grace is sufficient for thee: for my strength is made perfect in weakness" II Corinthians 12:9. This verse does not say that His strength is made perfect once weakness is over or when the trial and tribulation has passed. His strength is made perfect right in the middle of your weakness. Because of that perfect strength, Paul said, "I will rather glory in my infirmities, that the power of Christ may rest upon me."
Handicapped Brother
In 1985, the Wall Street Journal published an article written by English teacher Christopher de Vinck. He told the story about his younger brother, Oliver. A few months after Oliver was born, his parents learned that Oliver could not hold up his head, crawl, talk, or hold anything in his hand. They brought him to a hospital and were told that he was blind, mute and completely paralyzed. Doctors said he was born with severe brain damage and would not have the strength to move, or learn anything for the rest of his life. Nothing could be done for him. They suggested placing him in an institution, but his parents declined. Instead, they took Oliver home to love him as their own for the 32 years of his completely helpless life.
Christopher's mother often explained to him that their family was blessed with Oliver in ways that other people could not see. When Christopher met a girl and fell in love, he brought her home and asked if she would like to meet his handicapped brother. She boldly said no. Immediately, he broke off the relationship. A few months later he met a girl named Roe and brought her home with him. Nervously, he asked if she would like to meet his brother. She happily said yes. Christopher sat at Oliver's bedside during mealtime as he watched Roe lovingly feed Oliver one spoonful at a time. Today, Chris and Roe are married. Without moving a muscle, the handicapped, paralyzed younger brother helped his healthy older brother see what unconditional love looks like and choose a spouse. This is the power of the powerless.
Mysterious Power
What possible value could there be in human helplessness? The answer is found not in what the impaired can do FOR those around them, but what the impaired can do IN those around them. God uses the weak ones of this world to do a significant work in those of us who think we are not impaired, although we may be more impaired on the inside than we realize. This is the mysterious power of the powerless. There is significant power in somebody who does not have much strength but makes a decision to give themselves, their worship, and their time to God anyway. When you do not have anything else to give, there is power in your powerlessness.
God's Economy
The concept of powerlessness is found all throughout Scripture. God always does a lot with our little. Luke 21:1-4 tells us that Jesus looked and saw the rich casting their gifts into the treasury and also a widow casting in two mites, the equivalent of about one penny. He said, "This poor widow hath cast in more than they all." It is one thing to give when you have abundance, but it is an entirely different matter to give out of poverty. No matter the amount, in God's eyes, you give more when you give out of poverty than when you give out of abundance. In God's economy, everything is different. If you are worn down, weak and hurt, you are the perfect candidate for His perfect strength and power to come down into your situation.
Law of Multiplication
In John 6:5-12, Jesus had finished teaching and desired to feed the multitude. The disciples wondered how they were going to feed the multitude of people when they found a little boy with a basket of only a few pieces of bread and fish. Jesus took those few pieces and multiplied it to feed thousands and thousands of people. When you give to God, despite how little it seems, God will bless it immensely. There is great power and value in the little amount you have. If you give Him a little bit of strength, He will multiply it. When you give what you have to Him, regardless of what it is or how much it is, He will give you back even more.
Paul's Blindness
The Apostle Paul was a persecutor of Christians, and then became a persecuted Christian. He murdered and beat Christians and tore homes apart (Acts 8:3-5). It took Saul being blinded on a Damascus road for him to truly see for the first time.  It took him being completely powerless, unable to see, and staggering around as a blind man to see what he was doing was wrong. Sometimes, it takes a powerless situation for God's power to show us things that we have never seen before. How else can you know that He is a comforter unless you have gone through some trials? How else can you know that He is a provider unless you have had no money in your bank account? How else can you know that He is your peace unless you have gone through some fear? There is perfect strength for the weak and hurting.
Personal Testimony
Two years ago, I was overseas in Munich, Germany for a missions trip. I took a weekend trip to London and became very sick on the plane on the way back. I became unconscious and had a seizure. As soon as the plane landed, they rushed me to the hospital where I spent a few days and had another seizure accompanied by a near death experience. When I was released from the hospital, I was still very sick but seemed to be improving. The missionaries I was assisting had to go to Russia for a week and the plan was for me to stay and preach and teach at their church until they got back. They asked if I was well enough to stay and do this and, as weak as I was, I thought I could.
Several days later, while I was alone in their house I became light-headed and my brain felt like lights were flashing on and off. Purposefully, I dropped down to the floor, weeping, scared and alone. I did not know what to expect but I began praying in the name of Jesus. In that very moment, while I was lying there praying, the minister on the sermon recording I was listening to was preaching, "His strength is made perfect in your weakness. God sees your powerless situation." Right there in the middle of my weakness I felt a peace, presence and power like I have never felt before and since. It felt as if God were speaking that Scripture to me personally, establishing a covenant with me that no matter how weak I am—physically or otherwise—his perfect strength and power will be with me. It humbled me and reminded me who is really in control. Now, through times of weakness and affliction, my trust in Him is stronger and deeper. As a further demonstration of God's power, it has been almost four years and I have never had another seizure episode since then without ever being on medication. In my weakness, He is strong.
John the Baptist
It is worth noting that John the Baptist spent his entire ministry declaring the words, "I am not," in order to prepare the way for the I AM. The power was in what John the Baptist was not; it was in his powerlessness. "There is someone coming after me. I only baptize with repentance." It is okay for us to admit, "I am NOT God. I do not have this all figured out." It is okay to admit when we are weak, and cannot do this without Him. When we admit our limitations, acknowledge what we are NOT, and put our problems in God's hands, we become candidates for His perfect strength.
Paul's Thorn
The Apostle Paul had a thorn in his flesh. Three times he prayed for God to take it from him. Instead, he was told, "My grace is sufficient for thee, for my strength is made perfect in your weakness." Every one of us have thorns in our flesh because of our fallen human nature. Jesus also had thorns in His flesh, and He wore them as a crown of thorns upon His head. Everything that makes us weak and frail humanity, He wore as a crown upon His head. Why? Because his strength is made perfect in our weakness. He has already paid the price for every infirmity.
Christ's Power
"For your sakes he became poor" II Corinthians 8:9. The greatest example of power in powerlessness is the life and death of Jesus Christ. God made the decision to step out of His realm into ours and clothe Himself in human flesh. He limited His power, so He could give us power. He could have left the cross but He stayed on there and endured the pain for you and me. God, a spirit, became flesh for us. He was in the world and the world was made by Him. He allowed Himself to be touched by the feelings of our infirmities, so He could be resurrected and give us newness of life. All so when we are frail and hurting, He can say, "I understand what you are going through and I paid the price for that." This is what He meant when He said, "My strength is made perfect in weakness." This is the power of the powerless.
Bio
Bro. Brennan Claborn is a full-time evangelist of three years. He recently graduated with his B.S. in Ministry and Biblical Studies from Hope International University. Prior to attending HIU, he spent two years studying at Urshan College in St. Louis, Mo. On April 21, 2018, he married the love of his life. His wife, Brier Claborn, has a passion for foreign missions, which has taken her to over 20 countries. Based out of Pastor Larry L. Booker's church in Rialto, CA, the Claborns now evangelize full-time together. Bro. Claborn can be contacted through email at brennan.claborn@hiu.edu.