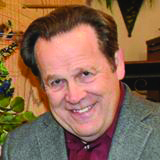 HOW GOD INVADED SATAN'S DOMINION
When David was in trouble and about to be overwhelmed, God came to his rescue and defeated all his enemies. Psalms 18 described a time in David's life when he said, "The sorrows of death compassed me, and the floods of ungodly men made me afraid. The sorrows of hell compassed me about: the snares of death prevented me" (Psalms 18:4-5). But David's cry was heard by the Lord, and God came to help in a dramatic way. The poetic language of David described God coming to his rescue by taking a ride on an angelic being. He said that God "rode upon a cherub, and did fly" (Psalm 18:10). "Then the earth shook and trembled; the foundations also of the hills moved and were shaken, because he was wroth. There went up a smoke out of his nostrils, and fire out of his mouth devoured: coals were kindled by it" (Psalms 18:7-8).
Perhaps this description of God's union with an angel was a precursor to another union God made with a human being. That union is commonly referred to as the incarnation. This happened when the "Word was made flesh" (John 1:14). It is also described by Paul when God was "manifest in the flesh" (I Timothy 3:16). This joining of humanity and deity was a mystery that made Jesus' spirit and God's Spirit "one spirit" (I Corinthians 6:17). This means Jesus was "one" with the Father in His life (John 10:30), as well as in His death (John 16:32). Death did not dissolve the incarnation. Therefore, because of this union God entered a region called Hades when the "man Christ Jesus" died. Unlike David's rescue, when God was transported by an angel, it appears that He allowed Himself to be transported upon a human spirit into the netherworld in order to conquer Satan and rescue all Old Testament saints. Through His bond with Jesus Christ, God descended to the "lower parts" of the earth and "led captivity captive" (Ephesians 4:8-9). He went to a place where all humans go when they die and Christ "preached unto the spirits in prison" (I Peter 3:19).
That dramatic event was mentioned by Jesus before His death when He said, "A little while, and ye shall not see me: and again, a little while, and ye shall see me, because I go to the Father. Then said some of his disciples among themselves, What is this that he saith unto us, A little while, and ye shall not see me: and again, a little while, and ye shall see me: and, Because I go to the Father? They said therefore, What is this that he saith, A little while? we cannot tell what he saith" (John 16:16-18).
Satan obviously miscalculated when he engineered the death of Christ. The cruelty of the crucifixion was evidently designed to cause Him to sin, but Satan's plan backfired. Jesus did not sin and that sinlessness kept Him free from Satan's dominion. As a result, a human spirit was released into the regions of his domain that was free from sin and unlike any other. This human spirit was "one" with the eternal God, and as such He disarmed all evil forces. Satan lost his right to rule his dominion. Satan's access to heaven (Isaiah 14:14) ended when Jesus finished His work in the "nether parts of the earth" (Ezekiel 32:18). As a result, Jesus' dominion extends not only to heaven and earth but also "under the earth" (Philippians 2:10).
It appears that the Satanic rebellion enjoyed 4,000 years of unbridled success, but that success seems to have lulled the rulers of darkness into a state of carelessness. And since God sent His Son "in the likeness of sinful flesh" (Romans 8:3), they seemed to have little reason to be alarmed. They seemed to only see continued success in their takeover of the Creation. Perhaps they thought that God had been checkmated by their clever plans. Obviously they greatly underestimated the awesome plan of God. Paul said that if they would have known the consequences of putting Jesus to death, "they would not have crucified the Lord of glory" (I Corinthians 2:8). When that human spirit entered the world of the dead, it became Satan's worst nightmare. This is why death could not prevent His resurrection.
"O death, where is thy sting? O grave, where is thy victory?" (1 Corinthians 15:55).
This resurrected human being became a rod in God's hand that pulverized and scattered God's enemies. He destroyed the infrastructure of evil for which Satan was responsible. As a result, our Advocate could successfully render all accusations by Satan to be invalid in the courtroom of heaven. Nothing can be laid to the charge of God's elect when they repent and call on the name of Jesus (Romans 8:33-34).
The "little while" discourse in John 14-16 informed the disciples of a small period of time in which He would be away on business. Jesus was about to complete His ministry on earth, but soon He would move to the next area of service. His ministry on earth was about to end, and He would begin a ministry in hell. His earthly ministry lasted three years, but His ministry in hell would last only three days. After this, He would begin a ministry in heaven (Hebrews 9:12).
While He was away, the disciples would have to endure great sorrow, like a woman about to give birth (John 16:21). They were left in the dark and their faith was severely tested, but their sorrow was turned to great joy at Pentecost. In retrospect, we know that this "little while" was a 50-day period between Jesus' death and the birth of the Church. It was a time when a new heavenly order would be set up. This change involved the canceling of the laws and ordinances and the rearrangement of how people are judged. However, this busy schedule of Jesus would leave the disciples without a mediator (John 16:26). It was as if heaven's website was shut down for much-needed repairs and updates.
The 11 disciples could not have imagined the magnitude of what was happening in the spirit realm. During this "little while," Satan attempted to "sift" Peter as wheat (Luke 22:31-32). The death of their Messiah left them stunned and full of apprehension and fear. The suicide of Judas sent shock waves through the little group. Fear captivated the 11 Apostles and they cowered behind locked doors for fear of the Jews (John 20:19).
Yet this might be considered the most important time since the foundation of the world. It was a watershed of blessings that involved a rearrangement of heavenly protocol. Many amazing things happened in order for Jesus to build His church (Matthew 16:16-18).
Under the new heavenly arrangement, He did the unthinkable. He took a repentant thief to "paradise" (Luke 23:43). However, this thief was not alone. Jesus released all the righteous dead who "died in faith" (Hebrews 11:13). This could not have taken place without "war in heaven." Michael cast out of heaven "that old serpent, called the Devil, and Satan" who was the "accuser" of the brethren (Revelation 12:9-10). This "accuser" had complicated the relationship between God and man for 4,000 years. During that time, Satan argued that forbidden fruit would make one wise (Genesis 3:4-5) and the "soul that sinneth" must die (Ezekiel 18:4), and the righteous only do what is right so God will bless and protect them (Job 1:9-11).
In poetic language, Paul said Jesus took the "ordinances that were against us" and "nailed" them to His cross (Colossians 2:14). This massive upheaval involved the disarming of "spiritual rulers and authorities." He not only disarmed them, but He also "spoiled principalities and powers," and "made a shew of them openly, triumphing over them in it" (Colossians 2:14-15). Perhaps this open triumph was like a talented football player doing a victory dance in the end zone after scoring a touchdown.
"Let God arise, let his enemies be scattered: let them also that hate him flee before him. As smoke is driven away, so drive them away: as wax melteth before the fire, so let the wicked perish at the presence of God" (Psalms 68:1-2).
Captives were set free from the dominion of death. They were freed by a free gift Jesus gave them. The Hebrew word for gifts in Psalm 68:18 is mattana. It means "a sacrificial offering," and is connected to the five-fold ministry that administers the Word of God so that repentance can be accomplished in the believer's heart. This gift of repentance that God grants to unworthy people is a sacrificial offering given to all who obey the Gospel, and is a result of the sacrifice Jesus accomplished on the Cross. Paul said, God "will give them repentance to the acknowledging of the truth" so that "they may recover themselves out of the snare of the devil" (II Timothy 2:25-26).
Jesus was given "all power" in heaven and earth (Matthew 28:18), and a name above all other names (Philippians 2:8-10). With this power and authority, Jesus obtained the "keys of hell and of death" (Revelation 1:18).
Jesus' ascension began His heavenly ministry where He offered His "own blood" on the altar of the heavenly temple (Hebrews 9:12). He purged the heavens of all Satanic defilement. The resurrected "man Christ Jesus" was then given a "book" (Revelation 5) that was later called the "Lamb's book of life" (Revelation 21:27) which contained the names of those whom God foreknew (Romans 8:29). However, God foreordained that they must be filled with that same new life that raised Jesus from the dead (Romans 8:11). And to this end Jesus interceded on our behalf. One of His first intercessory prayers after receiving the office of heavenly "mediator" (I Timothy 2:5) was that the Father would send the Comforter (John 14:16). It was answered on the 50th day after His death (Acts 2:1-4).
This transition from law to grace, from Old Testament to New Testament, could never have taken place without the many reforms that happened during this "little while." This period of time may be referred to as "little," but the accomplishments were astronomical. The accomplishments of the resurrected Christ not only shook the earth but also heaven and hell. These accomplishments underscore the importance of the Day of Pentecost (Acts 2:1-4). This was the first day of the Church age and it took place when God scattered His enemies. What happened at Pentecost should not be overlooked, and Peter's instructions on the subject of salvation should not be ignored (Acts 2:38).