Encouraging Ownership
"There's a lot of people that still have the old school mentality that the pastor needs to have his hands on everything," said Pastor Ben Sawyer of New Life UPC in Effingham, Illinois. "We're trying to teach people that if you have a Sunday school class, take ownership of that class. Make it yours; make it personal. I feel like people can have a big part of a growing revival church if they're personally invested in it."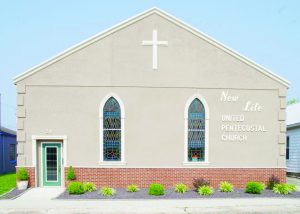 Keys to a Growing Church
Pastor Sawyer believes that the most important key to growth is a praying church. "How can you know the direction of the church if you're not talking to God?" he asked. "We want the leaders in our church to be intentional with the things that they do. You don't just hope that things accidentally happen. There should be times when you go out on purpose to minister to somebody.
"In Acts 6, Peter and the disciples appointed deacons to help out in other areas of the church. It says the pastor should be given to prayer and to the ministry of the Word. The pastor will have other obligations, but the more he can focus on prayer and ministry of the Word the better."
Pastor Sawyer continued, "I love to work with and get to know the new people. I hope that is something that I will always be able to do — invest in new people. I'd like to still be able to be teaching home Bible studies if our church is 1,000 members. I think that's very important, not just for the growth of the group but for the growth of individuals as well."
Growth Ministries and Methods
"Right now, we are a smaller church, but there has been growth in the past couple of years that has been very exciting," explained Pastor Sawyer. "Most growth has not been from door knocking or efforts like that. It has been from people bringing friends and family members. We have also worked very hard recently on our Sunday School Department. I believe that kids are the future of a church as well as the present. If you don't have a live and growing children's ministry, I don't think you have a future for your church."
New Life UPC has several departments and ministries, including youth, Sunday school, music, men, ladies, marrieds, hospitality, and visitor follow-up. Also, the church is in the process of establishing a Hyphen ministry.
Right now, the departmental leaders meet quarterly, once every three months. "We want to raise this to every month, but so far it's just quarterly," said the pastor. "They don't hand in reports, but they are accountable at our meetings."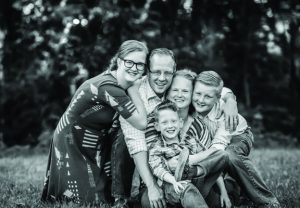 Leadership
"The leadership of a church is on a higher level than that of a layperson or saint, so we expect more of them," explained Pastor Sawyer. "We ask the leaders to do more than the saints as far as giving and faithfulness. There's a lot of accountability. We expect our leaders to set monthly, quarterly and annual goals. In our meetings, we discuss how they're coming along with these goals."
For training, Pastor Sawyer focuses on sitting down and holding his leaders accountable. "We ask, 'What are your goals and how will you reach them?' We write down step-by-step how they plan to reach those goals. The training is hands-on right now."
Involvement
The percentage of involvement in ministry at New Life UPC is fairly high, about 60-70 percent, which is over half of the members, according to Pastor Sawyer. They are "pushing really hard, all hands on deck," he said.
He said around 50 percent of his members are actively reaching out and trying to bring somebody to church with them or start a Bible study. "Probably about half the people have caught on," he said. "I believe that if outreach is not preached from the pulpit, taught in the classroom and spoken about in the staff meeting, it won't happen. That is our biggest promotion."
Personal Philosophy of Ministry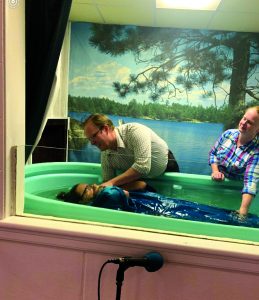 Pastor Sawyer is "a firm believer in the old-fashioned idea of prayer. I don't know how we can operate without prayer. Our theme this year is 'Add To,' meaning that it's important to add to your personal relationship with God. How can you know what God wants you to do if you're not drawing closer to Him?
"We're very much stressing 2 Peter 1:5-7: '…add to your faith virtue; and to virtue knowledge…' You can't be too close to God.
"Lately, we've been talking more about growing a personal relationship with God. I've felt that this is the direction God wants for us. We can feel the faith, the expectancy building in our church people. We've been teaching them to look at themselves right now, even from six months ago. We are asking these questions, 'Right now, do you feel like you are doing more for God than you did six months ago? Are you praying more? Are you more faithful? Are you giving more? Are you committing more? Because if you are, that means you're growing. The closer you get to God, the more you know the will of God. The more you know the will of God, the more you'll know how God can use you.'"
Targeting Kids
It has taken some time and effort to create a stronger Sunday school experience at New Life UPC. "The past three or four years, our Sunday School Department has almost bottomed out," explained Pastor Sawyer. "We have rearranged some things and are pushing to have a good, solid Sunday School Department.
"I believe in children and kids. Three or four years ago, we had 20 to 30 kids on Wednesdays and Sundays, then summer happened and we got down to only our church kids. Now, we're pushing to have bus kids and to rebuild our Sunday school program. What an opportunity! If you can reach young kids, you can reach parents and siblings."
Facility
Pastor Sawyer describes their church building as a "very solid, nice-looking brick building. The former pastor was very much a handy man and, with the help of others, he kept the building maintained. We can seat about 120-130 people. We have been in this building since 1970. It was an armory until the Presbyterians moved in. Then, Pastor Lawrence Jones bought the building and we have been in there ever since. We have a sanctuary building, which also holds our evangelist quarters, kitchen and fellowship hall. We have an educational building where we hold all our Sunday school classes and kids' church areas."
For future growth, a five-year plan is in place. "Within the next five years, we want to increase Sunday school up to 30-plus," Pastor Sawyer said. "The educational building has six classrooms holding about 10 kids or less. We would like to knock out some walls and expand. We have reached out to neighboring businesses that are allowing us to use their facilities on weekends for parking."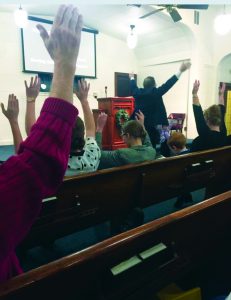 Growth
New Life UPC averages more than 70 people in attendance. "In four years, we have grown roughly 35-40 people," he said. "Last year, eight people got the Holy Ghost and ten were baptized. This year, we've baptized six so far and four people have received the Holy Ghost."
In February of 2016, Pastor Sawyer and his wife became co-pastors with Bro. Upchurch. "In August 2017, we took on the church full-time and Bro. Upchurch retired. He is our bishop and still attends our church. I rely very heavily on him for advice. If I need something, he's the first person I turn to. He spent the most time in my recent ministry investing in me. I trust him. He is as Christian of a man as I have ever met. He's highly respected in the district by those who know him. I love that he still attends."
Pastor Sawyer said the outreach methods at New Life UPC haven't changed much. "Bro. Upchurch was always a very big Sunday school guy," he said. "He's always been good with kids. He loves people. His theme was, 'I want everything for you that God wants for you.' He's very kind, very loving, very willing to help people. He put that in us as well.
"I love to be around people. I love to be friends and get to know people. I read a statistic one time that said, 'Less than 15 percent of church's successful outreaches will come from door knocking and advertisements and tracts. 85 percent of your average church's successful outreach comes from personal contact, being a friend, bringing friends with you.' That's what we encourage people to do: bring their friends, bring their families, bring their co-workers."
Concluding Remarks
Pastor Sawyer stressed that it's important to "find somebody to be accountable to — one, two, three different people that can have veto power in your life, that can say 'no,' and you will listen to them. It's just as important to have a network of peers, people your own age that you can get together with. Some of the best times of my life have been with people who are doing what I'm doing that I can talk to."