Growing a Multicultural Church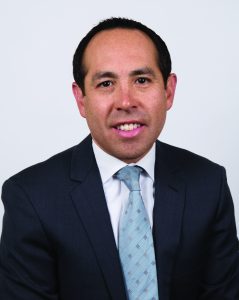 Bro. Lopez, tell us a little about yourself and your ministry.
My family began attending Christian Life Center (CLC) in Stockton, California under the leadership of Bro. Kenneth Haney when I was 13. I attended CLC 1993-97 and have a BA in Bible and Theology and a MA in Theological Studies from Evangel University. I'm currently enrolled in Amridge University, completing my PhD in Interdisciplinary Studies: Ministry and Leadership. Since 2015, I have served as president and CEO of Christian Life College, and have served as presbyter of Section 4, Western District UPCI since 2018.
Since I was a child, I always knew I would be a preacher. When I was 17, Bro. Haney sent a group of young people on a preaching tour to the Rocky Mountain District. When we returned, he gave me the liberty to speak to the church about the tour and tell what God was doing.
Bro. Haney hired me in 1995 to work in our youth department. Since then, I've been involved in the Pastoral Staff Ministry at CLC where I have served as youth pastor, and oversaw our Young Adult Ministry, Young Married Ministry and New Believers Ministry. When Bro. Haney was elected general superintendent, Bro. Nathaniel Haney became the senior pastor and two years later asked me to serve as his senior associate pastor, overseeing the pastoral care ministries and church administration.
Christian Life Center is well-known for being a multicultural church. Tell us about the church and its cultural mix.
Stockton is a very multicultural city that goes back to the Vietnam conflict. When we closed our embassies, there was a need to bring people over from places of conflict like Vietnam, Cambodia, Thailand and Laos. Basically, we had a migration in the late '70s and early '80s that deposited many people from various areas of the world in Stockton.
Bro. Kenneth Haney felt that since we hadn't sent missionaries to those lands, God sent those people to us. Therefore, our church had the responsibility to evangelize the Southeast Asian communities. People from our church began to go out and evangelize, give Bible studies and invite them to church. Our bus routes all over the city were filled with these precious souls who were new to our land. And, if you gained one member of a family, you often gained the entire family. That's how we started our Asian ministry and still have a thriving Asian ministry here at CLC today.
There is a tremendous Hispanic population in California. In recent years, our African communities (e.g. Nigerian, Ugandan, Kenyan) have also grown. Pastor Haney is adamant that we will only separate members due to language barriers. If they speak or understand the English language, we work to assimilate all cultures into the larger church family. We have a Spanish ministry and services to evangelize souls whose primary language is Spanish. We also have Asian ministry services to reach those who speak the Laotian, Thai and Hmong languages.
What challenges does having a widely multicultural church present? What advantages does it offer?
Often, there is a language barrier, so we create an opportunity for them to still participate in our main worship services. We offer translations via radio headsets, and we're currently set up for Spanish and Chinese translations. As for small groups, we just had a breakthrough reaching a Gypsy community. Once inside homes, we do our best to connect with aunts, uncles and other family members also.
Pastor Haney is careful about any reference to the church being ethnic-based. We don't classify our members or leaders by race or ethnicity. We're the church of God, and everyone is now part of a new family . . . God's family. Racial and ethnic differences often divide, so we're careful to come together as one.
When someone of a different culture or ethnic group comes into the church and sees others like them, they feel more at peace, more comfortable. We don't have to tell someone, "You'll be more comfortable at another church." At Christian Life Center, we are Stockton, and whoever you are, chances are you're going to find someone with a similar background as yours sitting close to you. There are different music styles and different ways people have of expressing themselves before God in worship. Some are very expressive and some are more reserved. Being a multicultural church helps us evangelize and reach our city.
In what ways do you intentionally target your evangelism to various ethnic groups? How successful has this been? Can you share some experiences?
For example, our Spanish Ministry does targeted outreach to the Spanish-speaking communities. We make up flyers in Spanish and do what we call Dia de los Amigos (Friends Day) at one of our campuses. For this, we will have a social event like a barbeque and then hold an outreach service. Our Asian Ministries do the same to reach their communities. We just did a neighborhood park service with a full sound system for music, bounce houses for children and then a short preaching service. It was tremendously successful, and we have already scheduled another one for this summer. We also have a very effective deaf ministry that is growing, as we work to reach the large deaf community in our area.
If a pastor wanted to increase his multicultural outreach and exposure, how would you advise him to begin or expand?
A pastor's greatest asset is his influence over the pulpit. He should teach and preach about the mission of God's church to reach their city. We're going to have to reach out to those who are different from us and have different backgrounds than we do. We must stretch ourselves. When we first began to teach those of different languages and cultures, we used the simplicity of flannel graphs. One of our current associate pastors, who was a Buddhist, came out of that ministry.
And at every service we pray over our city with what we call a Kingdom Prayer, a harvest prayer that is based on the Lord's Prayer. We believe if we get our people praying for the harvest, they will take responsibility for the harvest. Stockton has gangs and drugs, so one could ask, "What's good in Stockton?" However, it's hard to have a negative view about something when you're praying for it. We pray to God, "Your kingdom come, Your will be done in Stockton as it is in heaven."
If some have questions, do you mind if they contact you? Your contact info?
I may be contacted through direct messaging at LinkedIn: elimlopez or at elopez@clc.edu.