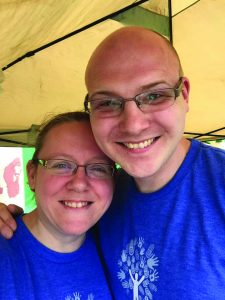 Pastor Michael Lagle
Hebrews 11 – 1 Now faith is the substance of things hoped for, the evidence of things not seen. 3 Through faith we understand that the worlds were framed by the word of God, so that things which are seen were not made of things which do appear. 6 But without faith it is impossible to please him: for he that cometh to God must believe that he is, and that he is a rewarder of them that diligently seek him.
Faith is defined in the dictionary as:
• Confidence or trust in a person or thing
• Belief that is not based on proof
• Belief in God or religious teachings
Faith is defined in Hebrews 11:1 as the substance (reality) of things hoped for, the evidence of things not seen.
How much faith do you have?
We've all been given a measure of faith, but what you do with that measure is up to you (Romans 12:3). Will you build on/increase that measure or weaken/diminish that measure? Much like a muscle, faith must be exercised to keep it strong because it can and will deteriorate if not regularly exercised.
The Roman centurion sent for Jesus to heal his servant. He understood Jesus' authority, as the centurion was a man who was both in and under authority. This allowed him to have great faith in Jesus' ability to heal just by speaking. If we are to have great faith, we cannot forget who Jesus is or the authority we have in His name. We cannot forget the power we have in the Holy Ghost and in the Word of God. Miracles build faith, but great faith opens the door for miracles to happen.
Where is your faith?
Faith can increase or decrease, but that is not the only variable. Who or what you place your faith in is just as, if not more, important than your level of faith. If your faith is misplaced to begin with, then the amount of faith you have might as well be irrelevant. Peter had enough faith to step out of the boat, but his faith soon became misplaced in his surroundings. Again, his faith was in the boat. Outside the safety of the boat, his faith was not in Jesus' ability to keep him on the water but in the storm's ability to overtake him.
Jesus calmed the storm. When Jesus asked the disciples where their faith was, He didn't mean, "Where did it go? Did it fall out of the boat during the storm?" He was more likely asking, "In who or what was your faith placed before me?" In this case, similar to the scenario when Peter attempted walking on water, their faith was in their natural surroundings. Logic is faith's antithesis. Strictly relying on all things natural weakens our faith.
God told Abram to separate from everything he knew, initiating the promise of God's inheritance for generations to come. Is your faith in God's promised inheritance, or is your faith relaxed in the safety of your comfort zone?
Joshua and Caleb were the only two out of 12 to bring back a good report from scouting Canaan. Everyone else's faith was in the forces they'd have to defeat so they could take over; fortified towns and a powerful people, including giants. The 10 who brought back negative reports then spread the bad news to everyone else in the camp. Do you spread unbelief and negativity when things look bad, or do you have the faith to see past the natural obstacles and trust God to keep His promise? Is your faith in the Promised Land or in the giants who possess it?
Goliath was a soldier through and through, trained from his youth. David was anointed by God. Is your faith in God's anointing, or in your opponent who, on the surface, seems to have the clear advantage? (we wrestle not against flesh and blood). By faith, David won the psychological and spiritual battles before the physical confrontation even began.
Daniel was supposed to become Meow Mix for some really large kitties, but the same faith which drove Daniel to keep praying even when it became illegal spared him from the jaws of the lions. The three Hebrew boys faced a certain, fiery death because they esteemed God higher than a powerful, worldly ruler, but their faith in and faithfulness to God was returned in such a way that the flames had no effect on them. The apostles' faith allowed them to perform miracles, convert multitudes, and continue the work of Jesus in the face of verbal and physical abuse, even unto death. Believers have always faced persecution, dating back to the Bible. It's progressively getting worse. All that said, is your faith in the power of the lion, or in the One who can shut the mouth of the lion? Is your faith in the fire or in the One who's with you in the fire? Is your faith misplaced in fear of persecution, or is it rightly placed in the One who will bring you through it?
Fear is not of God. Fear is most often based on something that has not yet come to pass – an imagined future. Do not allow your imagination to overthrow your faith in the promises of God which have already come to pass. God's Word has proven true time and time again, and will continue to be true from everlasting to everlasting. There's no doubt about it!
During Jesus' earthly ministry, there were many who put their faith in Him, believing He could heal or restore them or someone they knew. In addition to physical healing, Jesus simultaneously forgave sins. So when He told people they were made whole or made well, it was a complete restoration of both body and spirit. Again, a result of faith being in the right place.
What else does the Bible say about faith?
Romans 10:17 – "So then faith cometh by hearing, and hearing by the word of God."
Hebrews 12:2 – "Looking unto Jesus the author and finisher of our faith…."
Hebrews 11:6 – "But without faith it is impossible to please him."
James 2:17 – "Even so faith, if it hath not works, is dead, being alone."
2 Cor. 5:7 – "For we walk by faith, not by sight."
2 Cor. 9:8 – "And God is able to make all grace abound toward you, that ye, always having all sufficiency in all things, may abound to every good work."
Worried about provision? Not only is He able to provide your needs but will provide beyond your needs in order to bless others. Not only is He able to bless you, but He is able to bless others through you.
God does great things in our lives. We rejoice in the moment but continue to live life in such a way that people wouldn't recognize a change. Have you done something awful, something for which you feel like you can't forgive yourself? More than that, something for which you haven't asked God's forgiveness or for which you think He won't forgive you? Worse yet, has someone wronged you in such an awful way that you feel like forgiveness is not warranted? If yes, then your faith in God is on the wrong side of the cross. Living in guilt and shame is not in God's will. Forgiveness expresses faith in the cross.
2 Timothy (NLT) 12 That is why I am suffering here in prison. But I am not ashamed of it, for I know the one in whom I trust, and I am sure that he is able to guard what I have entrusted to him until the day of his return.
If you trust Him with your relationships, He'll keep the right ones in your life and guard you from the wrong ones.
If you trust Him with your money, He'll not only guard it but bless your giving. If you trust Him with your life, He'll guard it.
Proverbs 3 – 5 Trust in the Lord with all thine heart; and lean not unto thine own understanding. 6 In all thy ways acknowledge him, and he shall direct thy paths.
Matthew 7:7 – Ask. Seek. Knock. These require faith.
Faith is not simply a belief in something but putting that belief in action.
Is there a current situation in your life in which you need more faith? How will you act on that faith? Prayer? Fasting? Seeking counsel? What will you do to put your faith in action? Do you have the faith to believe that what you cannot see can and will impact what you can see? Do you have the faith to take that next step, even though solid ground is not beneath your feet; to push past the limits that doubt has built around you; to do your part in the natural, believing God will add the super to the natural?