Family is important. "Building Family Faith" should be the Christian's "BFF." This is both an opportunity and obligation of the Christian. Dysfunction within the family is oftentimes a reality. Regardless, we need teaching on building family faith. Theodore Roosevelt once stated, "No other success in life, not even being president or being wealthy or going to college, or writing a book or anything else comes up to the success of a man or woman who can feel they have done their duty and that their children and grandchildren rise up and call them blessed."
The Mission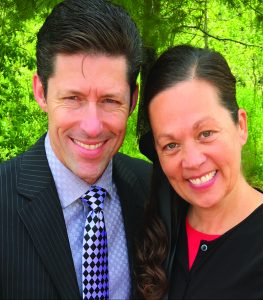 We, in life, want our families right, as there is a lot at stake. God has called us to be saved and go to heaven. However, God also wants us to be successful along the way. Success begins with a strong family.
Fathers and mothers have significant influence on their families. When one is out of the picture, there will be a void. We as Christians can be a helpful influence by just encouraging families. A famous saying suggests, "Families are the crucible in which character is formed." Many of the things we learn are learned as children growing up in a family. A family that has its priorities right will have a much better chance of succeeding.
God Can Use Dysfunction
God used many imperfect families to teach lessons and prove that God can use even dysfunctional situations to complete His will. Genesis 18:1-19 shares the promise of God to Abraham of a future offspring. It is interesting to note that in verse 19 God promises to bless Abraham's family and not only his or his wife's talents.
The Space Perspective
The Apollo 13 mission, which had launched in April of 1970, found themselves in dire circumstances on its second day of its translunar trek. Locked into its lunar target with Mission Control providing support services, a power breakdown had already cancelled the moon landing portion of the mission. The return trip was now in jeopardy as the cleaning system that refined the air was not working properly, and carbon dioxide was a threatening issue. In addition, the trajectory of the capsule needed to be corrected or they would miss the angle of earth entry upon return. The flight director at Houston was dealing with all these problems. Finally, he stopped everything and expressed his desire to see what was actually right with the mission.
Sometimes, we as individuals see situations and just decide there is more wrong than right. There are times when the wrongs we see appear to shroud the things that are right. This perspective can affect the way we view our family.
Where to Begin
Attending church with your family is a good start to building family faith. If you do not have that then the church family is an incredible support group. You can lean on the church for encouragement and trajectory correction. When things break down, situations get out of control and our individual lives become confused and broken, we can start the correction with seeing what is right.
While undergoing a large transition in life, I reached a point where I became extremely stressed and began breaking down emotionally. I was in my church office and feeling hopeless. The thoughts in my mind continued to repeat, "FAILURE, FAILURE, FAILURE…" It was a miracle that my boy was with me. "Failure?" he questioned. "Dad, you have your family. That's what really matters."
He was right. Praise God I was able to lean on him for a power supply. The time will probably come where the roles will be reversed, as that is what family is all about. We need to allow ourselves to be power supplies to our church. If you are not, there others cannot plug in. The faces of the faithful are precious power points for life's journey.
God's Institution
God created family from the beginning. Male and female became husband and wife. Adam and Eve were the first to make the "nuclear family." According to Merriam Webster the term "nuclear family" was first used in 1947, but the concept of the family which consists of parents and children is much older. It was not until the 1960s and 70s that the "nuclear family" became the majority situation.
Industrial, economic booms and rising wages made it possible for young parents to afford their own home with their own family. They did not have to live with extended family members to make ends meet. Multi-generational homes used to be the norm. Grandparents living in the home was common. Due to economic and social factors, this is no longer the case and the "nuclear family" became the new norm.
Priorities
What are your priorities in family life? Do you have spiritual priorities for you family? One way to implement this God-centeredness in your family would be family devotions.
My family has tried to include this in our evening routine. As a young family there were numerous nights where all five children were on the bed trying to find a spot. "Move over" requests were frequent, but those evenings were so special. My wife would read and there were times I drifted off to sleep, but I was still there. After some time I would hear, "John could you pray?" I'd drowsily consent and begin a prayer. These were important, faith building times. No matter the state of your family at this time, begin something spiritual now and just make it a part of your routine.
Looking into the life of Abraham, we can see the spiritual journey he began even before the onset of family. Abraham is known as the "Father of the Faithful," or "Father of the multitude." In Genesis 15:2-4, we see him wondering how a nation would come from him, as he was childless.
Perhaps Abraham questioned God's ability to provide. Taking it into their own hands, Abraham and Sarah decided to have an offspring through Sarah's servant, Hagar. Sometimes we as people have a hard time waiting. God was able to work through this impatient act and provide a son and made him a mighty nation. God provided for this couple that was past child-bearing years.
Abraham walked a journey of building family faith. Three important dimensions of belief can be learned from him as well as another biblical example that we today must implement into our family faith-building journey.
Provision
First, we need to believe that God will provide. There are times when we have unbelief and start doing things on our own. God then has to overrule our actions at times and continue with His process.
Abraham learned this lesson the hard way, but when it came to finding a spouse for his son, he was able to pass this test of faith. He desired his son Isaac to take a wife from his homeland and not from a pagan country. Abraham's servant was a little concerned he may not be able to find a woman who would marry someone she had never seen. Abraham was convinced God would provide and sent his servant back to his homeland in faith. Through a series of events, we see God's provision as Rebecca gracefully enters the scene and consents to marry a man she had never seen.
We need to trust God to provide for our needs and also the needs of our family. Jesus states in Matthew 6:33 that if we seek Him first, "all these things shall be added unto you." God will provide if we seek Him first.
Protection
Trusting God in His protection is the second dimension of building family faith. Amram and Jochabed, parents of the great deliver Moses, trusted in God's protection. Seeing he was a "goodly" child, his parents hid him for three months and then built a basket to hide him in the reeds. It just so happened that Pharaoh's daughter found him and believed he had been sent from the gods. Helping in the family endeavor Moses' sister joined the scene and arranged for Moses' own mother to nurse him. From here, the lessons to baby Moses began. He would never lay claim to being an Egyptian and held fast to his Hebrew heritage eventually becoming a deliverer to an entire nation. (Hebrews 11:24-25) This was a true "nuclear family" that trusted in God's protection.
Providence
Just as Abraham was given a promise of God's providence in Genesis 18:19, your family also is in God's plan of providence.
The Bible reminds us that we are to train up a child in the way that he or she should go, and when they are old they will not depart from it. God gives us children and we are to trust Him that He will lead them to where He wants them to go. There are circumstances where children have gone astray but you have to trust that somewhere down the line God is going to bring them back. They may have to go through some things, but the world has nothing of eternal value to offer.
The great apostle wrote, "… for I know whom I have believed, and am persuaded that he is able to keep that which I have committed unto him against that day," II Timothy 1:12. If you commit your ways and your means to the Lord, He is going to keep you. When you trust Him with your finances, He will provide for your family's needs and use them to advance His work. When we trust God in our work, He will use us as an example to our fellow workers exemplifying how a Christian should respond to the pressures of the work place. We should trust Him in our marriage. This will show our children and others what a godly marriage should look like and how God can be the head of our home.
Family: God's Way
Finally, we trust God with our lives. He can use us to share the good news with a watching world. The Jesus way is the better way!
One of the greatest forms of happiness is one's family. You may have all the riches and treasures in the world, but if your family is in dysfunction that causes great consternation. God can help mend even our dysfunctional families, so go plant the seed. God wants us to have success in our basic family unit, but we must trust God for the provision, protection and the providence of our families.
During the Apollo 13 mission crisis, the Flight Director took a leap of faith and proclaimed, "We are going to get them home. We will not fail on my watch." He took the responsibility and pressed on with determination. Let us not sell our families short. Let's get our families back together. Faithful is He who called you, who also will do it."