"I believe if you love God and His people, you will work harder for Him than the world does for gold," said Pastor Matthew L. Tuttle of Eastgate United Pentecostal Church in Vidor, Texas. Eastgate is a thriving, moving, revival church, focused on winning the world one soul at a time.
Pastor Tuttle (38) and his wife, Michelle, have three daughters: McKyla (13), Savannah (10), Eden (6) and one son, Lewis (8).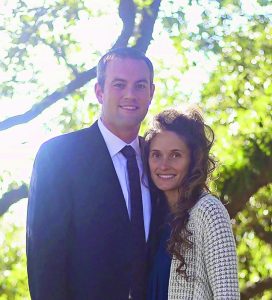 Principles of Growth & Revival
Pastor Tuttle places a great emphasis on prayer. He said, "I believe prayer is a vital key to a church becoming a spiritual place of growth. Our focus is to always have a move of God. People who come to the church must experience something more powerful than in churches that don't preach the truth. We try to stay on fire and leave the building on fire. If the building is on fire, people will come to watch it burn."
He described his priorities as a pastor: the first priority is his family, then a personal relationship with God through prayer, study and devotion, and then the church.
He emphasizes having good church as the best method of church growth. Eastgate UPC utilizes several outreach methods, including prayer walking, door knocking, Friend Day and Light Up Vidor. During their Light Up Vidor event at Christmas time, they light up a 30-foot Christmas tree in front of the church that attracts many people.
The church growth rate at Eastgate UPC is 45 percent, and the average attendance is 480. They baptized 150 last year and 155 received the Holy Ghost. As of August this year, 62 were baptized and 65 have received the Holy Ghost.
Organization & Management
            Eastgate UPC has established numerous departments, including Sunday School, Kidsgate, Music/Choir, Youth Choir, Media Ministry, Sr. Sign Teams, Hyphen, Men's Ministries, Ladies' Ministries, Guest Services/Hostess Ministry, Home Builders (for those who have children at home), Trendsetters (for those whose children have moved out), Senior Saints, Nursing Home Ministry, Bible Quizzing, Prayer Ministry, Eastgate Bible School and Eastgate University. Beyond Borders is Eastgate's Missions Department, and the church holds an annual Missions Conference in January of each year.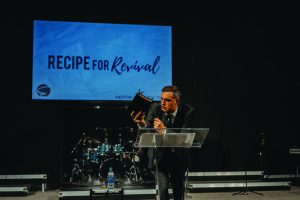 Pastor Tuttle meets regularly with his paid staff and monthly with all department leaders, which have specific job descriptions. They meet for yearly planning in October. Leadership training and planning takes place once a month, and off campus once during the year. "All of our leaders are asked to attend what we call Structure on the first Monday evening of every month, for leadership training and planning," he explained.
"I developed a monthly Ministers in Training (MIT) course for those who have a pulpit calling," said Pastor Tuttle. "And at Eastgate Bible School we use a combination of Texas Bible College materials along with some of our own. Our Excel program is a 3-hour weekly course on Monday evenings through which one can get an associate's degree within five or six years."
About 50 percent of Eastgate's members are involved in some form of ministry, and close to 50 percent are involved in evangelism. This includes those who participate in outreach on Saturdays and those who are involved in soul winning. Pastor Tuttle encourages involvement in evangelism through his preaching and teaching.
"Utilizing social media and live streaming have been great avenues for the church," he said. "We've seen a lot of people come through social media. And what many people don't know about our church is that we have a coffee shop cafe that is open Monday through Friday every week that brings in several hundred people a day."
No Summer Slump at Eastgate
In his first year as pastor of Eastgate UPC, the leadership team was planning for summer events when someone said, "Oh, we will have to prepare for the summer slump." They were speaking about the month of August. Pastor Tuttle went home and told the Lord he didn't like the words "summer slump."  He decided they would have "summer fire" instead.
Turning the weekends in August into powerful events, called Summer Fire, notable special speakers and choirs are brought in to encourage the people to want to do church more than they want to do vacations. Pastor Tuttle encourages the saints to take their vacations in June and July, so they can attend Summer Fire. He said, "It's a great way to go into a new school year, and it actually seems to reset the year."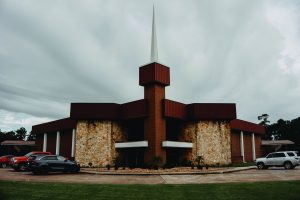 Special Miracles
            Pastor Tuttle described a notable miracle for the church. "The church didn't flood during Hurricane Harvey, but the homes of 86 families in our church flooded. We were the worst hit city of the storm, yet we were still able to give around $280,000 to Global Missions."
Current Facility
A previous pastor, Bro. S.C. Hoyt, purchased the 15-acre church property with interstate frontage, and the following pastor, Bro. Bobby Edwards, built the current facility in 1984. The sanctuary has a seating capacity of 715, and there are 18 classrooms, a large commercial kitchen, fellowship hall, regulation-size basketball court, and a Christian school.
Church History
Eastgate UPC has been an Apostolic church for 87 years. Bro. Edwards, the pastor before Bro. Tuttle, was there for 35 years.
The story of Bro. Tuttle becoming pastor of Eastgate is a divine story. While in prayer one day, the Lord placed Bro. Tuttle's name on Bro. Edwards' heart. He didn't know him, and Bro. Tuttle had never preached for him. He called Bro. Tuttle to come and preach for him in 2014, and Bro. Tuttle became pastor of Eastgate in 2015. He noted this of the many outreach methods used in those early years of his pastorate: "We made a major push for outreach, with Evangelism Sundays, etc., but basically, we used anything that worked."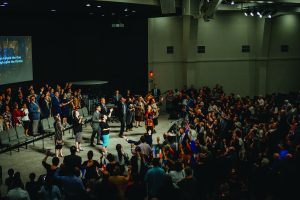 Personal Ministry
             Pastor Tuttle grew up in the Netherlands. Raised in the home of missionary parents, Mike and Dianna Tuttle in Holland, his life was always centered around ministry. He observed the ministry of his father there who translated Search for Truth and other studies into the Dutch language. His father now serves as regional director of Europe and the Middle East region.         Pastor Matthew Tuttle's entire life has been spent working for the Kingdom of God as well. Even through his younger years, he always felt the call of God and knew he desired a pulpit ministry. He received the Holy Ghost at nine years of age and preached his first sermon at the age of 15 in Holland at his father's church. His first pastorate was in the Netherlands. He took his father's church, then started three additional churches there, baptizing over 500 in the first five years.
He attended Indiana Bible College (2000-2002) and Indiana Wesleyan University (IWU) in Marion, Indiana. In Fort Wayne, Indiana, he worked with young people, served as the janitor and was an administrator at Abundant Life Church, pastored by Bro. David Keller. He evangelized for a while out of First Pentecostal Church, pastored by Bro. Darryl McCoy in Port Arthur, Texas.
Pastor Tuttle said, "One of the greatest milestones in my life was my marriage in 2005 to my lovely wife, Michelle, whom I had met at Youth Congress in Nashville, Tennessee in 2003." She has been an amazing asset to his life and ministry.
Those who influenced his life the most were his father, Bro. Mike Tuttle, his father-in-law, Bro. Darryl McCoy, and Bro. David Keller.
He said this of his life of ministry, "I think the whole process throughout my life has produced what I am now, and as I continue on, hopefully will produce what I become." He is passionate about preaching the doctrine of truth.
 Human Interest
Pastor Tuttle enjoys playing basketball and enjoys cooking. His favorite preacher is Bro. Wayne Huntley, and as for his favorite author, there are just too many to pick just one.
His favorite leisure activity is being with his family and playing games with them. Other members in the family include a dog named Coco and a rabbit named Lilly.