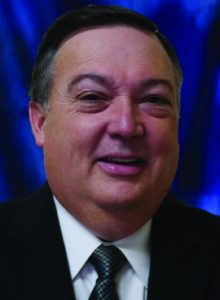 Tell us a little about yourself and your ministry background.
Having done my graduate work at the University of Central Arkansas, I was trained and licensed as a psychologist in 1986.  Over the years, several other licensed counselors and psychologists who were part of the United Pentecostal Church would occasionally meet to try to stay in contact with each other about issues involving the ministry.  In 2009, Bishop Ron E. Libby contacted many of us and formed Points of Refuge.  He set up a website and established a toll-free number where ministers and their families could anonymously contact individual caregivers or call the main number and discuss any issue they had and receive support, encouragement, or advice.  As time went by, Brother Libby encouraged other ministers, who may not have had formal training but had years of experience and a burden to help other ministers, to offer their services to POR.  Two years ago, due to his health issues, Bishop Libby asked me to assume leadership of Points of Refuge.  General Superintendent Bernard recommended that Points of Refuge undergo the process of becoming an endorsed ministry of the United Pentecostal Church International.  Upon completion of the process last year, POR is now an officially endorsed ministry.  We remain a collection of professional and experienced individuals committed to being a resource to and for ministers and their families of the United Pentecostal Church.
We are constantly hearing about the increased numbers of pastors/ministers leaving the ministry.  Why do you think this is happening?  What are the forces causing this?
Over the past several years, ministers have been under attack spiritually, mentally, and emotionally through a variety of circumstances consistent with ministering to or pastoring a congregation (i.e., finances, conflicts, apathy, etc.) Obviously, whoever is trying to lead others and be a channel for God's Spirit, is a bigger target for spiritual attack than someone who is simply attending a church and is not in a position of influence and/or leadership.  In these last days, the devil has moved from the deceptive serpent in Genesis to the dragon of Revelation, so the attacks against the Church and, in particular, those who serve have increased and will continue to increase until He returns.  The further our society moves from God, the more opposition we will experience.  Nevertheless, we still have Hope!  Where sin abounds, grace does much more abound.
Are Apostolic Ministers immune from this pressure?  Do we have the same loss rate?  Why or why not?
Apostolic Ministers are not immune either from the pressure of the world or from the devil.  I'm not sure about the statistics of those who have resigned, but I would guess that there are fewer Apostolic ministers being so overwhelmed that they give up the ministry in whole than those ministers in denominal churches.  The main reason I would make such a suggestion is that most Apostolic ministers know how and operate in harmony with the Holy Ghost, whereas, there are many denominal ministers who do not even believe in the Holy Ghost, much less operate in it.  Furthermore, most Apostolic ministers participate in ministry because of a "calling" or "burden" rather than serving because of a professional or vocational choice.  This mental and emotional shift allows Apostolic ministers to recognize that they are serving at the request of God, which can relieve some self-inflicted stress or the incessant feeling that we are responsible both for effort and also the result.  We serve at the calling of God, and He is responsible for the outcome of our obedience to His Word and Way.
What is the greatest type of struggles that our preachers are facing? How can preachers help protect themselves from falling prey to these problems?
I would guess that the greatest struggles that our preachers face involve their closest relationships (spouse and children).  It is easy to immerse yourself in the work of the Lord and neglect doing regular "maintenance" work on your relationships.  The best way to avoid this trap is to make sure that you carve out at least weekly time to build marital and family relationships.  Another trap is when someone forgets how to change hats and switch roles.  For example, it is impossible to "pastor" your spouse and/or children all the time.  When appropriate, you have to be able and willing to shift roles to a loving and supporting spouse and/or parent.
How long has Points of Refuge been a ministry and have you seen your ministry growing?
Points of Refuge began in 2009, but it received official status as an endorsed ministry of the United Pentecostal Church at General Conference in 2018.  We have seen an increase in the number of ministers and their families who have reached out to our caregivers every year since POR's inception.
Why might a minister be hesitant to contact you and how might you reassure them that you can and will help with total confidentiality?
Confidentiality is usually the main concern, but we are able to take calls anonymously, and most of our caregivers have some professional experience where confidentiality is always an important consideration.  When confidentiality is an issue, it is usually because the minister or a family member has been engaged in some illegal or immoral behavior, which could result in the loss of licensure and public reputation.  Our caregivers are sensitive to the importance of those issues and do their best to help or refer them to other professionals when it is obvious that there needs to be official or mandatory reporting.  However, the policy of POR is to remind each caller that it is our duty to report suspected child abuse or that someone is a danger to themselves or others.  This is true even if we only have a phone number for the caller.
You have recently released a new book on helping those in ministryremain emotionally healthy.  Tell us about it.  Why should a preacher read it?  How to order it? Cost?
"Healthy Pastor" is comprised of 15 separate stand-alone chapters written by different caregivers of Points of Refuge.  Each chapter addresses various issues that a pastor or minister might face in the course of serving others.  Because each chapter is written by a seasoned minister, the information is relevant and helpful to those currently serving.  The cost of the book is $20 and can be ordered by sending a check or money order to POR, P. O. Box 22, Newark, OH  43058.
How does a minister contact you if they need help or have questions?
There are several ways to contact POR:
Website: pointsofrefuge.com
Call: (833) TELL POR (835-5767)
Email:  porupci@gmail.com