"Don't forget about us" is the plea from our neighbors in the Caribbean. Many of us here in the US cannot list the names of the different Caribbean islands that more than 39 million people call home. In the wake of Hurricane Irma, many there have lost their houses, sources of clean water, physical belongings, safety and security, food sources, and some even their lives. And in the obscurity of their location and anonymity of their person, individuals are afraid they will be forgotten.
Over the last two weeks, hurricanes wreaked havoc in Texas, Florida, and the Caribbean Islands. During the same time, Mexico suffered an earthquake and wildfires have spread in the Northwestern United States. While we cannot control the natural world, we do control our response to the resulting desperate needs. "About 80 percent of all recovery happens because of non-profits, and the majority of them are faith-based," states Greg Forrester, CEO of the National Voluntary Organizations Active in Disaster (NVOAD) alliance.
Our Apostolic church family has come together across the United States and now stretching down to the Caribbean in a concerted effort to not "forget" the individuals that are suffering from the recent disasters. Compassion Services International (CSI) has joined with many of our churches, individuals and busi­nesses to raise funds, collect and donate supplies to bring help and aid to the affected areas.
CSI is a nonprofit, 501(c)(3), faith-based humanitarian organization extending both domestically and internationally with disaster relief and medical care. This vision for far-reaching global impact was cast more than 30 years ago under then UPCI Global Missions Director Harry E. Scism. Rev. Scism tasked the first CSI Director Robert K. Rodenbush with developing an official arm of ministry to help people suffering during disasters overseas. With the help of many missions-minded individuals, CSI has grown in scope and mission and now includes the North American Region. In 2008, with the encouragement and bless­ing of the UPCI Global Missions Board, CSI was set up and established as a separate, nonprofit corporation and recognized by the IRS as a tax-exempt organization under Section 501(c)(3) of the Internal Revenue Code. Though now an independent corpo­rate entity, separate from the UPCI, CSI has functioned as an official endorsed proj­ect of the UPCI since its inception.
CSI is not only a part of general humanitarian efforts, but this unique, Apostolic-faith-based group is able to target the church family in times of crises and devas­tation. At the release of this article, a missionary-led humanitarian team has already been on the ground in the Caribbean among those islands cut off from communication and power, addressing acute needs and as­sessing the long-term situation. Utiliz­ing a network of pastors, churches, businesses and other relief agencies, CSI has been a part, of bringing re­lief to Apostolics and their commu­nities in Texas, Florida, and now the Caribbean during this trying time. Further, CSI aims to help lo­cal congregations and missionaries on the field extend their reach and reputation through compassion and good works. "As we have therefore opportunity, let us do good unto all men, especially unto them who are of the household of faith" (Galatians 6:10).
What has been done so far?
#CompassionForTexas
CSI's initial efforts for hurricane relief started with metro and regional coordinators mobilizing donations and directing logistics of collection and delivery. In Missouri, Associate Pastor Luke Levine acted as the St. Louis Metro Coordinator, and Rev. Aaron Arrowood functioned as the CSI District Coordinator for the Indiana District's efforts. Shortly thereafter Rev. Rick Fairfield became the CSI District Coordinator for the Michigan District's efforts. These men and their teams worked with many generous churches, individuals, and businesses. The items to be delivered to Texas included cleaning and hygiene products, fresh linens, tools, water, and more. Among many others, the Wisconsin, Illinois, Ohio, and Florida districts also joined in collection and delivery.
Transport to Texas involved many volunteers and donations of time, drivers, trucks, and semitrailers. Stock Transport of Illinois participated with a "Stock-The-Truck" campaign, volunteering trucks and drivers. They partnered with Levine to target churches and communities within our Apostolic network.
Texas District Superintendent Kevin Prince and South Texas District Superintendent Ken Gurley and their teams assisted with assessment and distribution of donations sent to Texas. Levine was interviewed by People magazine, where he explained that "CSI [focused] on smaller, more rural communities that may [otherwise] be forced to wait weeks for relief."
As a further part of that initial work, the CSI Mobile Response Trailer was activated by Bro. Mark Majors and coordinated by Bro. Eddie Tilley in Texas. Mark Majors, President and CEO of MedExpress Companies and CSI's Volunteer Disaster Relief Coordinator, lends his expertise to the efforts with his years of experience in emergency medical services, as well as, disaster preparedness and response. Basic first-aid was provided by volunteer nurses and other team members to first-responders and community locals. First-aid kits were also distributed to churches and individual families.
As the flood waters recede, many homes and churches in Texas and Florida now face rebuilding and restoration. In a second phase, CSI has begun sending building materials to targeted locations. The first shipment included over 400 rolls of insulation, several bundles of trim, and 10,000 pounds of drywall, along with mud, tape, and screws. A second load of drywall is scheduled to be delivered in the coming days. Pastor Ryan Thomas of Terre Haute, Indiana recruited church member Joe Rodgers to take down the first load of sheetrock and materials to Vidor, Texas. Both donated their time, and Rodgers used his personal semi-trailer truck.
#CompassionForFlorida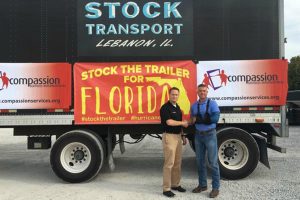 Rev. Larry Sims has functioned as CSI's Florida contact and helped with directing donations and supplies there. Pastor David Myers with Hands For Healing and Pastor Mark Hattabaugh were also instrumental in delivering aid to both Texas and Florida. Plans to move the CSI Mobile Response Trailer to Florida are being developed. Church members Clarence and Shannon Cornwell coordinated a massive effort in Seymour, Indiana and will be delivering another box trailer full of supplies to Florida. 36,000 bottles of water were transported by Pastor Thomas and Rodgers to Florida. CSI is in contact with many aid groups and churches in Florida, and as the needs become clear will continue efforts there.
#CompassionForTheCaribbean
On the Caribbean front, contact with our pastors and churches has been difficult due to power outages. In-person contact was necessary to appraise the situation, and CSI partnered with Missionary Steve Shirley to send an initial assessment team down to the islands along with acute relief. Shirley has been a UPCI missionary to the Dominican Republic for more than 25 years and also serves as the Area Coordinator. Ken Faulkner, who operates an ambulance service in Indianapolis, Indiana and is a licensed paramedic, partnered with him for this trip.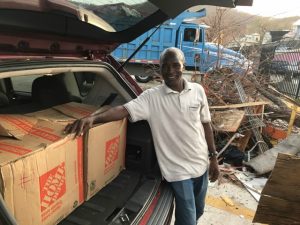 Their first target was the island of St. John, U.S.V.I, a several-hour ferry from San Juan, Puerto Rico. St. John was in the direct path of Hurricane Irma, and the majority of the island has left bare Homes, buildings, and vegetation have all been drastically affected. As one small island within the Virgin Islands, boats are the primary mode of transport. Some sources report that more than 90 percent of all the boats on St. John have been destroyed. Left completely without po
wer, Shirley had previously not been able to make any contact with the pastor or church members on the island.
After arriving on September 15th, Bro. Shirley and Bro. Faulkner were able to locate Pastor Herbert who pastors a UPCI church in St. John. Their initial load of relief items included a generator, tarps, first-aid supplies, and cleaning materials. Pastor Herbert and his wife were so thankful for this small palliation in their current situation. Their home suffered significant damage. Like many others, the roof had blown off and the contents of the home were soaked and severely damaged. The church is in need of repair and requires further structural evaluation. However, due to lawlessness and looting there is a strict curfew in the area and there are no accommodations for aid workers making recovery efforts extremely difficult at this time.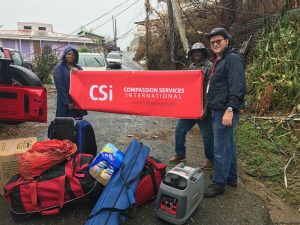 So many questions lay unanswered for the population of these Caribbean Islands. Where will I sleep when the next storm comes? Can law and order be restored? When my medication runs out this month, is there a pharmacy left or open or even stocked? Will the church be able to hold services in the coming months? Will the donated food sources continue past the next few weeks? Should we leave our island home? If we do, where will we go?
As we look ahead, we are working to make contact with the rest of our pastors and churches on the other Caribbean Islands, like Tortola and St. Maarten. We read reports that it may take up to 12 months to restore power to islands like St. John. We see churches without roofs. We have constituents living in temporary shelters with no house to return to. And sadly, we watch yet another tropical storm approaching the Caribbean Islands. In all this, we hear again the entreaty of our neighbors and church family in the Caribbean to not forget about them. CSI is dedicated to "remembering" and staying committed to long-term recovery efforts to meet the pervasive needs left in the wake of these storms. What has been accomplished so far and what will be accomplished in the future depends on all of us joining together in compassion. #CompassionTogether