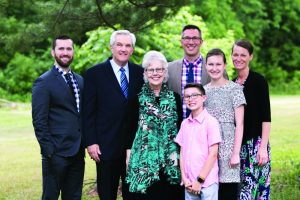 "We are committed to magnifying the Lord through Spirit-filled worship, godly lifestyle, consistent prayer life, and generous giving. It is our endeavor to proclaim the gospel to our community and to equip others to be disciples of Jesus Christ." This is the mission statement for the United Pentecostal Church of Portage, Ind. The church, pastored by Bro. James Fielder, has been a mainstay in the community for more than 60 years. It has been a refuge for the hurting, a church built on the rock.
Bro. Fielder and his wife, Wanda, are blessed to pastor this thriving church in Portage. They have two sons, Brent and Bryan. Brent and his wife, Angie, have two children and serve as the church's youth directors. Bro. Fielder is currently on the Indiana District Board serving as presbyter of Section One. Various positions he has formerly filled are Ohio Youth Secretary, Indiana Evangelists' Director, Section One Sunday School Director and Home Missions Director.
FIRST-TIME GUESTS
Guests and visitors are pleasantly surprised at the quality care they receive upon visiting Portage UPC for the first time. Upon arrival, guests will be greeted by a welcoming hostess team.   Ushering staff will be standing by with umbrellas in case it is raining. The team of greeters is readily available to assist at the Guest Services desk. Here guests will be given an opportunity to complete an information card. All personal information is kept confidential. However, the church may use that information to express thanks for first-time guests and will be used to inform the visitor of upcoming events. First-time guests will be visited by a member of the Outreach team and will receive a small gift from the church.
PRINCIPLES OF GROWTH & REVIVAL
"The night is far spent, the day is at hand: let us therefore cast off the works of darkness, and let us put on the armor of light" Romans 13:12.
The church in Portage utilizes several powerful tools for evangelism and reaching the community. "In years past, bus ministry played a vital part of church growth, and we continue to reap the benefits of that ministry," said Pastor Fielder. "We currently do not use buses, but we run church vans weekly. However, we find that personal evangelism is our best method of growth. We encourage the teaching of home Bible studies and one-on-one witnessing. Another powerful tool for our church growth has been an outstanding Children's Ministry and a thriving Youth Ministry. We feel that we have much to offer our community in these ministries, and it promises a strong church of the future as well as today."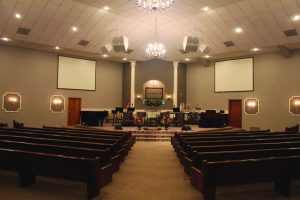 ORGANIZATION & MANAGEMENT
The UPC of Portage enjoys a variety of ministries under Pastor Fielder's leadership, consisting of the following departments: Sunday School, Men, Ladies, Senior Singles, Youth (ages 12-18) which consists of various activities for an active youth group that loves God and loves having fun! The Children's Ministry (ages 4-11) offers exciting, fun-filled activities such as choir, drama, kid's church and a variety of other activities just for children. Single young adults are encouraged to join Hyphen. "Our anointed Music Ministry is designed to bring glory to our God," said Pastor Fielder. "We strongly encourage worship, for He deserves all of our praise at every opportunity we have."
The pastor meets with department heads on a monthly basis. They also have a yearly planning meeting to form a calendar of events and discuss new ideas or situations which need attention.  This method of operation has proved to be beneficial to each ministry by combining the creativity of others.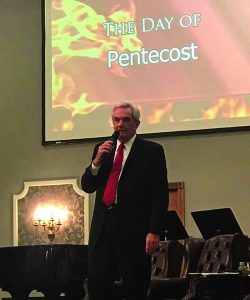 PERSONAL MINISTRY
The philosophy of Pastor Fielder has always been that "the pastor needs a pastor." He feels "it is vital to have this influence in one's life. Although both of my former pastors are deceased, I keep close contact with influential voices in my life. I also provide mentorship to many ministers who have been a part of our assembly. We currently have nine couples in ministry that formerly sat under our leadership who are now serving as pastors or assistants in other cities. We also have four ministers working along with me in our local church. We have an awesome assistant pastor, Bro. Michael McFarland."
CURRENT FACILITY
The current sanctuary of the Portage United Pentecostal Church was built in 1983 on the 12 acres previously purchased just four years after the Fielders took over the pastorate. It has a seating capacity of 800, including the balcony. "We recently redecorated this facility," explained Pastor Fielder. "We also have a separate Family Center that has been a blessing to our congregation by providing a wonderful facility for many church events. One other building on our property is a large bus garage. We have plenty of room to expand, and that is our desire and goal. We currently average a little over 200 in attendance."
PERSONAL HISTORY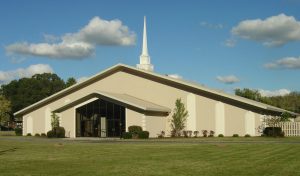 Pastor Fielder said he was not blessed to be raised in a Pentecostal home but was raised as a Catholic, which included attending Catholic school and being an altar boy. "I was marvelously brought to truth at the age of 15 by the witness of a friend in high school," he explained. "I actually had to be baptized in secret due to the disapproval of family.
"The first church I attended was in Junction City, Ohio, pastored by Rev. Chant Dunlap. This church moved to New Lexington, Ohio and was then pastored by Rev. Richard Lucas. These two men played a very important role in my life until their passing."
Pastor Fielder said he first felt the call to ministry during a New Year's Eve watchnight service at the age of 16 while serving as the local youth leader. He preached his first sermon in his home church. To better prepare himself for ministry, he enrolled in Texas Bible College (TBC) and graduated in 1968.
"My wife, Wanda, and I met at TBC, and we married in 1967," he said. "Five months after graduating college, we started evangelizing and continued to do so for seven years. This was one of the best enhancements to my ministry, learning from so many different pastors. We then became pastor of the Apostolic Gospel Church in Ironton, Ohio for the next four years. We have wonderful memories of these years.
"In November of 1979, we became pastor of the Portage United Pentecostal Church and have now pastored for 38 years. We have been thankful for a congregation of wonderful, faithful people who have made this journey a great one. A special privilege of pastoring in one location for a lengthy period of time is seeing babies born and watching them grow, baptizing them, attending their graduations, officiating at their wedding, and now being able to baptize their children and continuing life celebrations with another generation. That has been a delight to my wife and me."
CHURCH HISTORY
"…and upon this Rock I will build my church; and the gates of hell shall not prevail against it."  Matthew 16:18.
The Portage United Pentecostal Church had its beginning in the spring of 1956 with prayer meetings and Bible studies in various homes. It began under the leadership of Bro. G. T. Grinder and was called the Garyton United Pentecostal Church. The church purchased the property at the corner of Mulberry and Russell Streets and a church building was erected there that same year. The church name was changed in 1959 due to the name change of the community. Bro. Paul Upton served as interim pastor for three months when Bro. Grinder resigned in November 1962. Bro. W. C. Matlock became pastor in 1963 and served for five years. A fellowship hall was built during this time. Bro. Robert E. Henson was elected pastor in 1968, and he served in this capacity for 11 years. During his leadership in 1973, the church was remodeled and 12 acres of land were purchased where the church building now exists. In 1983, the new church building was constructed at the present location on Willowdale Road, and a Family Center was built in 1988.
HUMAN INTEREST
Although Pastor Fielder doesn't find much time to indulge, golfing is a favorite leisure activity.  "However, my wife and I most enjoy spending time with our wonderful family," he said. "We cherish every moment with them. We live close to Chicago, and we like to take the train into the city and enjoy the many wonderful sites and activities there.
"We love to travel the world, and we have a wonderful group of ministry friends with whom we vacation yearly. Quite often that has been cruising, of which we love.
"I have always enjoyed the writings of revivalists Charles Spurgeon and D. L. Moody and have a small collection of their publications. I have read most of the books written by my friend, Mark Jordan, and always find great inspiration in his prolific writing. My desire is to mentor those following in my leadership and to enjoy watching their ministries flourish."