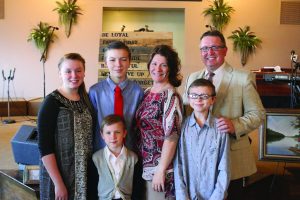 If your church closed its doors, would the community miss you? This question haunts many pastors who wonder, "Does my church have an impact on the community?" At First Apostolic Church (FAC) of Steger, Illinois, the main vision is community. "Community, truth and love" is the motto that they teach and apply to every aspect of the church, including outreach, ministry and discipleship.
"I think the church has to be like a big brother to the community," said Pastor Jason Cox. "We must have a relationship with the family of the community; that way we can share our influence with the community." FAC has been established in the Chicago suburbs for 63 years.
Pastor Cox (43) and his wife, Alyssa, have four children: Camden (14), Cadence (13), Carigan (11), and Caelson (7). They currently serve as the Section 10 North American Missions district directors of Illinois, and formerly served as the Illinois youth president and youth secretary.
Principles of Growth & Revival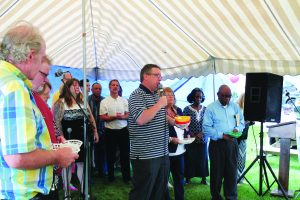 Pastor Cox said his main priority for the church is having a mind of God for the congregation. This includes having a specific evangelist come or teaching specific messages, so that one of the five-fold ministries can be represented. In one aspect, Pastor Cox views growth in the church as influence in the town. This helps the church deepen its connection with the community.
"We were told by the mayor that they consider us the most influential church in town, which was quite an honor," Pastor Cox said. "We have been able to speak into our community through the village hall meetings. We feel that being involved in our community, as a church, is very helpful. We don't agree with everything our community does, but being there, having those conversations, and praying for others helps us to deepen our connection. People are won to God with this type of relational approach."
One of the church's newest outreach methods is a "park and pray" radio station. The concept is simple: pull into the church parking lot, turn your radio to 99.1 FM (a low-amp signal originating from a computer in the building and extending only about a block from the church) and listen. The radio often features Indiana Bible College and other Christian music, as well as sermon clips, prayer devotions, Bible readings, and prayers over the community and its families.
"We're really excited because we are always thinking of how we can get outside (the walls) of our church," explained Pastor Cox. "We are believing that the 'park and pray' is going to grow in our assembly. We already see people parking and praying. It is good for those going to and from work that can listen to music or do a prayer devotional. This is a way for us to make our parking lot a prayer lot."
When the weather warms up, the church also plans to utilize the "park and pray" for drive-thru prayer, a method of outreach in which visitors pull into the church parking lot and members pray for them.
Pastor Cox's vision for FAC is for their church community to be evangelistic, relational, strategic and reproducible. For example, the discipleship aspect will focus on prayer, peace and purpose. "We believe that everyone has a purpose, so we are raising up prayer mentors, peacemakers and purpose mentors," he said. "People need to see, very early on in their discipleship, that there is a God of peace that they can connect with in prayer, that there is a purpose for their life, and that He can give them something worth living for."
Organization & Management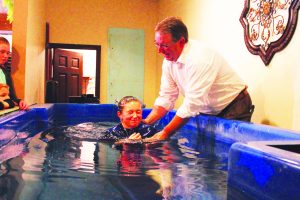 Pastor Cox meets with his staff about once a month. He has used leadership material such as the "Passing the Mantle" series, David Bernard, John Maxwell, and Ken Blanchard books. However, Pastor Cox has asked each of his leaders to share their insights in a new book entitled Vision of the House, which is scheduled to be released in 2020. It is geared to "take a new person from visitor to leadership." Vision of the House will cover a variety of leadership concepts.
"The leaders we have on our team may not always be able to be on our team," he said. "This is one way to let their ideas live on. We train everybody in this church; we will use it to train our leaders."
Special Miracles
Pastor Cox mentioned three prominent examples of when God healed members of the church. When one of FAC's newer converts first started to come, she was expecting a baby. The doctors ran tests on her baby and determined that it would be in her best interest to abort. The baby was going to be born with a lot of difficulties, and it could negatively affect the mother's health.
"These new converts started to come to church, and we prayed for them on numerous occasions throughout the pregnancy," said Pastor Cox. "God gave them a healthy baby and mother. That was a real miracle."
Another testimony Pastor Cox shared concerned one of their older saints who recently had a heart attack. The doctors revealed that a portion of her heart had died and was going to remain dead. But the church prayed, and the last time she had her heart examined, that dead portion had come back alive. The Lord had healed that section of her heart!
A few years ago, one of the church's saints was diagnosed with stage two colon cancer, and God touched her. In one of her most recent follow-up visits, one of her doctors said, "If I didn't know that you had previously had cancer, looking at your test results, I would say that you have never had cancer before." God removed every trace of the cancer and any evidence that she ever had it!
Personal Ministry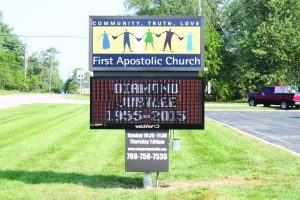 With different churches comes different philosophies of ministry, which includes the principles that gives one's ministry purpose and direction.
"I want to be speaking a word in season," said Pastor Cox. "One thing that I am always after is hearing what the spirit is saying to the church. It is important to be able to share what the spirit is saying to the church, which would require that I be in the spirit and that I stay in tune myself with the spirit. But that all comes forth from staying sensitive to God."
Personal History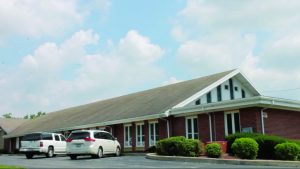 Pastor Cox and his wife have pastored First Apostolic Church of Steger since June 2002. This would make them the fifth pastors of the church since it was established in 1955. In January 2002, the current pastor Rev. Rae Kidder invited the Cox's to become the assistant pastors of the church. Unfortunately, the Lord had other plans for Pastor Kidder, as he was called to his eternal reward just a few months later.
"I became pastor because of the vacancy left by Rev. Kidder," explained Bro. Cox. "The church was in a time of sorrow and grief for about two to three years, so there wasn't a lot of joy. It was a bittersweet time for my wife and me, as we were grieving along with the church. Transitions are very hard on churches. That's why it's not very healthy to have pastoral changes all the time."
During these times of grief and sorrow, Pastor Cox believed it was imperative to preach about God's sovereignty to the congregation. "I continual taught about the sovereignty of God," he said. "I preached often about how God is omnipotent, omniscient and omnipresent, and God is love. I hammered that every way possible, because I wanted people to realize that even though Rev. Kidder was not healed, God is still all-powerful. If God is all of these things, He was there through it all, and it was the will of God that this happened."
Human Interest
One of Pastor Cox's favorite outdoor activities is fishing. "During the season, I have some lakes that are a short distance from me," he said. "Even if I only go for a couple of hours, I usually will get out once every week if I can during the spring, summer and fall. I am ever on a quest to catch bigger fish."
Pastor Cox's biggest fish was caught this past February. He caught a largemouth bass that weighed 7 lbs. He has also caught a 35-pound king salmon in the Kenai River in Alaska.
When it comes to family activities, they enjoy traveling to the Smoky Mountains in Tennessee. "We love the area — the natural and the touristy area. We usually rent a cabin and have several days as a family together."