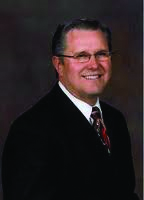 I am reading today from 2 Samuel 23: 11-12, "And after him was Shammah the son of Agee the Hararite. And the Philistines were gathered together into a troop, where was a piece of ground full of lentils: and the people fled from the Philistines. But he, (Shammah) took his stand in the midst of the plot, defended it and struck the Philistines; and the Lord brought about a great victory." I come to the pulpit primarily with our young ministers in mind, and I feel that every one of them needs to consider what I shall preach today. In our text, the lentils were nothing more than peas; it was just a patch of peas, so I preach today on a "Pea Patch Perspective."
I stand today to declare that Apostolic ministry needs a divine impartation, divine saturation of the spirit of Shammah. In a spiritual climate of compliance, compromise and cowardice, my burden of this moment is for a fresh baptism of conviction, courage and boldness. The result of the prayer of the early apostles in the book of Acts 4:31 was this.   ". . . And when they had prayed, the place where they had gathered together was shaken, and they were all filled with the Holy Spirit and began to speak the word of God with boldness."
I am going to preach today that before we leave this afternoon, we're going to pray again for a baptism of boldness, and a saturation of Apostolic authority that will send us out of here strong in the Lord! I'm talking about a baptism of boldness to stand against sin and declare salvation; to stand against doubt and declare faith, to stand against death and declare life, to stand against worldliness and declare righteousness, to stand against sickness and declare wholeness, and to stand with a great boldness and speak of things that are not as though they were already!
We need men of God that will go to their pulpits without fear and declare, "This is the word of God, this is the will of God, and this is the way of God!" We need a baptism of boldness! In an hour when many had rather switch than fight, the spirit of Shammah is, "I'd rather fight than switch." So let me rehearse the admonition of the apostle Paul, who was a great warrior, in Ephesians 6 and verse 10, "Finally, my brethren, be strong…" when it comes to the end he said, "Be strong" and he ends verse 13 with this, ". . . and having done all, stand."
We often say, "Don't just stand there, do something," but Paul said, "Don't just do something, but stand there!" There is a time when we have to just plant our feet, and let the devil and the world know, and let doubt know that we are going to stand.
Our text declares that when Shammah stood, when he defended, the Bible says that the Lord wrought a great victory. The Bibles reminds us that there is a time and a place to stand, and to defend our positions, our spiritual possessions, and the prize of other people's sacrifices. I'm just going to go ahead and say it, I see way too much running and not enough standing. Luke chapter 12, verse 39 says this, "…. that if the good-man of the house had known what hour the thief would come, he would have watched, and not have suffered his house to be broken up."
On the authority of that verse I declare that we are not evil, we are not mean, nor do we have a bad spirit when we rise to defend what is ours and what God has given us. I reject the idea that anybody who takes a stand is a bad guy or has a bad spirit. The Bible says that he was a good man; a good man will not allow his house to be broken up. And just let me point you to another good Man who turned over the tables of the money changers and said, "You're not doing that in My house!" We need a re-visitation of the Apostolic ministry that's not afraid to stand and say, "Not in my house." There comes a point if you are going to have a revival, if you're going to see a move of God, you're going to have to take a stand whether you like it or not.
I know what it is to be spiritually assaulted. I know what it is to take punches, slugs to the stomach, verbal beatings. One time, in particular, this was happening, when I felt my knees beginning to wobble and I was about to go down; then I felt hands come to my back that lifted me back to my feet, shoved me back into the arena, and gave me the victory. I looked around to see who it was, and no one was there. It was the angel of the Lord that had come to assist me and empower me. We do not fight this battle alone.
While I was praying and fasting and seeking the Lord about this service, in my spirit I saw some of you bruised and battered, convictions almost gone…courage almost gone…boldness almost gone. But I saw that same Spirit come into this auditorium to lift men and women back to their feet, to renew their boldness and courage and to renew their convictions. You don't need to be afraid of the devil or the world, and you don't need to be afraid of saints. I repeat, you don't have to be afraid of saints! I am not going to let the devil take over the church I pastor. I'm not going to let sin take over. I'm not going to let compromise take over; I'm asking God to give me a baptism of courage and a baptism of conviction. If I will stand, God will bring the victory!
I want to rehearse that when Shammah stood, the Lord brought the victory. All Shammah had to do was stand. Sometimes a great victory is summed up by just taking a stand. If you will stand for Jesus, He will stand for you.
I Corinthians 15:58, "Therefore, my beloved brethren, be ye steadfast, unmovable, always abounding . . ." I preach to you today that it is possible, on the authority of the Word of God, to be steadfast, unmovable and yet be abounding. You don't have to compromise to grow!
There are some things we are steadfast about. There are some things we are unmovable about. And at the same time we can be abounding. You can be conservative in your positions and still be radical in your revival and your evangelism. They are not opposing each other, they are not adversaries; it is not one or the other. You can have both of them and be blessed by God. The Lord told me to tell you. Vacillating, wishy-washy, spineless leadership will never produce real Apostolic results. Am I preaching what you believe or not? Am I out of touch with the Spirit or is God telling this Apostolic church to take a stand?
There are a lot of folks that claim that they are growing because they have no standards. That is a misnomer. Everybody has standards—the most liberal church you know has a standard. Outback Steakhouse has a slogan, "No rules…just right." But nothing can be right without rules. Can we still say the word standard without folks passing out? Can we say holiness without someone getting mad? Can we say we need to defend what God has given us? Can we be revival-minded and still have growth? I say we all are going to have to stand sometime, somewhere and defend something. I choose to stand here and now and for this truth!
Folks are always qualifying what is worth defending, until eventually they defend nothing. In other words they would have said to Shammah. "Are you really going to make an issue out of that little pea patch?" But while everyone else was running, Shammah was standing, and he said to himself, "Why are the Philistines so interested in my pea patch? This seemingly insignificant field of peas must have more value than folks perceive or the enemy would not want to take it from me. I choose to draw the line right here."
In a game of sports if you want to know where your strength is, study the defense strategies of your opponents. They attack weakness but they defend against strength. So if there is nothing so great about our standards, our separation from the world, our Acts 2:38 message, our revelation of the mighty God in Christ, why does the devil attack it? Somebody needs to take a stand. It was a good man that defended his house. It is not wrong to take a stand.
Shammah said, "My little pea patch may not seem like much, but it is my harvest." The United Pentecostal Church is right now standing in the middle of our end time harvest! Long time and some even life-time prayers are being answered right now. Dreams are becoming realities right now. People are coming you never thought would come, are being baptized that you never thought would. Miracles and healing are taking place all over the world in this end-time harvest.
The devil must not be allowed to drive you out of your dream harvest. You've got to take a stand and say, "This harvest is about to break loose, our churches are going to bust open with growth," and we need to tell the devil, "You're not going to drive me out." It's time to take a stand. If you're thinking about quitting and throwing in the towel, take a stand. If you're thinking about compromising, take a stand.
Jeremiah 36:23,  "And it came to pass, that when Jehudi had read three or four leaves, he cut it with the penknife, and cast it into the fire that was on the hearth, until all the roll was consumed….." Here is the meaning to that thought: once you start cutting on it, you won't stop until it is all gone. Once you start cutting on it, you can't put the brakes on it. One compromise leads to another. If one family threatens to leave over something, if you don't take a stand, 10 more families will leave.
The religious world is already cutting; once they get past John 3:16 and Psalm 23 they're pretty much finished. What are some things that are being cut, how about scriptures about the Virgin birth? Oh, that is not necessary, we don't need that. Or the Deity of Christ, that's too restricting to other religions, cut it. The Resurrection of Jesus, that is a joke, cut it out. Hell and damnation? Nobody wants to hear about that today. The Rapture…can't prove it…cut it. Acts 2:38? That was for the early church only. Miracles, signs and wonders? That doesn't happen anymore. When you finish cutting you have only an empty cover. But the Bible says that man shall not live by bread alone, but by every word that proceeds out of the mouth of God and "all Scripture" is given under the inspiration of God.
We have gathered here to take a stand and say, it's still in there. And if it is still in there, we will believe it, and we will preach it, and we will defend it! Don't ever be deceived, the greatest weapon for Apostolic revival is preaching the Word. "And they went everywhere preaching the Word and the Lord worked with them." Preach miracles and you'll have miracles, preach holiness and you'll have it. Here is something I learned in Bible school and we all need to hear it, "The Spirit may draw people to your church but only doctrine will hold them!" We are not interested in just getting them there, but we want them to stay. Don't lose your courage to preach the doctrine, we need more than positive thinking, we need to preach "thus sayeth the Lord." Take a stand!
Another perspective of Shammah's was this, and I believe it too. If I give them my peas, they are going to be back for my corn. And if I give them my corn, they'll be back for my okra, and then they'll be back for my tomatoes and that's really when we are going to have a fight. There is no way that you can ever satisfy the hunger of a detestable devil who wants to destroy you. Shammah said, "All the rest of Israel can run, but this is my pea patch and I am going to defend it." And when he stood to defend it, God brought a great victory.
We must take a stand because the enemy will come for your prayer life, then he'll come for your praise, then he'll come for your worship and then he'll come for your gifts, he'll come for your faith, then he'll come for your trust, character, integrity, commitment, faithfulness, and after a while your God will be small.
Some of you are battered and bruised but the devil's worst nightmare is about to happen. If the apostles prayed and got the answer, then we can pray and get what they got. The place was shaken, and they were filled with the Holy Ghost. We've got to get a baptism of boldness. Too many of us are lions in the pulpit but mice in the streets. We are going to pray, and God is going to answer. Apostolic ministers of the United Pentecostal Church, it is time to regain our ground and it is time to TAKE A STAND!
Transcribed by Charlotte L. Pound