"The Pagan Woman" Apostolic Missionary Writes Series Designed to Answer Key Questions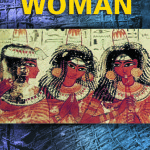 Women all over the world can benefit greatly from a series of three booklets, The Pagan Woman, by missionary Linda Reed. The series includes Subconscious Sexual Signals, The Pagan Woman and The Bridal Gown. The Pagan Woman series differs from Sis. Reed's The Glory series, which answers questions of the Spirit and deals with who we are and who God is. The Pagan Woman series answers questions of the mind.
"Much of the research for The Pagan Woman series came from my own struggle with our holiness standards," said Sis. Reed. "Answers in the booklets are from history, psychology and the Bible." Asked the reason for writing this series, she replied, "I had invitations to speak at women's seminars on this series, but I had to decline to return overseas. Sis. Rodenbush suggested I tape these sessions and make them available. Eventually, I decided to write booklets to make more information available."
Sis. Reed said the intended audience for this series is 21st century UPCI young women, whose minds have been trained in secular education and need answers. "The Bible is a relevant book for the twenty-first century," she said. "Any precepts of its teachings are logical and relevant to our day." She continued to explain, "I hope my readers will be enlightened and learn much about themselves and their own carnal instincts."
The Reeds have been missionaries for 35 years. She is the District Secretary of the UPCIJ, ordained minister and Senior Pastor of five churches, two which are in Jordan. Sis. Reed has written nine books, which are available in DVD and CD formats. The Pagan Woman Series booklets are inexpensive and are filled with Biblical and historical material. They are only $5 each. Orders may be made through PPH or contact Mrs. Judy Williams at 314-965-0028, and she will send the booklets or DVDs without tax and shipping charges. Orders may also be made through Sis. Reed. Her e-mail address is reedjordan@aol.com.
By Linda Schreckenberg