With an estimated 150-250 million bikers in the world, is there not a cause? Azusa StreetRiders is simply a ministry using motorcycles to reach the lost. Possibilities are unlimited. "Azusa StreetRiders (ASR) has actively reached into the biking community across the U.S. since 1999, and has members in 38 states and several foreign countries," said Bro. Robert Thompson, president of the club.  "We're the world's only Oneness Apostolic motorcycle ministry," said founder and former president Fred Beall. "Since that time, we've seen new converts come to the Lord, backsliders return to the fold and many who were struggling with no ministry become actively involved in ministry and witnessing."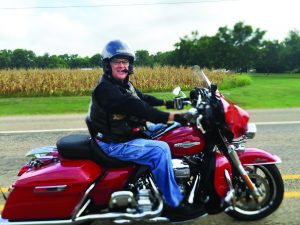 Set up under the auspices of local pastors, Azusa StreetRiders is not trying to start "biker churches" but only trying to lead people to the Lord and help local churches grow. "It's up to the local ASR chapter members to do whatever is necessary to reach the lost and raise funds for our 'Motorcycles for Missionaries' program," said Bro. Beall. "Thus far, we've donated funds for more than 60 motorcycles to Oneness missionaries around the globe representing several different organizations. Our Canadian chapter, overseen by Bro. David McLeod, has provided 38 of these motorcycles."
Reaching into a biking community requires participation. You must make yourself available for different biking events. "Most bikers interact with other bikers through rides and events sponsored by motorcycle dealerships, clubs and, in our case, local ASR chapters, often for charitable purposes," explained Bro. Thompson.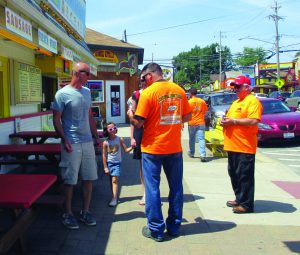 "Bro. Luis Rodriguez, a home missionary in Daytona Beach, has hosted an Apostolic Biker Outreach during Bike Week for several years. This year there were probably 30 in attendance, of which a good many were not in church. We encourage all pastors to survey their congregations for bikers. If they have any, there is a tremendous opportunity to start outreach through Azusa StreetRiders."
The Azusa back patch emblazoned with Acts 2:38 is a great conversation piece. "It's amazing how many people come up to us in a gas station or restaurant and strike up a conversation,' said Bro. Thompson. "We have a number of biker tracts available as well as a pocket guide to salvation, which has been helpful in winning some to Christ. We simply hand out tracts at events or when we're around other bikers. It's not uncommon to stop and pray for someone at a gas pump or in line at a checkout. The pocket guide, The Book of Salvation: God's Instruction on How to Be Saved, is used when there is serious interest or questions about our Oneness beliefs, tongues and/or the need for baptism in Jesus' name."
Tracts are free and can be downloaded from www.AzusaStreetRiders.com. The Book of Salvation: God's Instruction on How to Be Saved is available on Amazon. Anyone having an interest in Azusa StreetRiders can email Bro. Thompson at robert.thompson@azusastreetriders.com. He will make sure the individual is contacted by the Azusa StreetRiders area coordinator. Also, Apostolic women bikers are welcome!