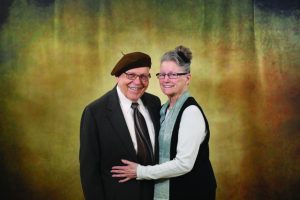 Can any man forbid water, that these should not be baptized? Not with the help of the Port-A-Tub, a folding baptismal that can easily be stored in the trunk or back seat of most cars. Weighing in at less than 50 pounds, the folded unit can be transported by almost anyone and can easily accommodate most adults, making baptisms possible at nearly any location.
The Port-A-Tub was designed and created by Bill and Sandy Chambers of Del City, Okla., who are both actively involved in prison ministry. "My wife was given a vision of a folding baptistry," explained Bro. Chambers, who serves as a chaplain. "She sketched a picture of it, and approximately eight months later I built the first unit. Improvements have now been made, and we believe we have the strongest, lightest, cheapest and most efficient unit on the market."
The Port-A-Tub measures 21 inches x 3 feet x 7 inches when folded and 21 inches x 3 feet x 6 feet when ready to use. It is ideal for prison ministries, as well as new and home mission churches, saving them money compared to conventional units. It's also great for special occasions, parks, jails and more. "They are made with all-welded steel tubing and extra heavy vinyl," said Bro. Chambers. "They are easy to fill and empty. A hose fitting is provided for indoor use but can be easily removed to provide an opening for outdoor use. The unit can be set up in less than 10 minutes and filled in around 20 minutes with normal water pressure. Each unit comes complete with a vinyl repair kit and instructions and sells for $995, including shipping and handling inside the U.S."
The Port-A-Tub has been shipped to more than 20 states and 11 countries, including Russia, China, Cambodia, Ireland, Germany and Canada, to name just a few. The majority of the units have been shipped to missionaries around the world. "One was shipped to China, and when it arrived at the church in Taipei the people were ecstatic," said Bro. Chambers. "Eleven people were baptized in Jesus name using the Tub, and the latest report from that area indicates that 35 people have been baptized in Jesus name."
Bro. and Sis. Chambers have been involved in prison ministry for over 25 years. Their mission is to answer the call and to do all that they can to further the Gospel, and to provide others an opportunity to baptize those who may not have available resources. They will be happy to answer any questions. For more information, contact Bro. and Sis. Chambers via telephone at 916-284-6175 or email to chaplainschambers@integrity.com.