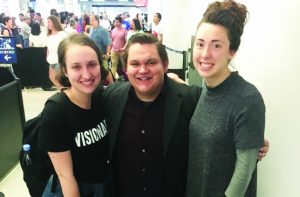 This summer a small group of Indiana Bible College students flew to Riga, Latvia for the first annual internship at the R.K. Rodenbush Global Institute. Upon their arrival, they were immersed in Revival by Design courses that taught them how to minister on the streets in spiritual warfare, healings and miracles with the goal of establishing a work. Roughly half of their time was split between these classes and dynamic street outreach.
The goal for the 10 weeks was to plant three churches, and this was accomplished, according to Sis. Angela Labunski, a 2017 IBC graduate. She and the other students were split off into groups of two and sent into designated cities to divide and conquer. These cities were Riga, Piņķi, and Baloži. The first practicum week focused on prayer walks and fasting for their city. The following weeks were filled with much work and seemingly little results, but by the end of the summer, revival had begun to happen full force.
"One way we established a foothold into the culture was by starting English clubs to fulfill a need that the natives would take part in and appreciate," said Sis. Labunski. "We played interactive games, practiced English, and gave lessons, which resulted in open doors to more contacts and Bible studies. By the end, four young people received the baptism of the Holy Ghost from the English Club in Baloži."
Picnics and music events were organized almost every weekend with IBC music often played and sung. Latvians were fascinated by the American culture and powerful anointed music. Historically, music has been very moving for this culture and the surrounding Baltic States, helping carry them through their former bondage to the Soviet Union.
Group outreaching events constantly boosted the students' spirits as they hit the streets to pray for healings and share the Gospel. They witnessed pain disappear, bones restored, depression leave, and demons flee just like in the book of Acts. Each student was personally developed in Spirit and in truth as they realized the dominion and authority they had in Christ to break into a new culture.
"The last weeks proved to be the most dynamic as individuals started to approach us seeking the peace we radiated," she said. "In one particular circumstance, a lady at the bus stop was bound in sin and on her way to commit suicide. She simply heard the students say the name of Jesus and reached out. She was delivered and baptized in a local pond that very night."
Although they were not focused on numbers as evidence of a goal accomplished, the students are happy to share that a total of nine received the Holy Ghost, seven baptized, and countless others healed and ministered to.
Appointed missionaries Luke and Larissa Havens currently oversea Latvia while Mark and Robin Shutes and Dennis and Amy Uecker are responsible for the R.K. Rodenbush Institute. More details and testimonies on the Latvia summer trip can be found at blogs: labunski2latvia.wordpress.com and reachingriga.wordpress.com