Spiritual Growth: 
The Greatest Gift: The Gift of the Holy Ghost = Acts 2:38!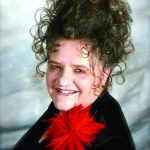 Carol Clemens
Christmas is a wonderful time to celebrate the birth of our Lord Jesus Christ. Immanuel = God with us! God came in the flesh to be the supreme sacrifice for our sins. Do your children understand we must be born again in water and Spirit to see or enter into the Kingdom of God (John 3)?
We parents must not assume our children know and understand their need for salvation just because they go to church. God told parents to teach their children when they arise in the morning, walk along the way, sit down, and go to bed at night (Duet. 6:7). 
I have read that children have 80% of their inner emotional development by eight years old. Why do you think the Catholic church wants children to go to catechism at a young age? They understand that what is drilled into the mind and heart of a young child has a great stronghold in his or her adult life.
Parents, it is not up to the church alone to train your children spiritually! We taught our children God's truth from when they were newborns – praying over them, reading Bible stories, creating a loving God-centered atmosphere in the home. God created the family before He created the church. How we treat each other in the home is how we are treating God!
What we are in the home reveals our true self – God-centered or not God-centered. Children are impacted deeply by what happens in the home. We parents must be diligent in our walk with God every hour of every day – in words and actions!
I was blessed to have parents that loved God first, loved each other, and loved their children. They lived Holy-Ghost-controlled lives in the home. We children could see God in how they lived their daily lives. We were taught by example to put God first in our lives.
Parents, what are your children learning by your actions and words in the home?
We must filter all our thoughts, feelings, actions, and words through God first!