Columnist Forum Vol 32 No 4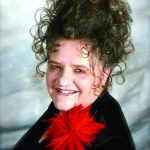 Carol Clemans
I am writing this article on February 24, 2022, as Ukraine is being invaded by Russia. It is a sad day for the people of Ukraine and the world. The Bible tells us that in the end times there will be wars and rumors of wars, evil will wax worse and worse, etc. We see this happening before our eyes in vivid reality!
Thank God for His wonderful salvation (Acts 2:38). We do not have to live in a spirit of fear, but of power, love, and a sound mind. Nothing that happens on Earth is a surprise to God. God knows all things past, present, and future!
This evil event should be a wake-up call to all believers! Many people are church attenders but are not intimate followers of God. God's desire is to be the center of every believer's life. I call it living in a God-conscious state of mind (heart). I filter everything I do or say through God first. It is a spiritual discipline. I filter my thoughts through God, allowing God's truth to control my feelings, and to make my actions/words pleasing to the Lord! I must be Holy-Ghost-controlled in all circumstances. It is a choice! We can do all things through Christ who infuses His inner strength into us!
Jesus could come for His bride at any moment! Are you ready? Nothing is more important in this life than to have an intimate relationship with God. Our words reveal our hearts. The Bible informs us that from the abundance of the heart the mouth speaks. People reveal their hearts by the words they speak. We are an open book read of all men. Our words and actions reveal our hearts.
I refuse to live in fear because I know God is in control. How? By reading the Word of God!
I choose to keep my eyes on God and His Word. God's Word is a lamp to my feet and a light to my path! JESUS IS COMING – LOOK UP!