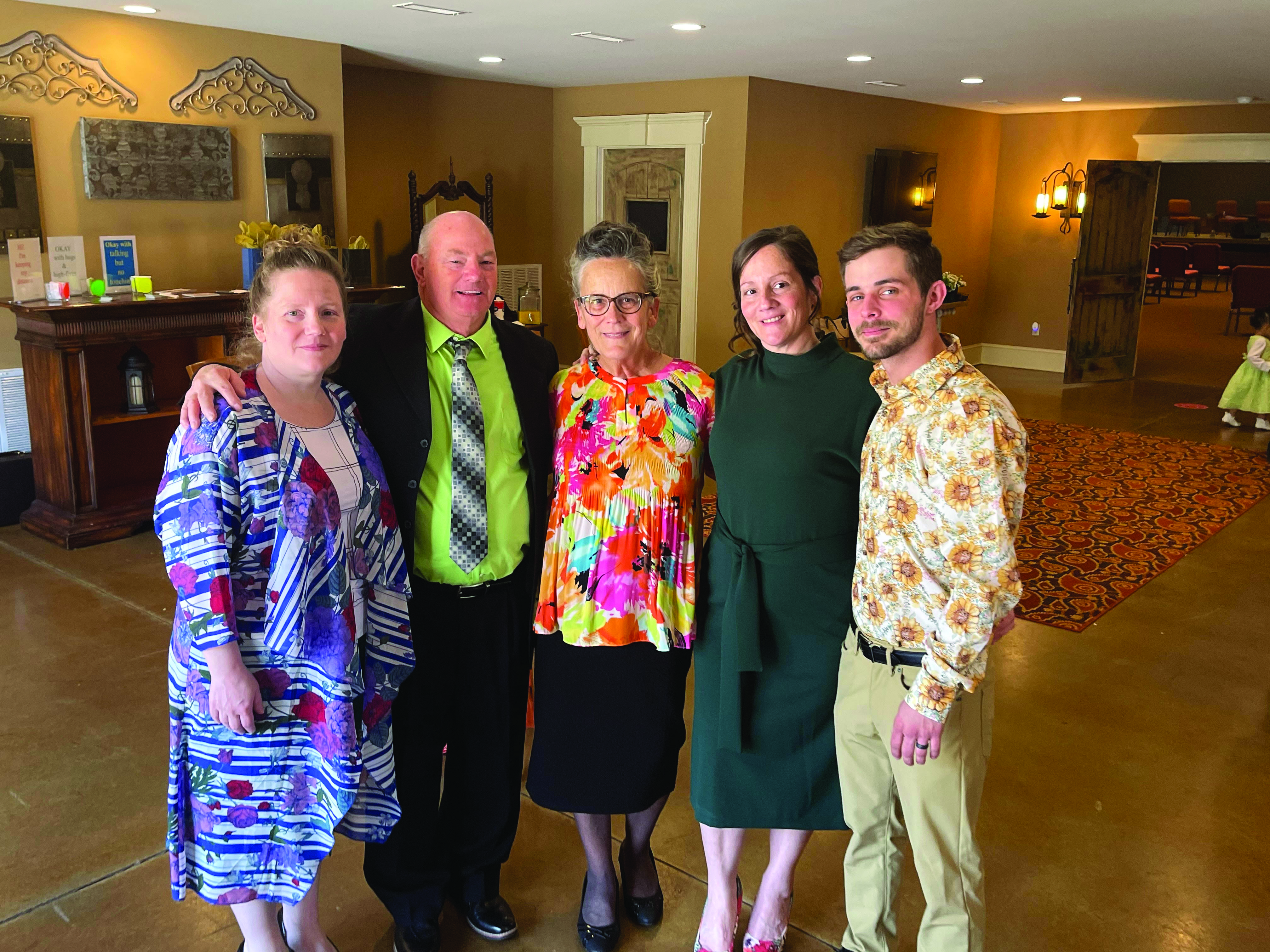 Revival: Stay Put and Trust God
"You water and sow, but only God can give the increase. So, if you start playing the numbers, you won't think you have a growing church. One soul is worth any effort you put forth. We can't put a price on a soul," says Pastor Rex Williams of Calvary Tabernacle in Farmville, Virginia. 
Trusting God and Staying Put
Farmville is a small town of about 8,000 people. The average income is $25-30,000 per year. Pastor Williams considers Noah, "which is the greatest preacher of all time, and he only had eight. I do believe God called me here and it's amazing to know you're where God placed you. I believe we are having revival. The most important key is staying put where God called you and working the field. You don't have to get in a hurry."
Pastor Williams says that to have revival, "Our best tool has been Bible studies. I think it's still the greatest tool to win souls and to keep them. Another priority is to reach and train youth."
Revival During the Pandemic
"We have used social media a lot to reach our community. We started Facebook live for the first time during the pandemic. We've used door hangers in the past and recently started back up, says Pastor Williams.  "Lately, texting has been a good tool to keep in touch with our leadership and church family. We also use our planning center for guests' info.  Once they come and give their info, they receive an email and then our teams touch base with them by text.
Calvary Tabernacle ministries include Sunday School, Prayer, Outreach, Men's Ministries, Women's Ministry, Couples', Youth, and Hyphen ministry. Pastor Williams meets with his leaders about every six weeks. "They don't hand in monthly reports. I just keep in touch with them one on one and in our leadership meetings.
"Recently I placed some of my ministers over different age groups to keep in touch with our regular attendees, those who come occasionally and first-time guests. We're trying to be sure we don't miss reaching out and staying in touch. I have a seasoned minister who is over ages forty-five and up. My assistant pastor is a young man, and I put him over ages twenty-five to forty-five. My youth pastor at this time serves with hyphen and youth age. Every six weeks, we meet and go over their communications with their age group and responses from their age group."  Pastor Williams believes this "works best for the time that we're in right now."
For planning and training leadership, "I bring a man in occasionally that I feel has a revival church and a team of good leaders he has mentored."
Pastor Williams has 40% of his congregation involved in some form of ministry, as well as 40% involved in evangelism.
"Once a month, we have 'Breaking Bread' that meets from house to house as they did in the book of Acts. We play and sing and have someone give us the Word of God for about fifteen minutes. Then, we eat and fellowship. We also have a once-a-month 'Family Night' at the gym."
Never Giving Up; Never Staying Down
Pastor Williams focuses "mostly on our 'conscious,' conviction, and soul. In our public life, we try to look good and lose weight. We should try to dress properly, but I focus ministry mostly on 'conscious,' conviction, and soul. If you keep your 'conscious' in working order and your deep convictions in God and don't lose them, your soul will prosper. That's what we've got to focus on."
"I preach a lot about overcoming, Acts 2:38, and having victories in life. Never give up and never stay down. We can't afford to stay down. You may fall down, but you get back up."
Planting Seeds for a Mighty Harvest
"This is our third sanctuary since 1987 and will seat 500. The whole building is 80 feet by 140 feet. We have eleven Sunday school rooms, two offices upstairs, and four offices downstairs with a nursery. I'm sure many wonder why we built a church this large. It's because we had a vision of growth and God laid it on the heart of someone to donate money. We haven't seen it filled yet, but we're doing what God called us to do."  Calvary Tabernacle has an 80-foot by 100-foot Life Center, as well as an upstairs apartment for guests and a game room.  "We have a large kids' playground, Addison's Park. It was built in honor of our grandson, Addison Vance Mina. We lost him to a tragic accident in May 2009. We are tremendously blessed and very thankful to have all the property paid for. The only monthly bills the church has are insurance and utilities."
"We started the church in a house in 1987. We sometimes win people and they move away because it is a small town and not as many job opportunities. Including two colleges, we only have 8,000 people in Farmville. We win them, but some move away. However, they attend other churches, so that's great.
"As in all churches, we've had many who were baptized and filled with the Holy Ghost, but didn't have strong roots and didn't stay. Some were in for several years but have backslidden. We've planted the seed, and we're believing for many of these to come back."
The number of conversions is twenty in total including last year and this year. "Our average attendance in-house since COVID is around 55-60. We averaged about 100 the year we moved into the new church.
Since COVID, about thirty-five people haven't come back and probably won't until the governor lifts restrictions. They still pay their tithes and watch online." Pastor Williams does regular services as well as online services. "We had online-only, for a few weeks. Then, we had parking lot services and are now having services in-person."
"We came to Virginia to tour the White House and the Tomb of the Unknown Soldier, and the Vietnam Memorial. My wife and I had been feeling that God wanted us to do more and were seeking His will. We made a wrong turn on the drive leaving Richmond, Virginia and ended up in Farmville. That night the Lord said, 'This is where I want you to preach.' I said, 'You're crazy.' That was 1984. From 1984-1986, we made five trips. Every time we came our burden became stronger. During the last visit, at two o'clock in the morning, walking down Main Street in Farmville, I was crying. I said, 'Okay, God, You made a mistake because I don't have a Bible school background. I'm just a home missionary; just a kid. But, I'm going to do it.' So I obeyed the call."
"When we started the church in our home, my son played the drums and my wife played the piano. We didn't know anyone when we first came here, but we had some friends from Mississippi come and help us with that first service, along with one lady from the town of Farmville. So, there were eight present."
"We had church. I just preached one God, Acts 2:38, salvation, and baptism in Jesus' name. We made friends and went door-to-door inviting people."
Faithful Witnesses and Influences
Pastor Williams grew up in Tupelo, Mississippi. "My brothers knew Elvis Presley. My mom was a Methodist who received the Holy Ghost in an Apostolic church. She cleaned the church and we walked three-and-a-half miles to clean it with her. I felt something at eleven years old, but as a kid, I didn't understand. I knew that something from another world visited me. I didn't get the Holy Ghost until I was twenty-six."
"I was in the same church as a young teen with Sis. Donna Linville, the Ladies' President of the Virginia District.
Some of the boys made fun of her because she was a true Christian and different from most teens. I was on the outside looking in, but I wanted what she had because what she had was real. She influenced my ministry. My mom and her faithfulness were also a great influence in my life. She was faithful even though my Dad never got in church. My pastor, Cecil Greenway, my older sisters, and brothers-in-law were great influences in my life as well."
Pastor Williams' education was basically gleaned from the church. "I poured myself into church. The district had a program of training for young ministers. Ministers from all over the state did three-to-four-hour training seminars for the young ministers."
Refusing to Live in Fear
The message Pastor Williams has preached primarily is, "Keep being faithful, don't live in fear, and keep a daily prayer life."
"We have a big enough church to keep a safe distance between attendees. I don't require masks. I told my church, 'I can't make you come to church or pray, so I'm sure not going to make you wear a mask.' I got a group together and we prayed over every doorpost of our members' houses at least three times. We anointed with oil and prayed. We've even had some outside of the church ask us to do this. So, we did theirs too, as well as anybody that asked."
"We meet on Sunday mornings and Wednesday nights. We also have Tuesday prayer two nights per month, and youth night every Friday night. We stream Sunday services."
"I do believe that COVID is the fulfillment of end-time prophecy. I believe the next war won't be fought with missiles, but with viral weapons."
The impact this pandemic has had on bringing in souls is, "It's been our best year as far as real interest. We've had three families come in since we've been online. They'd been praying for a Spirit-filled church. One lady had been watching online because her church was shut down. They were born and raised Methodist. They lived thirty minutes away. She told her husband and a few weeks later they came. She got the Holy Ghost and was baptized and a few weeks later, he got the Holy Ghost and was baptized. Now, she's one of our praise singers. He's feeling a call to preach."
God-Called and God-Directed
"Everything is paid for. We've had a better year financially during this depression than before. It's totally amazing. I don't think I'm a great preacher or revivalist. I just know God called me here and I won't leave until He tells me. I started a business and it's just boomed. It's amazing. I'm not trying to brag; I don't have a college education. I was just a country boy that got something inside of me."
"I'm excited about living for God and I want to do as much as I can while I'm on this earth."