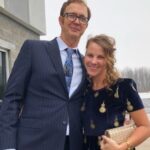 John Martin, Muncie IN
Boots on the ground – wars can never be won without it. We are certainly in a battle for the souls of mankind.
I think we are doing an adequate job considering the competition. For me, the problem is not being aggressive enough on the ground to lead people to these places. We are lazy in building relationships with the lost.
We have made a recent focus on fellowship groups to open more doors. We're not there, but we are turning our thoughts towards better quality social media.
We obviously are never doing enough. The thought of how we will be judged according to our talents is very sobering.