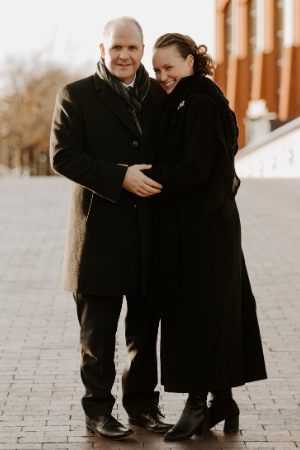 Bro. Aaron Arrowood currently serves as the Assistant Pastor at The Tabernacle in Seymour, IN. He also pastors a daughter work of The Tabernacle in Westport, IN. Bro. Arrowood is also He and his wife, Misty, met at Indiana Bible College and have been married for 25 years. They have a 21 year old son, Matthew, and an 11 year old daughter, Audrey. Bro. Arrowood also faithfully served as a youth pastor for eighteen years at The Tabernacle. Eighteen years of service dedicated to youth ministry well surpasses the average tenure of a youth pastor. During that time, Bro. Arrowood gained valuable insight that he continues to pass on to current and future youth leaders.
What do you consider a youth event to be?
A "youth event" is not a youth service. It is simply a time to be together having fun. It doesn't have to be necessarily be spiritual. The goal is to connect with your youth in a relaxed setting. As you connect with students in relaxed settings, they learn to respect and trust you. This leads to spiritual discipleship which is the ultimate goal of youth pastoring.
As youth pastor, I planned a weekly Friday night event. I made sure that the youth could count on there being an event every week. I wanted to make sure the kids had something fun to look forward to. I knew I was competing with sports events, non-church friends, entertainment, etc. It took a lot of time and creativity to plan a weekly event but the results were well worth the effort.
A couple of things the kids seemed to like best were:
-Various forms of scavenger hunts. Sometimes we would hide $50 in $1 bills. The clues were hidden all over the building. The clues were scriptures. For instance, if a scripture was about baptism the clue would lead them to the baptistry area.
-In the summer we would have a giant water balloon fight. We divided a field in half. The kids built their own fort and hung a flag in their fort. At the end, whichever side had the driest flag won.
What do you think makes a youth event effective and impactful? The main thing is to have fun. Kids should have so much fun that there is no longer a need for a program. You know you were successful when they are disappointed when it's time to leave. If they are having fun, they will come back. Their guard will come down. This leads to a relationship with youth leaders.
You make disciples overtly in Bible Studies, Classes & Youth Services. At youth events you have a chance to make disciples covertly. Discussions come up randomly and defense are down while kids are having fun. In the middle of having fun, you can interject words of caution & advice in a non­threatening way. Kids will be more open to what you have to say. Ultimately, youth events should be so much fun that the youth leader has a way to covertly speak into their lives.
But remember to be safe and always keep moral safety a priority. Don't let boys and girls sit next to each other in a van. Have enough chaperones to protect their moral safety. Don't plan activities where kids will be out of sight if you don't have enough chaperones to help. I also learned that you have to strategically place kids and chaperones in hotel rooms when traveling.
What are some things you've seen work really well?
The most successful events were when we gave kids an opportunity to serve others. One example is making and delivering gift baskets to shut-ins. We learned that if you are constantly catering to the kids, they can become selfish and self-centered. Giving kids opportunities to serve creates confidence and can extend into future burdens for ministry.
My best advice is to OVERPLAN but be flexible. Have a time frame/outline for the event. Account for every moment going in BUT if kids start engaging and having fun with a particular activity then adjust the schedule and be flexible. Go with what works in the moment. Allow for creativity.
What are some things you've seen not go well?
The times I didn't make a schedule was when I felt frustrated. I also learned not to be too rigid. Don't let the kids feel your stress. The things I found that worked well were actually born from my mistakes. When I only focused on a set schedule, I couldn't enjoy the moment with my kids. I learned from them. You have to set and keep boundaries while still allowing opportunities for creativity and laughter.
Do you have any cool stories or testimonies you'd like to share? Astounding conversations happened on van rides. I learned the most about my kids in conversations had while picking kids up and taking them home. I will never forget playing the game "Never have I ever". A young girl said "Never have I ever talked to my dad". I had no idea prior to that moment.
Our greatest moments were when prayer meetings happened spontaneously. Those moments when fun events would suddenly become an open door to a spiritual conversation, tough topics or Bible study are what drive youth pastors.
What are some of the most important things youth leaders should be doing today?
Be consistent. You have to let the kids know they can depend on you to keep your word. Their world is full of uncertainty and people who don't keep their word. Be someone the kids can talk to. Be real! You have to love them all, even the trouble makers. Pray for them by name every day. Look at the kids with confidence about who they are going to be. Look at them as future missionaries, pastors, preachers & leaders in the church.