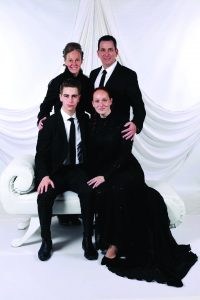 Jason Carr and wife Brenda, pastor The Apostolic Church in Beaumont, TX. Their children, Brooklyn 20 and Boston 17 are great assets to their ministry.
Pastor Carr, what has been your message to your church with respect to the Covid-19 crisis? "Take care of yourself and your family. If our relationship with God is in jeopardy because we can't meet for a few weeks at the church, then our position as the Bride is in even greater jeopardy. Be consistent in your Devotions and Family Prayer. Look for new ways to Reach and Connect," he said.
Have you had anyone within your church family that has contracted the virus? "We have had several, most are recovering slowly. One is hospitalized with secondary complications. As a result, we have gone to online services only at this time," he said
Have you been able to reach souls with salvation as a result of the crisis?
"Yes, there has been numerous individuals who have connected with us and are currently in Bible Studies online and many that have connected to our services via Social Media that most likely would not have if this pandemic had not occurred," he said.
PRINCIPLES OF GROWTH & REVIVAL
TAC is considered a thriving, revival minded church. According to Pastor Carr, the key to growth is consistency. "The key to growth is made of several components. It is consistently teaching people to be both Disciples and Disciple makers. Faithfulness to prayer, fasting, reading and study of God's Word has been a common theme in weekly teaching and preaching since my arrival.  We encourage everyone to participate in the BREAD program or another Bible reading program that gets them in the Word of God daily. If they are not a visual learner, then I encourage them to listen to the Word. Whatever method works best at getting God's word inside of their hearts is encouraged. As the people continue to grow in the fundamentals of their relationship with God, it allows them to have faith allowing God to operate through them, to see signs, miracles and wonders happen. There is no such thing as "normal church" at TAC," he said.
Bro. Carr shared his thoughts of where a revival pastor should place his priorities.
"Living a life that is an example by loving and serving God first, his family second and then the church. He will preach and teach until he is blue in the face with no effect if his personal life and example does not speak louder than his words. Furthermore, I believe that it is highly important for the pastor to develop other leaders. If a pastor is more worried about his kingdom than he is 'The Kingdom,' people will see that and not work together to see God's Kingdom' grow as God desires it to," he said.
The growth methods that have worked best in the church for increasing attendance are basic as Bro. Carr explains. "Preach and teach the Word of God without compromise and watch the power of God show up in ways that are unprecedented.  When people come in contact with the pure, majestic power of God; their lives are impacted and they want to come back, they want to know more, they want to be a part!  We focus on this at all ages, from Children to Seniors. The greatest testimony we can have is a life that is changed by the power of God," he said.
ORGANIZATION & MANAGEMENT
Bro. Carr listed the many departments and ministries in the church: Ladies and Men's Ministries, Golden Plus (Seniors),  Heart to Heart (Married Couples), Singles Ministry,  Hypen24/7 (College Age) Fusion Student Ministries (High School and Jr. High), Kids View (Children), Life in Focus (Drug and Alcohol Recovery), Divorce Care, Ministry Development (Leaders Training),  Music Ministries (includes training and development for children), Food Bank, Financial Peace, Outreach Ministry, Van Ministry, Multi Media & Sound Ministry, Livestream Ministry, Weekly Services at Nursing Home, Weekly Classes for incarcerated women, and Weekly service at Raintree (Apartment Complex).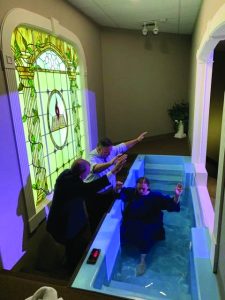 Pastor Carr meets with department or ministry leaders weekly or monthly as needed.
"I have a weekly time of prayer and planning with the paid staff.  I prefer to meet one on one with other department leaders to discuss calendar, goals, vision and how effective they are at serving the groups they lead. For the training of our leaders, I have a once a month meeting for all who feel called into the ministry.  We address topics like personal development, preaching, teaching skills, how to handle difficult people and conflict resolution. We encourage everyone to be actively involved in reaching the people they have influence with.  We help them do this with Social Media promotions that they can like and post on their own social media page.
"We encourage everyone to be a part of the vision and mission of the church which is; Love – Grow – Serve. Fall in Love with God and the people of the church – Grow as a disciple and disciple maker via small group classes – Serve the body and your community by getting involved in ministry opportunities ranging from Food Pantry to Platform ministry," he said.
SPECIAL MIRACLES
Bro. Carr shared some very special miracles and spectacular events that have taken place over the past four years at TAC. "We have had numerous notable miracles, Sis Nancy Nutt was diagnosed with three rapidly growing cancerous brain tumors.  She was quickly going downhill in her physical health and well as mental capability.  In one service Evangelist Justin Leyva felt directed by the Lord to say, "Someone here has tumors and that God reveals that what he plans to heal".  Her husband wheeled her up to the front for prayer.  At her follow-up appointments the Dr.'s were shocked to see on the x-ray the three tumors had literally disappeared.  She has regained all her physical and mental capabilities.
Several people have had healings in regard to their heart, clogged arteries were miraculously unclogged with zero blockage. Numerous Brothers and Sisters have been healed of nagging back and joint pain. People's faith has been strengthened to the point they are not waiting for church services to see the miraculous, they realize God is in them and with them wherever they are.
An example is, Bro & Sis Diaz who own an upholstery shop. A man came in with an extremely bad headache and vision that had been partially impaired.  Bro & Sis Diaz prayed for the man right there in their shop and God healed the man's vision," he said.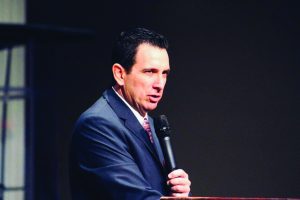 PERSONAL MINISTRY
Pastor Carr shared his deep guiding principles that give his ministry direction and purpose. "I am a Servant!  My calling is to serve God, serve my family, and serve the body of Christ.  As my walk with God has deepens, my love for His people has grown as well.  I am genuinely interested in seeing people grow, thrive, and become everything God desires them to become. As a servant, I do not own people, they are not mine. God has placed each one of them in my path to serve, influence, disciple and help them rise to the position where He desires them to be.  I am a servant, but not just a servant – I'm His Servant," he said.
Bro. Carr most enjoys preaching on, Prayer, Personal Growth in the  Kingdom, and Family topics. "I spend a good amount of time teaching about the mind, emotions, and the Power of the Spirit to help in these areas," he said.
Areas or target groups that Bro. Carr considers the "focus" of his ministry are as follows.  "As a Licensed Marriage and Family Therapist. I specialize in Marriage & Family topics and issues.  I am our Sectional Men's Director and speak at Men's meetings abroad.  My wife and I travel internationally speaking at Family & Marriage Conferences.  We are both passionate about seeing families not just survive but thrive," he stated.
Hunting & Fishing are what Pastor Carr enjoys in his leisure time. "I have found these are great opportunities to connect with other men & young men and begin to disciple them," he said.
PERSONAL HISTORY
Growing up in Southern California, the city of Beaumont, Pastor Carr was not raised in the  church. He explained the circumstances of his conversion. "My father started attending church with a cousin of ours that witnessed to him.  We began attending as a family shortly after and I received the Holy Ghost around the age of 14. I grew up working every summer when I was out of school.  I have worked at least one job and at times three jobs to pay for school and to make ends meet.  This past work experience allows me to connect with the saint who works a full-time job and then shows up to church weary.  I try to encourage people to have a healthy balance in life regarding their relationship with God, family time, and vacation time. It is important that families learn to Pray and Play together.
"My ministry beginnings are unique.  I just wanted to be a help to my Pastor. Therefore, whatever he asked, I did.  This eventually led me into probably every ministry in the church from Children's to Seniors. Throughout the 20 years we served in Redlands, CA., my wife and I were  involved in almost every aspect of ministry, from cleaning bathrooms to preaching and teaching. My pastor had to make me go get a minister's license.  I just wanted to help serve, but he said it was time for me to take the next step in ministry and I am so glad he did. His wisdom and guidance through the years have been a tremendous support to me and my family," he said.
Bro. Carr's educational background consist of; an MS – Clinical Psychology, BS- Psychology & Human Development, AA – Administration for Justice.  Bro. Carr gives credit to the men that have influenced his ministry. "My pastor, B.J. Wilmoth, Bro. J.R. Ensey, and now Bishop Marvin Cole.  I never cease to be amazed at how much wisdom and godly guidance these men have provided to me through the years," he said.

CHURCH HISTORY
The Carr 's took the pastorate of TAC after being voted in on November 17, 2015.
He shared the history of the original church. "Opening services of Glory Tabernacle were held on Easter Sunday, April 21, 1946. 35 people gathered for service in a building on Sabine Pass Avenue, near Railroad Avenue. Bro. Tracy Boutlier was the pastor. Light for the service was provided by coal oil lamps. In time, Bro. Boutlier bought land at 2650 Sabine Pass Avenue.
"In October 1969, the church assembly voted unanimously for Bro. Marvin L. Cole to be their pastor.  November 2, 1969, marked Bro. Cole's first Sunday as pastor of the United Pentecostal Church of Sabine Pass Avenue (now The Apostolic Church of Beaumont), accompanied by his wife, Sis. Marie Barbee Cole, and children, Marvin Wendell and Ruth Michelle. There were 69 people present in Sunday School that day.
"In 1973, the church moved to Blackmon Lane, where two acres and larger facilities would accommodate the growth of the congregation. In 1977, A metallic sanctuary was built at that location, with seating for 400. In 1982, educational facilities, a kitchen, and fellowship hall were added to this facility.
"A total of five land purchases at this location has given the church 12 acres on which to expand as God's blessings continue. On October 19, 1997, the Church family moved into their beautiful new church home near the old facility, at 3333 Eastex Freeway. The current sanctuary has seating for 1,000, and the facility includes a spacious Fellowship Hall with a commercial kitchen, large educational wing, nurseries, office suites, and many other beautiful features," he said.
CURRENT FACILITY
"We are currently in planning stages to remodel the original church facility and make it an educational facility and to build a Family Life Center," he said.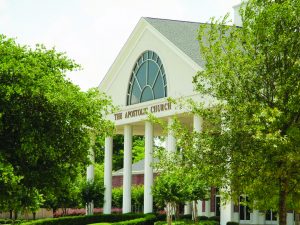 Phone number – (409) 898-3060     Email address jcarr@tac.life