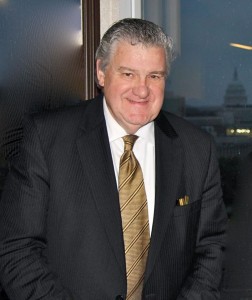 The notorious historical figure Jim Jones was involved with several, mostly independent Oneness churches during his time in Indianapolis. He was born in the small town of Crete, Indiana located about 90 miles east of Indianapolis near Richmond. It would be Indy, however, where he first began to build his following, his reputation and his infamous congregation that he named "The People's Temple." It was many of these people who left with him to travel across the country to California and then on to the fateful Guyana. I remember his early days in Indianapolis, before he built his church, when he was drawing large crowds preaching tent revivals for a group of independent Apostolic churches. I recall the excitement when the "revival" tent was pitched on the property of my mother and father's small church.
My excitement was short-lived. The first night of the revival Jones preached a very non-Apostolic sermon. My humble, but brilliant father was a devoted and diligent student of the Word and an excellent teacher. In wisdom, my father took objection to Jones' lack of emphasis on Acts 2:38 and, supported by a couple other elders, he reprimanded him, and Jones agreed not to go that route again in his preaching. The tent seemed to be bursting at the seams with people as the crowds poured in to see this charismatic preacher.
The second night of the revival Jones violated the promise he had made, straying again from the essentiality of scripture, and the reaction against the sermon was strong. My father, along with three or four other preachers, fearlessly approached the pulpit and asked Jones to be seated. He refused. It was then, my father commanded him to leave the pulpit. At first, Jones, in a theatrical manner and vain attempt to reference scripture, literally tried to shake the dust off his feet. At that point, the ministers attempted to pick him up and physically drag him away from the pulpit and off the platform. Eventually, the tussle ended and he ran out to his car and peeled away from the revival; rocks and dust spewing all over the tent and the congregation. Looking back, our family and the others who were witnesses to that night recalled with clarity and understanding the decision that was made concerning Jim Jones. They had removed from the platform a man who became the notorious cult leader, dictator and false prophet who enticed and forced more than 900 followers to commit suicide in  "Jonestown," Guyana, South America.
The appeal of false doctrine, especially in the minds of pseudo-Christians and pseudo-prophets themselves, is founded upon the desire for influence, importance and self-aggrandizement. It becomes a symbiotic relationship dependent upon the willingness of both parties to ignore the truth in exchange for a variety of trade-offs. Most often the individuals are seeking power, control, esteem through intellectualism, and entrance into groups of "elitist" thinkers who envision themselves as revolutionaries, social influencers or change makers. Such must be confronted.
It is commonly accepted that power corrupts, but it is also true that weakness corrupts. Weakness causes fear. Weakness turns men from the battle, especially if they are made to feel that they don't matter and are pushed about as if they are needy and unconnected. But all men are able through Christ to overcome human weakness and the deceptions of our day. And we must! The Apostle Paul writes: "Watch ye, stand fast in the faith, quit you like men, be strong" (1 Corinthians 16:13).
The Apostles' teaching of the new birth, including Peter's declaration of the answer to the basic question asked at the upper room outpouring of the Holy Ghost, was clear and complete.
"Now when they heard this, they were pricked in their heart, and said unto Peter and to the rest of the apostles, Men and brethren, what shall we do? Then Peter said unto them, Repent, and be baptized every one of you in the name of Jesus Christ for the remission of sins, and ye shall receive the gift of the Holy Ghost" (Acts 2:37-38).
Personally, I will not walk away from these commands. I believe they are the essential doctrine. They are not to be set aside or diminished in our by-laws, weakened in any of our educational training, or toned down in our preaching.
There are moments in the course of our lives and in the ways of men when serious issues develop among nations, churches, families and cultures. Issues that redefine who we are and that determine our destinies. In such times we must speak. We live in such a moment. I beg of you, men and women of faith – SPEAK! You do not need someone's permission or special endorsements to lift up holiness, to preach the truth, and to follow God's anointing. He will be there with you. You need not hope that someone else will come along and save you and our children. We must save ourselves from the ungodliness, worldliness and false doctrine that is permeating our culture. As Peter strongly admonished us in the book of Acts: "Save yourselves from this untoward generation" (Acts 2:40).