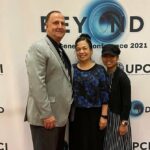 Global Missions Spotlight: Vol 32 No 3
Almost thirty years ago, Missionary to Bolivia Robert Dame was a young short-term missionary (Associates in Missions) to Argentina, South America when he faxed his enrollment application to Indiana Bible College during a short visit to Uruguay.
It turned out that the "leap of faith" that many IBC students experience at enrollment time was a little bit more like a long jump for this particular member of the Freshman class of 1993.
"I had faxed my application to IBC from Montevideo, Uruguay (where he had traveled to renew his Argentine visa) and returned to Argentina," he recalled. He had decided to apply to IBC after talking to his South American Regional Director, James Burton, grandfather of a future third-generation missionary to Venezuela, Lonnie Burton, who was also enrolling at IBC that year.
"Three months later, I returned home to New Hampshire and called the IBC front office secretary who informed me they had never received the fax," he said, "but that I should arrive for classes in five days." He had a plane ticket to Indianapolis and less than $1,000 in savings when he arrived at the campus on Sumner Avenue.
Faith, Works, and Overtime
"Recruiters from UPS arrived and hired me, but I didn't have a ride to work." Even so, the details came together. "In the end," he said, "the Lord provided, honoring my faith, works, and overtime. I paid off the (tuition and fees) debt and was able to go to Guatemala each summer after working two full-time jobs during the month of May each year.  
"I may have caused Bro. Tom O'Daniel (a former missionary to Ghana and IBC Executive Vice-President at that time) a heart attack the first two years, but I am thankful he gave me the opportunity to stay."
 Special Memories
"Being able to minister together with close friends who, to this day, continue in the ministry and are still friends, and drinking Argentine tea with the guys in the dorm," are highlights he recalled. In addition, he remembered, "being influenced by the teachers who were, and still are, passionate about ministry."
Most significantly to Brother Dame, "I received not only preparation by studying the material and being in the classes, but the discipline and character that were formed by having to balance school, work, and ministry during the four years at IBC. We did not just receive theory and theology, but had to practice what was learned at different events throughout the year."
His involvement as an AIMer in Argentina was a confirmation of his call to global missions even before he enrolled at IBC.  
"I felt drawn to missions as young as nine or ten, and every time a missionary came to our church, I was impacted and wanted to be one. I read every book written by a missionary, especially those from South and Central America. The actual burden and calling came when I was seventeen. I was in a moment of rebellion and in a backslidden state, headed for the Marines when God used my high school Spanish teacher to redirect me to missions. I went to Argentina instead of Iraq."
Preaching in Spanish
It turned out that he had an aptitude for language, expanding from high school Spanish into fluency while on AIM in Argentina.
"During my sophomore year in high school, I started taking classes," he said. "My sister was a junior and had just started classes. She taught me to count to ten while driving me to a trumpet class. On the way home, realizing that I had learned quickly and Spanish seemed easy, I signed up for classes.
"After three years of high school Spanish, and then going to Argentina, I learned quickly, since I was with the Bible school students who didn't speak any English."
Paradoxically, the young American from New Hampshire began his preaching ministry, not in English, but in Spanish. "I started preaching in Argentina without an interpreter within three months of arriving. It was really the first time I had ever preached."
The summer AIM ministry to Guatemala, which had begun during his time at IBC, continued after graduation. During that time, he was mentored by veteran missionaries Monte and Dianne Showalter. It was there that he met his future wife, Lisbeth, who was born in Guatemala and involved in campus ministry under the Showalter's leadership. Both had a call to missionary life, but each wanted to ensure the other felt the same. Before making a lifetime commitment, Lisbeth wanted to take him to the large city dump to see how he would respond to ministering to people who lived there, but that is a story for next month.