The 6-W Prayer Method
Written By David Tripett, Clinton, TN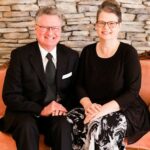 Bro. Triplett, tell us about yourself and your ministry
I am the founding pastor of Eagle Bend Apostolic Church in Clinton, Tennessee, which began in 1983. With God's help, the church has flourished.  I am recently retired, and the church is continuing to minister and grow under new and capable leadership.
Retirement has allowed me to begin to write books that have been percolating in my thoughts for years. The 6W Prayer Method is the first fruit of my retirement.
Tell us about your book, The 6W Prayer Method.
Jesus taught in Matthew 6:9, "After this manner therefore pray…" Manner means "fashion…an acceptable type or model for imitation." This is the thesis of my book – the Lord's Prayer is a model for us to follow and to imitate.  
While studying the Lord's Prayer, I identified six subjects presented to us.  I searched for a mnemonic to help make the subjects memorable.  I chose the letter "W" because of the phrase, "…Thy will be done." I then developed the 6W's to represent the six subjects in the Lord's Prayer (Matthew 6:9-13).  They are as follows:
WORSHIP – "…Our Father which art in heaven, Hallowed be thy name."
WILL – "Thy kingdom come, Thy will be done in earth, as it is in heaven."
WANT – "Give us this day our daily bread."
WASH – "And forgive us our debts, as we forgive our debtors."
WATCH – "And lead us not into temptation, but deliver us from evil…"
WORSHIP – "For thine is the kingdom, and the power, and the glory…"
The 6W's are a simple memory aid to guide one through the pattern of prayer Jesus has given us to follow.  Of course, this is not the only way to pray.  However, when we follow the Lord's pattern of prayer, using the 6W's as a guide, we can have strong confidence that our prayers have reached His throne. This book is different from others on prayer – it is a handbook for the practice of prayer, making prayer practical and workable in our everyday lives.
Can you give us further insight into each of the 6W's?
Jesus said, "Hallowed be thy name." Because of his holy character, we are taught to WORSHIP God, first of all. Beginning prayer with worship places God in His rightful position in our priorities – first!  Worship is an indispensable spiritual activity that connects us with the Spirit of God.  John 9:31 says, "…if any man be a worshiper of God…him he heareth." 
Jesus said,  "…Thy will be done…"  The WILL of God is a position or a state that must be actively sought.  It cannot be merely a passive thing left to chance.  Jesus prayed and struggled in the Garden of Gethsemane to implement the will of God in His life.  There may be prayer and struggle in our lives to know and do God's will, but Psalms 143:10 says that doing the will of God will lead us into "a pleasant and prosperous land."
Jesus said, "Give us this day…"  Next, we ask God for our needs and our WANTs, bringing our petitions before the throne of God.  Many may feel comfortable asking God to supply their needs, but fewer have the boldness to ask God for what they want or truly desire.  For what may we ask?  What are the limits to want?  John 14:13-14 says, "whatsoever ye shall ask in my name, that will I do…If ye shall ask anything in my name, I will do it."  Mark 11:24 declares, "What things soever ye desire when ye pray. . .ye shall have them."  With Jesus, there are no limits to what we can ask, nor upon his ability to answer.  Such promises testify of his unlimited power and divinity.
Jesus said, "And forgive us…"  Proverbs 24:16 encourages us, "…a just man falleth seven times, and riseth up again…"  Ask God to WASH and cleanse you. Never let sin, failure, or defeat stop you from praying.  Rise up boldly, and ask for God's mercy and grace.  Rebuke the devil, and get back on the highway to heaven!  Ask for God's forgiveness.  Forgive others.  Forgive yourself.
Jesus said, "And lead us not into temptation, but deliver us from evil…"  Next, we pray that God would WATCH over us as we seek His direction, protection, and guidance.  Adam quickly fell from God's divine purpose when he foolishly ignored God's word and chose to go his own way.  The only safety for our souls lies in seeking God's direction and protection for each day.  Jeremiah 10:23 says, "O Lord, I know that the way of man is not in himself:  it is not in man that walketh to direct his steps."
Jesus said, "For thine is…the glory…" We conclude our prayer with WORSHIP and thanksgiving.  In Luke 17, Jesus cleansed ten lepers, "And one of them, when he saw that he was healed, turned back, and with a loud voice, glorified God (verse 15)."  In my own prayers, I close with worship, often lifting my voice a little louder and thanking God for hearing and answering my prayer.
What are some benefits of the 6W method?
When we honor and obey Jesus by praying as He taught, our faith is strengthened by our obedience.
Our prayers are balanced with both praise and petition.  Everything needed to receive answers from God is included in Jesus' pattern for prayer.
Our prayers are more structured.  We are not wasting time and effort with "vain repetitions." We find ourselves praying more because we know how to pray. 
In emergencies, impromptu settings, or everyday situations we are never at a loss for words to say in prayer. We can simply pray through the 6 W's.
Just recently, a sister in our church testified that she used the 6W method to pray with a relative.  The method gave her confidence to pray aloud with someone – and she later testified to answered prayer!
This short, easy-to-read book ends with sample prayers for many situations to make the 6W method practical and usable.
How may one order The 6W Prayer Method?
The book is available at Pentecostal Publishing House or can be ordered at www.pianobyear.com for $6.99. The e-book, print version, and lesson plans for teaching the 6W method are available at amazon.com.
Contact Triplett's Productions by e-mail for a quantity discount for your church at contact@pianobyear.com.