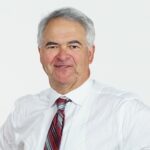 Carlton Coon Sr. | Springfield, MO
"For thirty-five years a primary focus has been working to turn converts into disciples. Consistent systems that put the attention on turning converts into mature disciples have been part of the effort. The booklet, The First Ten Days is part of this strategy. This is the thirty-second book I've written, the sixth focused on some aspect of new convert care," states Bro. Carlton Coon, a veteran pastor. Currently, the focus is on growing Calvary Pentecostal Church in Springfield, Missouri.
Our converts need a resource to help them learn simple approaches to prayer and personal devotion. The First Ten Days is a fill-in-the-blank tool that guides the convert through their early days after conversion. The booklet is given to the convert at the point of conversion. It is designed so that a pastor can have his own welcome letter inserted into the first pages of the booklet.
Providing better care for disciples involves several things: 1) For church leaders to realize that spiritual babies need special care – just as an infant does. 2) Providing a "diet" suited to spiritual infants. This happens in a class that is oriented to newcomers. The lessons are simple, interactive, and relevant. Our special "diet" includes three different series of sessions:  Take Root, Bear Fruit, and Fitly Framed. This material has been used to teach thousands of converts. 
3) Finding a way for the newcomer to actively engage in the church. The late Kenneth Haney often said, "Use them or lose them." The Bishop was right. If new converts do not find a way to serve, they will soon drift away.
"At Calvary Church in Springfield, our disciple-making effort is a work in progress. Actually, disciple-making is always a work in progress. We have the class structure in place but are not as effective as we shall become in connecting people to roles of service," said Bro. Coon.
Bro. Coon continues, "An intentional strategy definitely allows us to keep people we would not retain. Unfortunately, with today's hectic pace and the trend toward low-commitment Christianity, some converts will not participate in the discipleship classes. We retain few of those who do not become part of the equipping and training process.
The First Ten Days, along with his other content on disciple-making, is available at CarltonCoon.com or Amazon. Unlike most of his books, The First Ten Days is not available as an eBook. Currently, a method has not been developed to make an eBook function as a "fill-in-the-blank" resource. Individually, the books sell for $12.99. However, even five books can be purchased at a volume discount. There is a slight charge for personalizing The First Ten Days.
Bro. Coon concludes, "My mind, heart, and spirit are open to ideas that others are using to retain converts. Our digital age opens new avenues and opportunities to connect with newcomers. If you are doing something that is working, please share it with me at carltoncoonsr@gmail.com. If you have a question about any of these books or the Disciple-Makers Training Course, you can contact me at the same email address. I'm convinced that every church needs an intentional focus on retaining new converts."