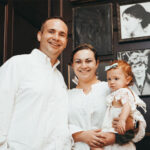 "Now when they heard [this], they were pricked in their heart, and said unto Peter and to the rest of the apostles, Men [and] brethren, what shall we do? Then Peter said unto them, Repent, and be baptized every one of you in the name of Jesus Christ for the remission of sins, and ye shall receive the gift of the Holy Ghost. For the promise is unto you, and to your children, and to all that are afar off, [even] as many as the Lord our God shall call." – Acts 2:37-39
This passage, of course, is the founding of the church. It defines the word "Apostolic" when we say that we are an Apostolic church. Other denominations may find that word bizarre. But to us, it means something. We understand that what happened on this day changed the world.
Not All Days Are Created Equal
The Day of Pentecost was no ordinary day. It was a moment that was heightened. Not all days are created equal. There are some days that occur that literally change the course of our lives. And we never know when they are going to come. So we had better be ready. This is the beauty of serving the Lord. We just do not know. It's an adventure, and it's exciting, because God can do anything.
On this day, God filled one hundred and twenty people in the Upper Room with the power of the Holy Ghost, speaking in other tongues. It prompted the crowd to ask what was going on. Peter stood and declared with boldness, and began to preach the sermon that would change the world and revolutionize all of history. We would all benefit from reading through that beautiful message, that defense of Jesus' identity and purpose, especially if we haven't done so in a while. Aren't we thankful for the preached Word of God? Preaching still works!
The Position of the Heart
"Now when they heard [this], they were pricked in their heart…" That is what the Word of God does. Upon being pricked in the heart by the Word, it's what the hearer does next that makes all the difference. The job of the preacher is to simply preach the Word, and then to let God convict the heart. The response is on the hearer. We cannot control the response, although sometimes, it's certainly tempting to wish that we could.
In theory, we could manipulate people, pull on their emotions, or place guilt upon them to evoke a response. But we really can't force them to yield to God. That is the work of the Lord. All we can do is be used by God to get them to the altar, and then something else has to happen.
Notice that when Stephen preached in Acts 7, the hearers were pricked in their hearts, just like they were in Acts 2. Their response was negative; they responded by stoning Stephen. This is because conviction works on people differently, depending on the position of their hearts. Conviction can cause people to run out the door, and we cannot feel guilty about that. We cannot afford to take that personally.
I don't believe that Peter was necessarily a better preacher than Stephen just because he got to see conversions while Stephen saw stones flying at him. They both simply preached the Word. They both did what God had called them to do. They were both anointed, and the response was up to the relationship between the hearers and God.
Repentance is a Miracle
On this day, however, the people were receptive and they were interested. They asked the question of questions: "What shall we do?" They were saying, "We see who Jesus was; we see that we have crucified Him, and we now acknowledge that He is the Messiah. How do we fix this? What must we do to be saved?"
Even if they cannot put the term "salvation" on it, if they're really honest with themselves, people know that they need something. Even if they are not familiar with the language of salvation, people are nonetheless asking the question, "What shall we do?" Thank God that there was a preacher, full of the Holy Ghost, who had the answer to that question! We quote it often: "Then Peter said unto them, Repent…"
"Repent" may seem like a small word, but in reality, it is a big word. Repentance is a miracle. If you know anything about human beings, you know it's hard to change their minds. We are born in sin and shapen in iniquity, which means we just want our own way. We are stubborn and selfish by nature.
This is why repentance is a miracle. This is why heaven rejoices when one sinner repents, because it is a miracle when someone says, "I was wrong," and they mean it – not just to fix a "little problem," so to speak, but when they bring the totality of their heart to the Lord in full repentance.
This is what Peter leads with, and it's not by accident. God's Word is on purpose. Every word matters. When lawyers parse over contracts, they are doing so because the change of one word can undo an entire contract. The Word is our contract from heaven; it is God's law. There was intention with that word, "repent." When the hearer gets repentance, everything else follows. If someone genuinely repents, they aren't going to refuse baptism in Jesus' name and the infilling of the Holy Ghost. They are fully yielded to God.
There can be a temptation from zeal to get this order reversed, in order to get results. But we must remember, the results are not up to us. Preaching the Word is our responsibility. The rest is up to the hearers and God. Baptism in the name of Jesus is essential, but the power of Jesus' name is in its connection to a yielded and surrendered heart. The only way to freedom is when an individual is fully surrendered to God – when they are ready to let God be on the throne of their lives.
The Promise is Unto Us
Repentance is an easy thing to say, but a hard thing to do. Our efforts to reach people will require longsuffering and faithfulness in preaching the Word, to help them get to that place where they can repent. But everyone will have to deal with Acts 2:38. Everyone will need to deal with this passage, because when their hearts are fully repented, why not get baptized? Then, the promise of the Holy Ghost will come. We cannot give that gift; it is God who gives it. And it is promised.
God knew that critics would later come and claim that this passage was the birth of the church, but that we have graduated to a more intellectually sophisticated Christianity. He preempted this because Peter did not stop with the Holy Ghost being poured out that morning. He continued, "For the promise is unto you, and to your children, and to all that are afar off, even as many as the Lord our God shall call."
Everyone who deals with the Lord will deal with Him in this way. We are not people of Acts 2:38 merely because we like the sound of it, but because of the truth that is contained in it. We understand by the Word that the same promise is unto us.
What Will We Do With the Upper Room?
In 2014, I was blessed to be able to travel to Israel with my grandparents and church family. Israel has several places that claim to be the "original" locations of many biblical events. Among these is a religious site called the "Upper Room." Of course, we aren't sure where the original was located, but this site was built around the time of the first-century church. They have stairs that lead to a room with stone floors and walls, open windows, and no modern amenities. It gave the feeling of, "this could have been what the Upper Room looked like."
People were clearly trying to connect with God in this space. They were lighting candles and performing different religious rituals. We were observing this when Bro. Mooney called us over in a corner towards the back of the room. And he told us, "The issue is, will we be faithful to what happened in the Upper Room? Will we be true to what God has given us?"
There was a conviction that began to settle as we thought about the fact that we didn't have to travel around the world to feel the presence of God. We could experience the Holy Ghost in our bedrooms and in our church in Indianapolis. We could connect back to the apostles better than anybody that was closer to the geographical location. The Lord moved on us at that moment, and we began to speak in other tongues!
The conviction of that moment gripped my heart. The Spirit of God moved on me and the others present in a very similar way, in a very similar place, as the Day of Pentecost recorded in Acts 2. But the question also gripped my heart. "What will I do with the Upper Room?" It reminded me of that phrase, "For the promise is unto you…"
The Challenge of the Promise
The promises of God mean that we have incredible potential and the ability to do what the Lord has called us to do. God has given us His Spirit, that promise from the Upper Room. And with this, He has given us power. We have the power to walk through any situation before us. What God has promised, He will bring to pass. We can trust that the Spirit will do the work, and it will work every time. This gives us confidence. If what we do is anointed by the Spirit of God, then the work will be accomplished. If we live in repentance and humility, He will do the work every time. We know this, because "the promise is unto" us.
While the promise comes with great blessing, it also comes with a challenge. It "locks us in" to a certain way to do ministry. It is exclusive. There are certain methods that we cannot use, things that we are not able to implement. We are people of the promise, and this always begs the question, "What will we do with the promises of God?"
Yes, there is no limit to what we can do through the power of the Spirit. But the Spirit is very limiting in what it lets us do because we have to be yielded to the Lord. That is essentially what Paul said to the church at Galatia. You began in the Spirit, and because you began in the Spirit, it is impossible for you to finish in the flesh.
That is why all of us are here. We started this journey in the Spirit. It was God who called us and filled us with His Spirit. How foolish would it be for us to think that, after God calls us and leads us, at some point it becomes our responsibility to take over? The Spirit is the power of God at work in our lives, but it is also a limiting factor. There are certain things that we must yield to God, that we cannot take back control of after yielding to Him. There is no excuse for doing it any other way.
Pride Yielded to the Promise
How weak would we be if this promise was one that we could control? That would be an awful tyranny. God needs to be in control, and He does it better than us anyway. Sometimes He moves and we don't even understand what He is doing or why. He begins to pull on our hearts and speak to us. He ministers through ordinary people operating in the power of the Holy Ghost. And right there, at that moment, we have an "Upper Room" all over again.
Repentance precedes the Spirit because an attitude of repentance is when God says, "Now I am free to work. Now I am free to move in this life. Now I have free reign." This is when we can be used by God. Because He has given us a promise. "The promise is unto you…"
We are not doing this on our own. That is such a help to understand. We don't have to do ministry in our flesh. There are times when we feel unworthy. There are times when we feel like shrinking back from the tasks He has asked us to do because they are too big for us. That's not a bad day, as long as we remember the promise.
What would be a bad day is if we forget the promise of the Spirit and how much we need it. We tend to neglect it when things are going well. But God, in His mercy, uses the "curveballs" of life to remind us that we aren't in control, that we don't have the answers, and that there is a promise.
At times we find ourselves dealing with things in life. Being stubborn and thinking that we can handle them on our own. But what a blessing when we get to a place to bow our knees and pray, allowing the Lord to move and take over. Sometimes in those moments, we may even find our minds drifting, thinking, "Why didn't I just give this to the Lord sooner?" We spend so much time worrying about these things, often allowing our pride to get in the way of the answer.
The answer is still the same Spirit that was poured out in Acts 2. What we have to do is yield our pride to the promise and say, "God, I just need you to touch me one more time. I need Your grace; Your strength; Your anointing." We can still come boldly before the throne of grace. We have a promise from God. "The promise is unto you…"