Jerusalem Abuzz With Historic "Support Trump" Campaign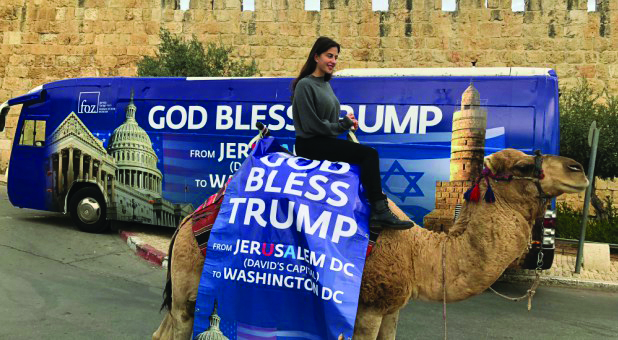 Jerusalem hosted one of the largest marketing campaigns in the city's history with 110 massive billboards, buses with signs and even camels showing love for U.S. President Donald Trump.
The campaign, created by Dr. Mike Evans of the Friends of Zion Museum, launched when President Trump first visited Israel last May. The billboards declare, "God Bless Trump, From Jerusalem D.C. (David's Capital) to Washington, D.C."
Evans, a prominent Christian Zionist who was one of Trump's first high-profile backers in the evangelical community, said, "No president in history has ever built such an alliance for the state of Israel and the Jewish people, and no president has courageously stood up for the state of Israel on the global stage . . .
"President Trump's historic recognition of Jerusalem will secure his place in history as the first American president to take that step since the founding of the State of Israel in 1948."
To honor Trump, 30 evangelical advisers met in the Oval Office to present the president with the Friends of Zion Award.
Trump's declaration that Jerusalem is the capital of Israel takes its place as one of Israel's historic milestones, which include the Balfour Declaration and President Harry Truman's acceptance of Israel into the family of nations.
—–
Confirmation of Einstein's Theory of Relativity Points to a "Beginner"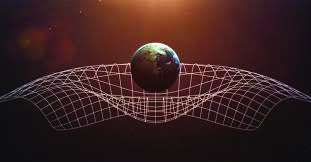 Biblical creationists have reason to celebrate as the word that gravitational waves have been detected in space continues to spread.
WORLD News reports recently that "three U.S.-based scientists won the Nobel Physics Prize for detecting gravitational waves rippling through space as Albert Einstein predicted a century ago." According to Einstein's theory of relativity, "3-D space and time are woven in a single continuum, commonly called a fabric, that can stretch, shrink, and tremble."
As Lynde Langdon for WORLD explains, this observable confirmation of Einstein's predictions also supports the biblical concept of a Creator. Langdon cites astrophysicist Jeff Zweerink who said in a podcast several months ago that "if general relativity is correct, that implies there is a beginning to the universe, and if there is a beginning, then there is a beginner."
This idea of a "beginner" is central to the Christian faith. Its centrality stems from the fact that the biblical account of creation is tied in with the narrative of mankind's fall and God's promise of redemption.
—–
Harvard Christian Group On Probation For Asking Gay Leader to Resign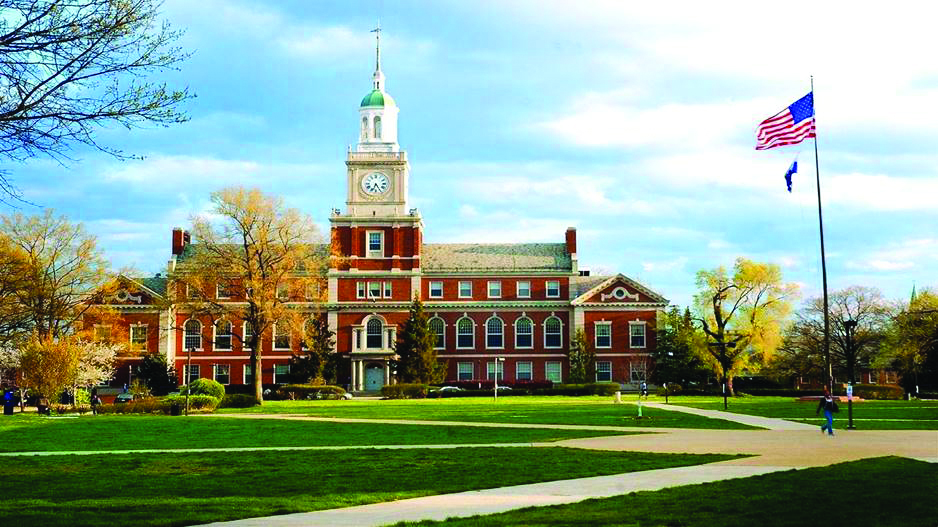 The Harvard College Faith and Action (HCFA) group is on "administrative probation" for a year after the group pressured a leader of the group to resign because of a same-sex relationship. HCFA co-presidents Scott Ely and Molly L. Richmond said the group was placed on probation because of their "standards for leaders."
"We reject any notion that we discriminate on the basis of sexual orientation in our fellowship," the co-presidents wrote in an email recently. "Broadly speaking, the student in this case was removed because of an irreconcilable theological disagreement pertaining to our character standards."
Richmond also told The Boston Globe: "To be clear, we are an autonomous student group, and we do not discriminate on the basis of sexual orientation."
In September, HCFA leadership reportedly asked for the resignation of a female Bible course leader in the group after they found she was dating another female student, according to The Harvard Crimson. The Harvard College Student Handbook says that recognized student groups cannot discriminate on the basis of "sexual orientation."
If the group tries to re-register with the university in 2019, the Office of Student Life "will require materials demonstrating that they are in compliance with the University's nondiscrimination" policies.
—–
CA High School Bans National Anthem For Being "Racist and Outdated"
The National Anthem has been banned from a California High School in San Ramon, California, according to The Washington Times. This decision was made by student leaders at the high school who deemed the National Anthem to be racist and outdated.
We are all likely familiar with the first verse of the National Anthem, but what you may not know is that the Anthem has multiple following verses. It is the third verse of the Anthem that the students took issue with.
"It was brought to our attention that the national anthem's third verse is outdated and racially offensive," Ariyana Kermanizadeh wrote in an open letter. "We had nothing but good intentions by removing the song so that we could be fully inclusive to our student body."
The line in the third verse of the Anthem that was deemed especially concerning says:
"No refuge could save the hireling and slave / From the terror of flight or the gloom of the grave."
"We understand that this third verse is not included when the anthem is performed, but still, what does this tell us?" Kermanizadeh continued.
"This song was written in 1814," she noted. "That was written 204 years ago. Imagine all the traditions and laws that have changed … [and] so must our traditions."
Some, like conservative commentator Todd Starnes, disagree.
"The Star Spangled Banner may have survived the bombs bursting in air, but it may not be able to withstand the rampaging mob of politically correct inclusivists," he wrote in a column for Townhall.com.
—–
AL Government May Stop Issuing Marriage Licenses
When the Supreme Court legalized same-sex marriage in 2015, Christians in the business of officiating marriages faced a new challenge. To avoid going against biblical teachings on marriage, some judges in Alabama skirted the conflict by simply closing down their marriage license divisions. To these judges, no marriages at all meant no same-sex marriages. This, in turn, meant preserving the belief in marriage as the sacred union of one man and one woman.
Alabama judge Wes Allen recently explained his decision to stop issuing marriage licenses: "I believe marriage is between a man and a woman and firmly believe that biblical world view," he says. "And I couldn't put my signature on a marriage license that I knew not to be marriage."
Because of the choice that Alabama judges have in this area, some people in more rural areas have to travel significant distances to obtain a marriage license from a judge who will sign their license. To skirt around the issue of marriage licenses in Alabama, the state government is considering a bill that will eliminate marriage licenses altogether. In this legislation, rather than getting a license, couples would "submit a form affirming they've met the legal requirements for getting married and then record a marriage contract at the probate office." In this new system, marriage would become a contractual relationship.
Some Alabama politicians object to this new legislation, saying that it degrades the sacredness of marriage as an institution. Alabama is not the only state considering this step. Governments of other states including Oklahoma, Indiana, Kentucky, Missouri, and Montana are also considering replacing marriage licenses with contracts.
—–
NEWS IN BRIEF
The extremely popular Bible App recentlyreleased its 2017 Year in Review, which revealed leading trends in Bible reading over the past year. It specifically revealed that Joshua 1:9 was the verse that was shared, bookmarked and highlighted most often by Bible App users around the world. Joshua 1:9 reads, "Have not I commanded thee? Be strong and of a good courage; be not afraid, neither be thou dismayed: for the Lord thy God is with thee whithersoever thou goest." (KJV).
Retail chain Target has already been widely criticized for its transgender bathroom policy, but now Walgreens stores are following in Target's footsteps. The Christian Post reports that Walgreens is now allowing individuals to use the restroom that corresponds to their gender identity instead of with their biological sex. "All individuals have a right to use restroom facilities that correspond to the individual's gender identity, regardless of the individual's sex assigned at birth," states the new directive. Walgreens has been ranked as one of the most LGBT-friendly places to work.
The city of Coronado, California, will be removing a church directory sign from city property. The sign has been on the property since the '60s, and its removal is being prompted by "First Amendment concerns."According to the Freedom From Religion Foundation, the inclusion of only Christian churches on the list "could give the appearance that Coronado promotes Christianity over other faiths." And, as the organization expressed in a letter to the city, this raises "serious constitutional concerns under the Establishment Clause."