Not A Single Bible, Cross Burned During WV church Fire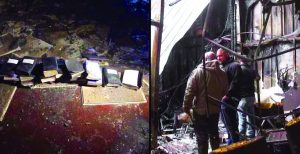 In the early morning hours of March 3, a fire broke out at a West Virginia church, sparing nothing but the Bibles and crosses inside.
According to WIVB, firefighters arrived at the Freedom Ministries Church in Grandview, West Virginia at 1 a.m. to see the building engulfed in flames.
In a post shared by the Coal City Fire Department on Facebook, the miraculous nature of the spared Bibles was noted. "Though odds were against us, God was not," the fire department wrote. "Picture this … a building so hot that at one point in time, firefighters had to back out. In our minds, everything should be burned to ashes.
"Yet not a single Bible was burned and not a single cross was harmed! Not a single firefighter was hurt!"
After posting about the Bibles' miraculous survival through the raging church fire, many people took to Facebook to share similar experiences.
Dean Vandall commented on the post saying, "Out of every structure fire I have responded to in the past 20 years, not one Bible has burned. They might have smoke damage or charred around the edges, but you could still read every page. We gave the owners back a lot of Bibles over the years. It just goes to show that God's word is more powerful than the devil's fire and fury no matter how hot it gets. God was watching over all you guys last night, and every fire call y'all go on."
Erin Hoover shared a similar experience writing, "I was a responding volunteer firefighter on 9/11 to Flight 93 in Shanksville, Somerset County. We were walking in the woods yelling for survivors and looking for the wreckage when we got on scene. We found wallets and papers, blowing in the wind, that were charred and burnt. Unreadable. We did, however, find a Bible. Untouched. Completely readable."
Sharon Lackey too had experienced a fire where her Bible survived. She wrote, "When our house burned in Texas, I had the family Bible lying on dad's army trunk that he carried around the world doing his tours of duty. The top of the trunk burned a hole through the top where the Bible was laying, and it didn't damage the Bible in any way. I still have both the trunk and the Bible. They serve as a reminder to me how great the word of God can be."
—–
CA May Evict 84-Year-Old For Holding Bible Study in Veterans Home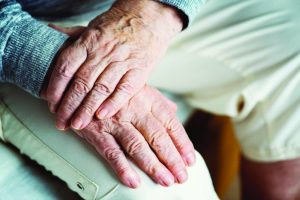 The California Department of Veterans Affairs is threatening to evict an 84-year-old widow from her California Veterans Home if she continues to hold Bible studies, according to her attorney. The woman, Artis Breau, has volunteered as a chaplain and led Bible studies over the past decade.
The controversy began last September when one of the residents said he had trouble sleeping after having a conversation with her about heaven and hell. Officials with the California Department of Veterans Affairs (CalVet) labeled it elder abuse and emotional abuse to speak of such subjects, according to the Pacific Justice Institute.
Her volunteer status within the chaplaincy program was suspended in December. Then, on March 1, CalVet told the Pacific Justice Institute that Breau would be subjected to an "involuntary discharge" from the home if she continued leading Bible studies. Breau believes officials are skeptical of her because she is an evangelical Jewish believer in Christ.
"CalVet's treatment of this widow is shameful," said Pacific Justice Institute attorney Matthew McReynolds. "Throughout this process, we have been deeply disturbed not only by the lack of constitutional guidelines, ineptitude and lack of due process in the investigation, but even more by the notion that discussing religious views on the eternal state of the soul is somehow elder abuse or emotional abuse.
"Our client's husband fought for his country to preserve the freedoms now being threatened by CalVet. Our veterans deserve better."
Breau was a civilian employee in the office of the chief of staff of the Army at the Pentagon during the Korean War. Her husband served in World War II and the Korean War.
The Pacific Justice Institute is considering a lawsuit.
—–
Street Preacher Arrested, Called Racist by UK Police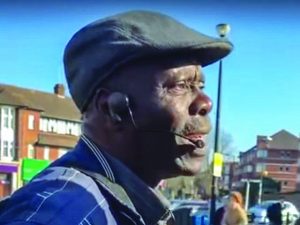 A United Kingdom street preacher was called a "racist" and told to "go away" before police arrested him for "breaching the peace."
According to WND, an un-named street preacher was standing outside of the Southgate Station London N14, when two police officers asked him what he was doing and then ordered him to leave. A video of the incident posted to Twitter by EyeOnAntisemitism shows one officer approach the man and ask, "What are you doing here?" As the street preacher hugged his Bible, he told the officer he was preaching.
The officer responded saying, "You're preaching … I'm gonna require you to go away." When the man refused to stop sharing the Word of God, the officer told him, "Okay, then I will arrest you."
As a second officer arrived on the scene, the pair arrested the street pastor and stripped his Bible from his hand. As the preacher peacefully asked the second officer not to take his Bible, the officer commented, "You should have thought about that before you decided to be racist."
According to WND, police approached the man after someone complained that he was being Islamophobic. According to Christian Today, the man was later released.
—–
Student Says a Christian Can't Survive at Yale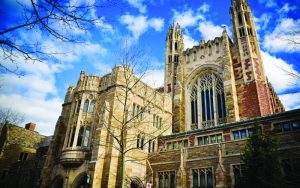 Recently, a third-year student at Yale Law School said he thought he could survive as a Christian at the school, but recent events showed him that he was mistaken. Aaron Haviland says the pressure on Christian conservatives at Yale increased after the confirmation hearings for Supreme Court Justice Brett Kavanaugh last fall. He said that students with connections to conservative and Christian organizations faced exclusion from classmates. Some demanded lists of students who had connections to such organizations. He said threats and intimidation have become "routine" and that it "takes place with the full knowledge of the school administration."
—–
Genderless Babies Are the New Craze
Bonnie Love is a mother who didn't want her youngest child, Isabella, growing up with a gender assignment. So when Isabella was born, Love and her female partner didn't use a gender-specific pronoun. They gave her toys that are popular for both boys and girls. They didn't use gender-specific colors, such as pink and purple. The goal: let Isabella choose her gender.
"Our family had a really hard time with that because it's not normal, and people wanted to know whether or not to buy the pink or the blue, and I also didn't want that," Love told Fox 11 television in Los Angeles.
It's part of a new trend among some parents of raising "theybies" – newborn babies who spend the first years of their lives without a gender assignment, apart from the birth certificate. Parents of theybies avoid pronouns such as "he" and "she." Instead, they use plural pronouns "they" and "them" to reference the child.
Anna Shier, a child psychiatrist who has worked with parents of theybies, supports the concept. "We don't want our children pigeon-holed," Shier told Fox 11. "We don't want our children to not be able to be as successful as they potentially could be. So, you know, kids learn the very most in this world from toys that they play with, so if girls don't get to play with blocks or toys that would teach them spacial understanding or mathematical concepts, then they're missing out on that really important aspect of learning, because they are pushed really more towards dolls, learning how to nurture through that sort of toy."
Many Christian conservatives disagree with the gender neutral movement, citing Genesis 1:27, "So God created man in his own image, in the image of God created he him; male and female created he them."
—–
NEWS IN BRIEF
The United Statesclosed the doors on its consulate in East Jerusalem in early March. The consulate acted as the "de facto embassy" to the Palestinians, but now most of its work will be carried out from the U.S. embassy in Jerusalem. Also, Consul General Karen Sasahara, who has been acting as what many describe as the "de facto ambassador to the Palestinians," will be leaving Jerusalem. State Department spokesman Robert Palladino said, "This decision was driven by our global efforts to increase the efficiency and effectiveness of our diplomatic engagements and operations. It does not signal a change of U.S. policy on Jerusalem, the West Bank, or the Gaza Strip."
The Dean of Rider University's Business School announced her resignation last month following the university's ban on Chick-fil-A due to its Biblical view on marriage. The New Jersey university banned the Christian fast-food chain from becoming a part of the university's dining services in November because "their corporate values have not sufficiently progressed enough to align with those of Rider." But the dean of the College of Business, Cynthia Newman, did not agree with this decision. In her resignation letter, Newman reportedly said she was disappointed that the university condemned the values of Chick-fil-A – values "that reflect the essence of the Christian faith, as well as other faiths."