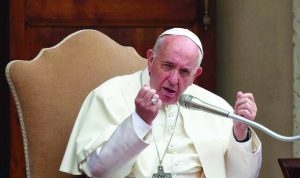 Pope Francis Changes Lord's Prayer
Pope Francis has officially approved a change to the Lord's Prayer in Matthew 6:13 that replaces "lead us not into temptation" with "do not let us fall into temptation." US Catholic reported that the Vatican enacted the change on May 22.
The Pope reportedly believes the new version is better because the first translation implies that God leads people into temptation, an action that is against his nature as a good and holy God.
"A father doesn't do that, a father helps you to get up immediately," Francis said of the line in question. "It's Satan who leads us into temptation, that's his department."
But, in terms of the original translation, the late theologian Charles Spurgeon explained during a sermon in 1863 that the word temptation in Matthew 6:13 actually holds two meanings, both the temptation toward sin and the facing of trials and tribulations.
While Spurgeon agrees that God does not tempt us, he does argue that God will send us into trials and situations in which temptation toward sin is ever-present.
"God tempts no man," Spurgeon said. "For God to tempt in the sense of enticing to sin (is) inconsistent with his nature, and altogether contrary to his known character; but for God to lead us into those conflicts with evil which we call temptations, is not only possible but usual."
—–
Over 30 Pentecostal Christians were reportedly recently arrested in the northeast African nation of Eritrea. According to the BBC, more than two dozen Christians were praying in three locations around the nation's capital when they were rounded up and taken into custody by security forces.
Reportedly, this is only one instance of a growing trend of persecution against nondenominational Christians in Eritrea. On May 10, 141 Christians were arrested in the nation's capital of Asmara after gathering for a meeting, persecution watchdog Open Doors USA reports.
According to the Christian Post, since the nation declared its independence from Ethiopia in 1993, only four religions are officially recognized by the Eritrea government: Orthodox Christianity, Sunni Islami, the Evangelical Lutheran Church of Eritrea and the Catholic Church. Outside of these four, all other groups are considered illegal.
—–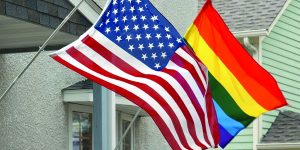 Trump Administration Stands Strong on Christian Issues
Two recent decisions by the Trump administration illustrate that Christian values are being applied to modern moral dilemmas. In mid-June, the current administration reversed an Obama-era practice and banned embassies from flying the gay pride rainbow flag on flagpoles during LGBT Pride Month, according to American diplomats. A few days earlier, in another landmark decision, the Trump administration banned government scientists from conducting fetal tissue research, handing pro-lifers a major victory.
In regard to the flag issue, embassies in Israel, Germany, Brazil and Latvia have requested but been denied permission to fly the gay pride flag alongside the American flag on their respective embassy flagpoles, NBC News reported.
The Obama administration allowed embassies in foreign countries to fly the gay pride flag on the official flagpole during LGBT Pride Month as a way to promote its agenda overseas. The Obama administration's move took place even before the U.S. Supreme Court legalized gay marriage nationwide.
The new Trump policy apparently took effect when Secretary of State Mike Pompeo, a Christian, was sworn in last year. Requests to fly the gay pride flag on the flagpole must be made to the State Department, NBC News reported. All have been denied. This doesn't mean embassies can't hang gay pride flags elsewhere, such as inside on walls or even outdoors. But it can't fly from the flagpole.
In terms of fetal tissue research, the Trump administration recently banned government scientists from conducting fetal tissue research, capping a contentious debate within the Department of Health and Human Services.
"Promoting the dignity of human life from conception to natural death is one of the very top priorities of President Trump's administration," an HHS statement read.
The department said it was discontinuing fetal tissue research among scientists within the National Institutes of Health. Any future research "that requires new acquisition of fetal tissue from elective abortions will not be conducted," the statement said.
Some scientists had said fetal tissue research was necessary to find cures, although other scientists said such research was unethical and that alternatives existed. Pro-life groups applauded the HHS decision to stop scientists from using fetal tissue.
"This is a major pro-life victory and we thank President Trump for taking decisive action," said Susan B. Anthony List President Marjorie Dannenfelser. "It is outrageous and disgusting that we have been complicit, through our taxpayer dollars, in the experimentation using baby body parts."
—–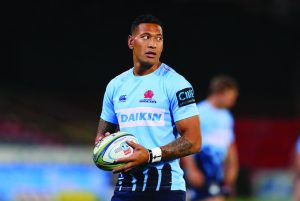 Former Rugby Player Files Religious Discrimination Suit after Being Fired over Expressing His Christian Views
After being fired for sharing a post on Instagram opposing homosexuality, Australian Christian Rugby player Israel Folau has filed suit against Rugby Australia. The 30-year-old announced recently that he had filed an application with the Australian Fair Work Commission for religious discrimination, which he believes was the backbone of his termination. "No Australian of any faith should be fired for practicing their religion," Folau argued, according to the Christian Post.
As Christian Headlines previously reported, Folau's contract was terminated in April after he shared a post on Instagram warning "drunks, homosexuals, adulterers, liars, fornicators, thieves, atheists and idolaters" to turn away from sin.
The former Wallabies player wrote in the April 10 post, "Those that are living in sin will end up in Hell unless you repent. Jesus Christ loves you and is giving you time to turn away from your sin and come to him." He then quoted Galatians 5:19-21.
Soon after sharing this post, Folau was accused by Rugby Australia of breaching the players' code of conduct, which led to the termination of his employment contract. In an independent hearing regarding the incident, Folau – who was signed to play through 2022 for more than $1 million a year – was found guilty of a "high level" breach of contract.
This triggered a snowball effect, causing two of the superstar's sponsors to drop him. Both car manufacturer Land Rover and athletic wear brand Asics broke off their partnerships with Folau.
In a statement shared with the Sydney Morning Herald by Folau's legal team, the rugby player noted that he felt he needed to stand up for people's freedoms in Australia. He said, "I will forever be grateful and proud to have played the sport I love for our nation. Ours is an amazing country built on important principles, including freedom of religion.
"A nation made up of so many different faiths and cultural backgrounds will never be truly rich unless this freedom applies to all of us."
—–
Seminary President Admits She Doesn't Believe in Heaven, Miracles or Christ's Resurrection
The president of a seminary founded in 1836 on the "infallible" Word of God says in a new interview she doesn't believe in the bodily resurrection of Christ, the power of prayer, a literal heaven or miracles.
Serene Jones, president of Union Theological Seminary in New York, made the comments in an interview with Nicholas Kristof of The New York Times for an article published Easter weekend. Although the author's intent may have been to inspire readers, it also served to spotlight the leftward drift of many seminaries.
Union Theological Seminary's founding constitution stated the seminary's goal was to promote the "Kingdom of Christ." Professors were required to affirm they believed "the Scriptures of the Old and New Testament to be the word of God" and the "only infallible rule of faith and practice." But, as Jones made clear, the seminary is a very different school today.
Albert Mohler Jr., president of Southern Baptist Theological Seminary in Louisville, Ky., said Jones rejected the "entire edifice of orthodox, biblical Christianity." Mohler wrote, "This is not Christianity. This is a new religion, a new god, formed in an image intended not to offend modern secular sensibilities. She has constructed a god from post-modern theology that in no way resembles the God of the Bible – the one true God.
"Why would anyone identify as a Christian minister and then deny the entire superstructure of Christian theology? What we see here is a hope to replace biblical Christianity with a new religion without anyone noticing."
—–
NEWS IN BRIEF
New York's legislature passed a bill banning the declawing of cats recently, citing it as a painful and inhumane procedure – four months after the same body of legislators approved a bill permitting abortion of a human unborn baby up to the moment of birth.
Ilhan Omar (D-MN) is facing criticism for suggesting that Jesus was Palestinian and not a Jew. According to CBN News, Omar retweeted a tweet from Omar Suleiman, an American Muslim scholar and civil rights activist, suggesting that Jesus was Palestinian.