Facebook Shuts Down Group for Opposing Drag Queen Story Hour
Facebook has shut down a social media group organized for mothers who are opposed to drag queen story hours at local libraries.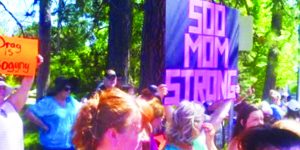 The social media giant removed the group 500 Mom Strong because it was deemed "transphobic" and in violation of Facebook's "community standards." 500 Mom Strong is based in Spokane, Washington, and was founded by Anna Hall Bohach, an activist who has long argued that drag is a misogynistic display and is tantamount to the grooming of young children.
Bohach told The Christian Post in an email on Thursday that she has been dealing with these kinds of bans for some time now, the latest of which happened Monday, and that Facebook representatives are not answering her questions. Facebook did send her a message saying that her page was removed for violating community standards and that policies were in place "to protect against recidivist behavior and do not allow people to set up new Pages that represent Pages that have already been removed from our platform."
"When I asked them about the half dozen other fake 500 Mom Strong pages that were put up by drag queens used to parody 500 Mom Strong, I received no answer and the pages are still active. There is also a fake profile, created by drag queens, using my name and information that has been reported multiple times by my friends and me that Facebook refuses to remove. I asked the Facebook representative about it and I still have yet to receive an answer," Bohach said.
Bohach added that she and her like-minded friends are regularly antagonized by the Facebook page 500 Drag Queen Strong — a page set up to counter her efforts — which continues to operate their page with impunity.
Minnesota Governor Questions Whether Worship is Essential
Minnesota Gov. Tim Walz told reporters this weekend it is not clear that worship constitutes something essential, challenging President Trump's assertion it is.
"I think the case that the president is making and that may be up for debate in this country of deeming houses of worship essential, essential services and that's one that we take into consideration," the Democrat governor said during an hour-long briefing on opening up religious services during the coronavirus lockdown.
The bishops insisted that they have striven to work collaboratively with the Walz Administration as well as highlighting their overarching concern for the spiritual and physical well-being of their flock. They also noted the injustice of the governor's arbitrary targeting of religious practice for especially strict regulation.
Trump Signs Executive Order Promoting Religious Freedom
President Donald Trump signed an executive order on June 2 to prioritize religious freedom in U.S. foreign policy and assistance programs. "Religious freedom for all people worldwide is a foreign policy priority of the United States, and the United States will respect and vigorously promote this freedom," the order states.
Within six months of the date of the order, the secretary of state, together with the administrator of the U.S. Agency for International Development (USAID), is to
"develop a plan to prioritize international religious freedom in the planning and implementation of United States foreign policy and in the foreign assistance programs of the Department of State and USAID."
The new order also allocates at least $50 million per year for programs that promote international religious freedom. The Treasury Department may also consider sanctions on individuals involved in religious persecution by implementing the Global Magnitsky Human Rights Accountability Act, among other things. The law empowers the U.S. government to place visa bans and block the assets of human rights abusers and corrupt officials around the world. Eighty percent of the world's population lives in countries where religious liberty is threatened or banned.
News in Brief
President Donald Trump has ended America's relationship with the WHO, the international agency that has botched its response to the coronavirus.
WHO has been accused of lying to the world about the coronavirus and it has come under fire for saying killing babies in abortions is somehow an essential procedure as the world deals with the coronavirus pandemic.
Today, President Trump said the relationship between the United States and the World Health Organization has ended. The president said China, which has pushed a forced abortion population control policy on its people for decades and killed more babies in abortions than any other nation, "has control" over the controversial agency.
"China has total control over the World Health Organization despite paying only $40 million per year compared to what the United States has been paying, which is approximately $450 million a year," Trump said. "We have detailed the reforms that it must make and engaged with them directly, but they have refused to act."
"Because they have failed to make the requested and greatly needed reforms, we will be today terminating our relationship with the World Health Organization and redirecting those funds to other worldwide and deserving urgent, global public health needs," Trump said.
"Chinese officials ignored their reporting obligations to the World Health Organization and pressured the World Health Organization to mislead the world when the virus was first discovered by Chinese authorities," he said. "Countless lives have been taken and profound economic hardship has been inflicted all around the globe. They strongly recommended against me doing the early ban from China, but I did it anyway, and it was proven to be 100% correct."
"The world is now suffering as a result of the malfeasance of the Chinese government," Trump said. "China's cover-up of the Wuhan virus allowed the disease to spread all over the world, instigating a global pandemic that has cost more than 100,000 American lives and over a million lives worldwide."
The decision will reported end a $450 million contribution from the United States to the pro-abortion agency.