China Shuts Down Churches, Seizes Bibles in "Ambitious Effort" to Eradicate Religion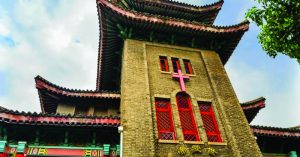 China is in the midst of an "ambitious new effort" to lesson or even eradicate the influence of Christianity and religion from the country, according to an investigation by the Associated Press.
An in-depth story by AP described churches being shut down, Bibles being seized and restrictions being placed on other religions, too. Crescents have been removed from mosques and Tibetan children removed from Buddhist temples and placed in public schools.
One Christian named Guo described an incident in which Chinese officials interrupted a church meeting and told everyone to leave. They then ordered church leaders to remove a cross, a Bible verse and a painting of the Last Supper off the wall. Guo didn't give his full name out of fear of government repercussions.
"I've always prayed for our country's leaders, for our country to get stronger," he told AP. "They were never this severe before, not since I started going to church in the '80s. Why are they telling us to stop now?"
In recent months, Chinese authorities have:
Shut down hundreds of Christian house churches.
Seized Bibles and forced e-commerce retailers to stop selling Bibles.
Prevented children from attending church in some areas.
Urged Christians in one location to replace posters of Jesus with pictures of President Xi Jinping.
Raided church meetings and interrogated hundreds of Christians from one congregation.
The AP story further said that under Xi, Christians "are seeing their freedoms shrink dramatically even as the country undergoes a religious revival." Experts said Xi is "waging the most severe systematic suppression of Christianity in the country since religious freedom was written into the Chinese constitution in 1982," according to AP. The goal is to "Sinicize" the nation's religions with "Chinese characteristics." First among these is loyalty to the Communist Party.
"Xi is a closet Maoist — he is very anxious about thought control," Willy Lam of the Chinese University of Hong Kong told AP. "He definitely does not want people to be faithful members of the church, because then people would profess their allegiance to the church rather than to the party, or more exactly, to Xi himself."
—–
Rapist Who Identifies As Woman Sent to Female Prison Where He Sexually Assaulted More Women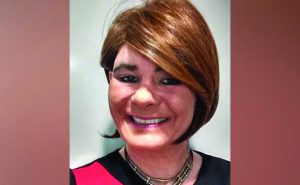 British prison authorities are being criticized for placing a male individual who identifies as a woman into the female prison system, where the person — who had been accused of raping women — sexually assaulted female prisoners.
The shocking story began when Karen White, who was born Stephen Wood, was accused of raping a woman in 2016, The Telegraph reported. Even though Wood had not completed sex reassignment surgery and remained biologically male, prison officials placed Wood into a female-only prison. Within days, Wood had sexually assaulted four female prisoners.
Wood then was transferred to an all-male prison after authorities learned of the attacks. "We apologize sincerely for the mistakes which were made in this case," a prison official said, according to the newspaper. "While we work to manage all prisoners, including those who are transgender, sensitively and in line with the law, we are clear that the safety of all prisoners must be our absolute priority."
The 52-year-old Wood previously had been convicted of sexually assaulting a minor. It later was discovered Wood had raped a woman in 2003, too. Prison policy was not followed in the case, The Telegraph reported. When a transgender prisoner wishes to be housed in a prison that does not correspond to his or her birth gender, the case first must be reviewed by the Transgender Case Board, which looks at the offender's history. That, though, was not done.
Ann Farmer, writing at Mercatornet.com, said Wood's case isn't an isolated one. "There are 125 transgender prisoners in jails in England and Wales. With this sort of encouragement from those in authority, for whom public safety should be a first priority, this problem is not going to go away any time soon."
—–
Elementary Schools Using Drag Queens to Teach Kids About Gender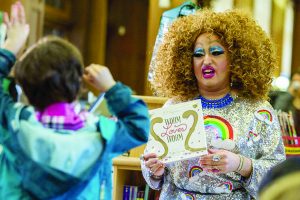 Some teachers and public schools have utilized a program called "Drag Queen Story Hour" to teach children about gender identity. Videographer Sean Fitzgerald and the David Horowitz Freedom Center released a video explaining the program and highlighting testimonials on the program's website. The Drag Queen Story Hour describes itself as, "drag queens reading stories to children in libraries, schools, and bookstores. DQSH captures the imagination and play of the gender fluidity of childhood and gives kids glamorous, positive, and unabashedly queer role models. In spaces like this, kids are able to see people who defy rigid gender restrictions and imagine a world where people can present as they wish, where dress up is real."
The New York Times described one of the events, hosted by a branch of the New York Public Library, in 2017. A six-foot performer named Harmonica Sunbeam, wearing a neon camouflage bodysuit and a purple tutu, read to the children. She read "from Morris Micklewhite and the Tangerine Dress by Christine Baldacchino. The book is about a boy who wore a beloved dress to school every day. At one point, Morris' friends inform him that he isn't allowed to play on their imaginary spaceship, because 'astronauts can't wear dresses.'"
Alexis Hernandez, a first-grade teacher at a public school in Brooklyn, lauded the program and its effect on the children in her class: "What an amazing way to teach about individuality, empathy, and acceptance! Drag Queen Story Hour gave my first graders a fun and interactive platform to talk and think about social and emotional issues like acceptance, being yourself, and loving who you are…"
Fitzgerald disagreed saying, "The taxpayer is funding adult-themed performers to come and read to our smallish children in order to indoctrinate them into a political ideology about gender while, at the same time, school districts across the country are removing any and all references to biological sex from science textbooks."
The Drag Queen Story Hour was founded in 2014 and now has chapters in 20 states and the United Kingdom.
—–
New Law: TN Schools Must Display "In God We Trust"
Students heading back to school in Tennessee in the coming weeks will be greeted by more than new teachers and old friends. They'll also see "In God We Trust" displayed prominently in their schools. A bill requiring the national motto to be displayed in a prominent place was signed into law in April, meaning the 2018-19 school year is the first one to be impacted by the new rule.
The law defines "prominent place" as a "school entry way, cafeteria, or common area where students are likely to see the national motto." The phrase "may take the form of, but is not limited to, a mounted plaque or student artwork."
The bill was sponsored by Republican Rep. Susan Lynn. "Our national motto is on our money. It's on our license plates. It's part of our national anthem," she told The Tennessean. "Our national motto and founding documents are the cornerstone of freedom, and we should teach our children about these things."
—–
NEWS IN BRIEF
A new study examining family structures reveals that children from broken families accumulate nearly $62,000 less wealth on average over the course of their lifetimes than those who were raised in an intact family. The study, "Childhood Family Structure and the Accumulation of Wealth Across the Life Course," found a median wealth penalty of at least $61,600 at ages 47 to 55 for individuals who did not live continuously with both biological parents from birth to age 18, depending on their alternative family structure.
It was announced recently at the 79th General Convention of the Episcopal Church in Austin, Texas, that church officials are consideringrevising the Book of Common Prayer to say that God does not have a gender. The Rev. Ruth Meyers, a scholar and divinity school professor, said the prayer book should be revised to reflect the changing world around believers. She said recent talk about gender-neutral revisions has been influenced in part by the MeToo movement.