Popular Disney Channel cartoon features the network's first bisexual lead character
The creator of the new Disney Channel cartoon "The Owl House" has opened up about how the lead character of the show is bisexual — a reflection of her own sexual orientation. Luz Noceda is believed to be the network's first bisexual lead character.
Series creator Dana Terrace told Twitter followers last week that her "stubbornness" in getting leadership at the children's television network to back her on having a bisexual lead character for the show that debuted in January has "paid off."
In the show, Noceda, the protagonist, is 14. Terrace's post confirmed rumors that the exploration of a relationship between Noceda and another female character in recent episodes is indicative of Noceda's bisexual identity.
A recent episode of the show, which is based on Noceda's adventures, showed Noceda dancing with another female character named Amity at prom.
"When I was first developing Owl House I always wanted to do a prom episode to make up for my own experiences," Terrace tweeted. "Back then PROM was an anagram for 'Perennial Ritual Offering Maiden'. I'm so INCREDIBLY grateful for the crew working to make this episode so badass."
In the development of the series, Terrace explained that she was open about her intentions to "put queer kids in the main cast."
"I'm a horrible liar so sneaking it in would've been hard haha," she wrote. "When we were greenlit I was told by certain Disney leadership that I could NOT represent any form of bi or gay relationship on the Channel."
"I'm bi! I want to write a bi character … Luckily my stubbornness paid off and now I am VERY supported by current Disney leadership."
Court: Transgender Students Must Be Able to Choose Restrooms
A federal appeals court issued
a landmark decision for transgender students, declaring unconstitutional a Florida school district's policy of requir- ing individuals to use the restroom that corresponds to their biological sex.
It was the first ruling of its kind by a federal appeals court and involved a student, Drew Adams, who was born female but identifies as male.
Nease High School in Florida gave Adams the option of using a single-stall gender-neutral bathroom
or a multi-stall girls' restroom. Adams, though, wanted to use the boys' rest- room, and sued in 2017, alleging vio- lations of Title IX (1972) and the Equal Protection Clause of the Constitution's Fourteenth Amendment.
"The logic of this decision would require all schoolchildren to use sex- neutral bathrooms," Chief Judge Wil- liam Pryor, who dissented, remarked on the landmark decision.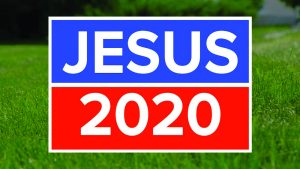 Thousands Order "JESUS 2020" Signs Ahead of Election
With the 2020 presidential election just a short while away, two friends from a small church in Alabama have started a special campaign that is pointing people to Jesus. Friends Joyce Hubbard and Martha Sikes put together the "Jesus2020" campaign as a means of encouragement in these unprecedented times.
"People need Jesus with everything that's going on," Hubbard told Fox News. "He's the only one that we can count on. He's the one that keeps His promises. He's already the winner."
"If everyone would just focus on Jesus right now, everything would just fall into place and we wouldn't have the problems we have," she continued. "He's the only way."
The campaign features Jesus2020 yard signs which can be ordered on the Jesus2020 Facebook page.
Over 5,000 Jesus2020 signs have been made and shipped to California, New York, Ohio, Pennsylvania, Texas, and other U.S. states. The signs are printed at Wells Printing in Montgomery, Alabama. Additional items for sale include Jesus2020 T-shirts, magnets, and decals.
The campaign's headquarters is in Sampey Memorial Baptist Church in Ramer, Alabama, where both friends attend. The church re-opened in May following COVID-19 lockdown restrictions.
"We don't have to be some megachurch. All it takes is a
spark and we want to set fires everywhere," Hubbard said. "We want Jesus's name out there." Many churches as well as entire neighborhoods have requested the Jesus2020 signs because, "once one person gets them, everyone wants one," Hubbard said.
"It's been awesome! It's uplifted people so much. People are just looking for something to cling onto. Not the signs itself, but just Jesus. I mean that's what we need," she added.
According to The Christian Post, the organizers plan to run the campaign for as long as needed, even after the presidential election is over.
"2020 doesn't end until December 31, so we're going to do it as long as we feel it's needed," Hubbard shared. She also explained that the campaign is not affiliated with any political party.
She continued, "We feel like Jesus is so important. He's been left out of so much and has been pushed out of so many things that we just feel like … we want Jesus out there … forefront in front of everybody's thoughts."
Whatever the outcome is for November's election, Hubbard added, "Jesus is always the winner."
"He's always the one that's going to keep His promises; He's the one who's going to lead us," she concluded.
LA Mayor Threatens Cutting Off Water, Electricity to Churches
Los Angeles Mayor Eric Garcetti said he is authorizing the department of water and power to shut off utilities at houses, businesses and "large gatherings" within 48 hours that are violating health orders relatedto COVID-19.
Although churches weren't specificallymentioned, the term "large gatherings" has been used by the city to include houses of worship.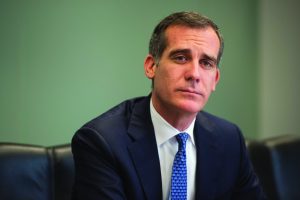 Garcetti's order came the same week that pastor John MacArthur
of Grace Community Church in Los Angeles conducted several interviews and said his congregation would not obey a statewide order to stop meeting. MacArthur delivered a sermon in late July and told the church's members: "We must obey God rather than men." Churches in multiple counties, including Los Angeles County, are prohibited by an order from Gov. Gavin Newsom from gathering indoors.
"Tonight I'm authorizing the city
to shut off Los Angeles Department of Water and Power service in the egregious cases in which houses, businesses and other venues are hosting unpermitted large gatherings," Garcetti said at a Wednesday news conference. "Starting on Friday night, if LAPD responds
and verifies that a large gathering is occurring at a property, and we see these properties reoffending time and time again, they will provide notice and initiate the process to request that DWP shut off service within the next 48 hours."
Media Producer Quits, Calls Network 'Cancer' Stoking 'National Division'
An MSNBC television producer says she quit her job to escape a network news cycle that is a "cancer" amplifying fringe voices and causing "national division."
Ariana Pekary was a producer at MSNBC and a key member of the team for The Last Word with Lawrence O'Donnell.
"I don't know what I'm going to do next exactly but I simply couldn't stay there anymore," she wrote. "My colleagues are very smart people with good intentions. The problem is the job itself. It forces skilled journalists to make bad decisions on a daily basis."
Industry leaders, she said, "will admit" behind closed doors "the damage that's being done" to the country and to the news industry.
"We are a cancer and there is no cure," she said a "successful and insightful TV veteran" once told her. The "cancer," Pekary said, impacts all Americans, even if they don't watch MSNBC.