Duck Boat Accident: "We All Have Been Touched By It," Apostolic Faith Community Says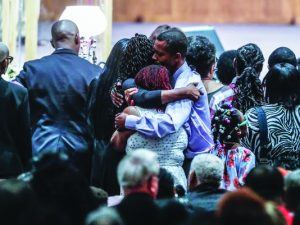 As Sunday morning worship began to wind down at Zion Tabernacle Apostolic Church in Indianapolis, Bishop Thomas E. Griffith interrupted the service to deliver news that allowed hope to pierce the palpable sadness looming over the congregation.
He announced that Tia Coleman, just days removed from a duck boat tragedy in Branson, Missouri that took nine members of her family — including her three children and her husband — was out of the hospital and heading home to Indianapolis.
The surprise announcement was met with cheers of "Hallelujah!", tears of joy, stomping feet and a joyous chord played from the church's organ.
It also served as a reminder to members of the northeast-side church that there is still a lot of work to do, as they and others within the Indianapolis faith community take on the responsibility of supporting Tia Coleman through fellowship.
"We all have been touched by it and we're all struggling because we all love Tia," said Beverly Reese, a member of Zion Tabernacle since 1985 who has known Tia Coleman since she was a little girl. "I had her through children's ministry. I was there when she graduated from high school. She is just a very, very sweet child, and we just want to tell her that we love her and we're praying like never before because we know this takes God and Him only."
A total of 17 people died July 19 on Table Rock Lake near Branson after the Ride the Ducks boat capsized.
The Coleman family members who died were: Horace "Butch" Coleman, 70; Belinda "Toni," 69, Butch's wife; Irvin "Ray", 76, his brother; Glenn, 40, his son and Tia's husband; Reece, 9, and Evan, 7, Glenn and Tia's sons; Arya, 1, Glenn and Tia's daughter; Angela, 45, Glenn's sister; and Maxwell, 2, Angela's son.
Tia Coleman and her nephew, Donovan Coleman, were the only members of the Coleman family to survive.
—–
British Magistrate Fired For Christian Views on Same-Sex Adoption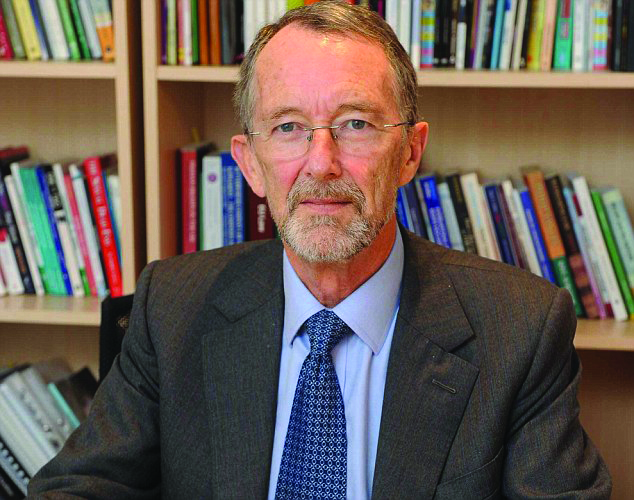 After losing his job for saying a child's "best interest" is to be raised by a mother and father, a Christian magistrate in London will appeal the government's decision to dismiss him. Richard Page, 71, appealed the decision last month. The Christian Legal Centre (CLC) represents him in the case.
"We are absolutely delighted that Richard will continue to seek justice," said Andrea Williams, chief executive of the CLC. "It is vital that people like Richard who are passionate about service in public life are free to speak and live out their Christian faith. They should not be censored or punished for their faith."
Page was suspended and then later fired from his job as a non-executive director at Kent and Medway NHS and Social Care Partnership Trust in March 2016.
He said he was dismissed after he told the BBC in a 2015 television interview that he believed an adopted child should be placed in the care of a mother and father over that of a same-sex couple "as God and nature intended." The National Health Service investigated Page's actions and decided to dismiss him.
"It would appear no longer possible to be a Christian, to state what the Bible actually says and what the Church has believed for 2,000 years, and maintain a role in public life in today's Britain," he said, "My seat on the NHS Trust came as a result of my long service in mental health and total commitment to the NHS – none of that has changed. What about treating my views, held by billions of Christians around the world, equally and fairly?"
—–
Arizona Senate Passes Bill Allowing Phrase "God Enriches" in Public Schools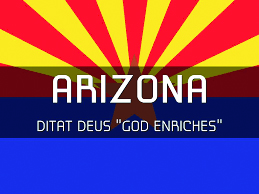 Arizona teachers can now post "God enriches" in their classrooms after the state Senate passed a bill 17-13 allowing them to do so. It now goes to the House for approval.
Arizona teachers already have the freedom to read founding documents which make mention of God, as well as to post and read the national motto "In God We Trust," but Bill 1289, which was sponsored by Republican Sen. Gail Griffin, would add the phrase "Ditat Deus" to that list. This phrase is the Arizona state motto and means "God enriches."
The bill's detractors claim that it is part of an "ideological push" to "chip away at secular government," but the bill's supporters believe exactly the opposite. Griffin stated that allowing teachers to post the state motto in English would "be a good history lesson for students to learn where this came from."
The state of Florida also recently passed a bill which would mandate that all public school classrooms display the national motto "In God We Trust." This bill passed the state's House of Representatives and now goes on to the Senate for approval.
—–
CA Bill Threatens Religious Freedom of those Who Oppose Homosexuality
A bill quickly moving through the California state legislature may threaten the religious freedom of those who object to homosexuality. Jim Daly, the president of Christian ministry Focus on the Family, wrote a blog post alerting Christians to the implications of this bill, which is known as Assembly Bill 2943.
The bill amends California's "Consumer Legal Remedies Act" to include "sexual orientation change efforts."
Daly said the bill could adversely affect Christians. "For example, a simple monetary transaction – buying a book about overcoming homosexuality, or paying a counselor for help with gender confusion – would trigger AB 2943."
Thus, those who believe homosexuality is a sin could face legal repercussions from monetary transactions having to do with this belief.
"To put it simply," writes Daley, "Christian schools, churches and others who hold to a traditional understanding of marriage and sexuality would be open to lawsuits for teaching biblical truth about homosexuality or transgenderism."
Daly encouraged his readers to be aware of this issue, to fight for religious freedom, and to take action by visiting California Family Council.
—–
PA Couple Fined For Using Farm For Bible Study, Prayer
A couple in Pennsylvania has been served a cease-and-desist order for using their 32-acre farm for private prayer groups. Scott and Terri Fetterolf received the order in 2017 after the Borough of Sewickley Heights in Pennsylvania claimed the farm "was being used improperly as a place of worship, a place of assembly and as a commercial venue and 'special studio or school.'"
The borough is charging $500 for each permit if the couple wants to continue hosting activities at their farm. The Fetterolf farm also has a yarn and wool shop and sells produce and flowers. The farm is also host to educational classes and private events.
The couple has filed an appeal to the cease-and desist order and is waiting to hear a decision from the federal court. "I don't seek to sue my borough and cause taxes to go up, I'm just trying to live my life," Terri told the local newspaper.
The couple reportedly cannot have Bible studies, church staff retreats or meeting or any church fundraisers at their farm. Attorneys for the borough say Bible studies could be labeled a class, which needs a permit.
—–
NEWS IN BRIEF
An Atlanta school eliminated the Pledge of Allegiance from its morning agenda, but then reversed course when parents spoke up. Atlanta Neighborhood Charter School announced the original plan earlier this week in a letter from elementary campus principal Lara Zelski. The school had eliminated the Pledge "in an effort to begin our day as a fully inclusive and connected community," Zelski wrote. But after the newspaper reported on the elimination of the Pledge, and a backlash followed, the school changed the policy back to the original model.
The Ophel excavations at the foot of Jerusalem's Temple Mount have yielded numerous exciting discoveries, including two Biblical signatures. Archaeologist Eilat Mazar reveals what may be a seal impression of the prophet Isaiah. Also, in 2015, it was announced that the royal seal of King Hezekiah was found for the first time in an archaeological excavation. The stamped clay seal, also known as a bulla, was discovered in the Ophel excavations led by Dr. Eilat Mazar.