"It was a vivid dream of dollar bills, then becoming coins, raining down from the sky. Then keys dropped into our hands." That is how Bro. Jonathan Mains described his wife's dream, which translated into a miracle that divinely impacted an entire church.
He pastors Rock of Hope Apostolic Church in Sellersburg, Indiana, along with his wife, Rebekah, and their three children, Drew (20), Sophia (18) and Alaina (14). He currently serves as men's ministry director of the Indiana district, section seven.
Principles of Growth & Revival
"I believe the number one key to a growing church is prayer," said Pastor Mains. "As for myself personally, I feel strongly about my personal devotion and personal walk with God. That is essential for the work of the kingdom of God."
Rock of Hope Apostolic Church — a daughter work of The Tabernacle in Seymour, Indiana, pastored by Larry Arrowood — promotes the church through community events, such as block parties. Their church services are live on Facebook. Pastor Mains is confident that as people view the services, many will eventually visit.
The church has been able to host youth nights at a mobile park community room on Thursday nights, enabling them to reach kids and families. "We've actually considered it as a preaching point," he said. "This gives us an opportunity to reach people in around 300 mobile homes."
Organization & Management
Rock of Hope Apostolic Church has several ministries, including Action Youth Ministry, Children's Ministry, Nursing Home Ministry, Deaf Ministry and Music Ministry. Pastor Mains meets with department and ministry leaders on a monthly basis, planning for upcoming events, etc. He utilizes training, particularly in children's and youth ministry. "Our leaders attend state and national level training sessions," he said. "We also encourage our leaders to be involved in our district trainings."
Seventy-five percent of the church members are involved in some form of ministry, and 50 percent are involved in evangelism.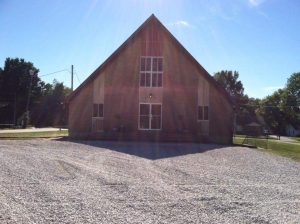 Special Miracles
The story of Rock of Hope Apostolic Church is a special miracle. Their first service in April 2008 was in a hotel conference room at a great deal, $25 a service. After nine weeks, the room was needed for storage, so they couldn't use it anymore. In 2008, with the economy crisis, funds were not available from the mother church, The Tabernacle, to continue having service anywhere. During a four-year period, they were praying for God's will, but doors were not opening. "Although we weren't meeting at all during those years, we knew it was the right city and the will of God," said Pastor Mains. "I just didn't think our timing was right. We knew it was going to take place; we just didn't know when."
During a mission service at The Tabernacle in October 2011, a missionary came to the pulpit to do a presentation but then changed his mind. Instead, he decided to tell how he got to Taiwan.
Pastor Mains said, "I was blown away by his story. Yet, I'm thinking to myself how he went around the world and was blessed, but I'm only 45 minutes away. What's my problem?" While he was writing his check to give to the missionary, there were two messages in tongues and an unbelievable breakout of the Holy Ghost. He had no idea what was about to happen. Pastor Arrowood came to the pulpit and under the inspiration of the Holy Ghost said, "Bro. Mains, it's time for you to get some people together, get a building and start having church in Sellersburg." Pastor Mains began looking all over the area for a facility in January 2012. Someone suggested he call the REMC (Rural Electric), and they had a facility for non-members for $250 per event, but they would rent to non-profits for $50 per event. It was a 200-seat auditorium, platform, full commercial kitchen, shelter house they could use and a lake behind it to fish in. They could get it every Sunday if they paid in advance. Pastor Mains paid in advance for the rest of the year and held their first service in April 2012. But September 2012 came, and they were informed they would not get the no-profit rate for 2013. They would have to be members or pay the non-member rate. The saints of Rock of Hope Apostolic Church were losing their second building.
In December of 2012, Pastor Mains decided to travel the entire city of Sellersburg to find another facility. He called 19 different places, and no one would rent to them. He called three different churches. One would do it, but their service schedule was the same. That pastor suggested a different church that might be available. Pastor Mains realized it was the same building he had looked at in 2008. While they were in that building that day in 2008, he had walked up to the altar and said, "God, I just want to build an Apostolic church here." Then, they left the property.
But in 2012, the female pastor of a church that was meeting there called Pastor Mains and agreed to rent the facility to him. She said they would even adjust their service schedule for them. She had just been praying to the Lord to help them with the building. However, when Pastor Mains came back at the end of December to give her the $600 deposit and January rent, things had changed. The pastor said they had been trying to purchase the property but had been unable to get financing. The owner had begun foreclosure proceedings on the property, which was scheduled to take place on January 24, 2013. Rock of Hope was about to lose its third potential building. Pastor Mains went ahead and gave her the rent and the $600 deposit and told her they would pray and see what God would do. But the week the foreclosure sale would take place was the same week his family would be at Because of the Times Conference (BOTT) in Alexandria, La.
On their way to the conference, the Mains received a call from a man who was part of a foundation that helped non-profits. He wanted to work with them to see that they didn't lose the building. Pastor Mains told him all about who they were and the mother church. The man said he was sending paperwork for them to fill out. He expressed his desire to redeem the church. He would give them zero percent interest for three years. They would just pay the principal amount. The female pastor was fine with the deal, and they would work out the details.
Upon prompting from Sis. Arrowood, Bro. Arrowood and Bro. Mains' father-in-law, Albert Skaggs decided to go to the foreclosure sale. There was so much road construction, so just getting there was a miracle. They arrived a few minutes before the sale was to start. The guy from the foundation called, running late, due to construction detours. They told him to park his car and run to the sale. When he arrived, the bidding had begun, and it was too late to redeem the property. One other man was bidding on the property, and Bro. Arrowood had already said the limit of his bid was $175,000. In the middle of the bidding, the guy from the foundation was sitting there with the check to redeem the building. Pastor Arrowood asked if they could have the check, and he gave it to them. The other bidder bid $174,500, and Pastor Arrowood bid $175,000. The other bidder nodded and said he was done.
"We got the building for $175,000," said Pastor Mains. "And God gave us a check. All we had to do was come up with $10,000. They called us at BOTT and told us we got the building!"
A week before they had knew any of this, Sis. Mains had experienced a dream. In the dream, Pastor Arrowood was preaching about repentance. As the church responded in prayer, God spoke to them to lift up their heads, then to lift up their hands. When they looked up, the sky was blue and beautiful, and money was raining down. Dollar bills became coins, and keys fell into Sis. Mains' hands. She knew those were the keys to their building. Pastor Arrowood told the dream to the church the Sunday before the family left for BOTT. Later, they found out the check from the foundation was from a company called Blue Sky Foundation. The keys literally fell from the sky, as in the dream. Pastor Mains said, "We left for BOTT as renters and came home as owners!"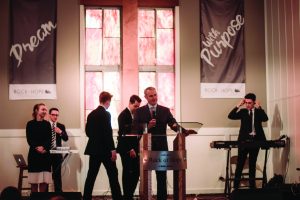 Personal Ministry
"My principles of ministry and direction are based on prayer and faithfulness," he said. "And my favorite subject to preach is prayer. If I would tell young ministers anything, it would be to establish a prayer life and be faithful, regardless of your calling. God requires faithfulness."
Current Facility
The current facility for Rock of Hope Apostolic Church was built by a Church of Christ congregation in 1969. It has a seating capacity of 175, three classrooms, a full kitchen and fellowship hall. Pastor Mains said there is no area to build or expand, but he would like to see the church have multiple services. Right now, the average rate of growth has been about 30 percent.
Personal History
Pastor Mains was raised in church. He was baptized at the age of seven, received the Holy Ghost at nine and felt his call to ministry at age 18. He preached his first sermon in 1994. He had prior college, then attended Indiana Bible College. He was licensed with the UPCI in 1999, pastored his first church in September 2001, served as children's pastor from 2003-2007 and was ordained in 2012 as pastor of Rock of Hope Apostolic Church, beginning in 2012 to present. He was drawn to Sellersburg for years before pastoring there.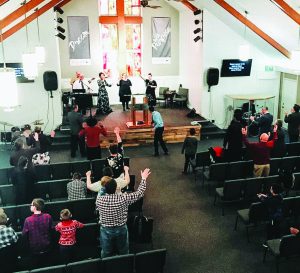 Pastor Mains noted the men who influenced his ministry the most: Larry Arrowood, his pastor for 22 years; Paul Mooney, president of IBC; his father-in-law, Albert Skaggs, minister/businessman/mentor; and his older brother, Tim Mains, who pastors in Mississippi. His father, Ron Mains, was a home missions pastor and started five churches.
Human  Interest
Pastor Mains enjoys running, golf and reading when he has time. He enjoys vacationing with his family the most. The family pet is a black Yorkshire Terrier dog named Jax. His favorite preachers are Bro. Larry Arrowood, Bro. Paul Mooney, Bro. Anthony Mangun, Bro. Jerry Jones and Bro. Wayne Huntley.