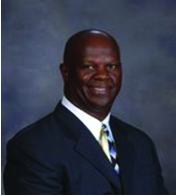 Bro. Parker, tell us a little about yourself and your ministry. I am a retired U.S. Army Command Sergeant Major (E-9). I have been saved for 34 years and in the ministry for over 28 years. I served as pastor for the First United Pentecostal Church in Okinawa, Japan and missionary to the Asia Military Ministries and Japan. I currently serve as pastor of Calvary Apostolic Church in La Crosse, Wisconsin and Section 4 presbyter in the Wisconsin district. I'm happily married, have five great kids (three of our own and two "in-law") and 11 awesome grandkids. 

What, in your opinion, was Jesus speaking about when He said, "and whosoever does not take his cross and come after me, cannot be my disciple"?
Jesus taught a lot in parables (a short allegorical story designed to illustrate or teach some truth). I don't think that Jesus meant for us to take up a literal cross and walk around with it on our backs. I believe He was speaking to us about patterning our lives after His; like Him in character and action.
What is the first cross you feel we must carry and why?
Compassion. Throughout the Gospels, Jesus is often moved with compassion. When He sees the multitude as sheep without a shepherd, the funeral procession of the woman of Nain whose son was dead and at the death of Lazarus, He was moved by compassion.
Compassion is having a feeling of deep sympathy and sorrow for another who is stricken by misfortune, and it is accompanied by a strong desire to alleviate the suffering.
The story of the Good Samaritan is a story of compassion. The Good Samaritan didn't care where the man was from, his religion, his race, his creed, or his national origin. He just sees a man that needs help, and he's moved to help alleviate his suffering. He cared for him. That's what a true cross bearer does.
What is the second cross you feel we must carry and why?
Resistance to Evil and Wrong. Matthew 5:38-39, "Ye have heard that it hath been said, An eye for an eye, and a tooth for a tooth: But I say unto you, That ye resist not evil: but whosoever shall smite thee on thy right cheek, turn to him the other also." To turn the other cheek is to not respond in kind. It's easy to respond in kind. You hit me, I hit you. You yell at me, I yell at you. But, true cross bearers resist the temptation to get even or do evil. Joseph could have responded in an evil manner toward his brothers for their evil to him. But notice Genesis 50:19-20, "And Joseph said unto them, Fear not: for am I in the place of God? But as for you, ye thought evil against me; but God meant it unto good, to bring to pass, as it is this day, to save much people alive."
1 Peter 2:21-22, "For even hereunto were ye called: because Christ also suffered for us, leaving us an example, that ye should follow his steps: Who did no sin, neither was guile found in his mouth: Who, when he was reviled, reviled not again; when he suffered, he threatened not; but committed himself to him that judgeth righteously."
What is the third cross you feel we must carry and why?
Obedience. We must learn to obey. The thing about the grace of God is that it should fuel obedience in our life. How can we say we are born-again and not obey? Obedience preceded Jesus to the cross. He was obedient unto death. Deuteronomy 28 lists the blessings we receive when we obey, and the cursing when we don't.  When we look at the life of King Saul, we see he never seems to obey. In the end, God rejects him.
The true cross bearers obey. They have developed the trait of obedience and do the things asked of them without having to be told and without complaining. Obedience is just another word for self-discipline.
What is the fourth cross you feel we must carry and why?
Submission. It means to yield oneself to the power or authority of another. Ephesians 5:21, "Submit yourselves one to another in the fear of God." Peter says, "Likewise, ye younger, submit yourselves unto the elder. Yea, all of you be subject one to another, and be clothed with humility: for God resisteth the proud, and giveth grace to the humble. Humble yourselves therefore under the mighty hand of God, that he may exalt you in due time:" If we are not submitted to Godly leadership, those over us, and the Word of God, we will never be His disciples.
What is the final cross you feel we must carry and why?
Servanthood. Servant leadership is the leader serving others. Matthew 20:26-28, "Whosoever will be great among you, let him be your minister; And whosoever will be chief among you, let him be your servant: Even as the Son of man came not to be ministered unto, but to minister, and to give his life a ransom for many."  The Great Commission is a service mission. We serve others. Biblical servanthood can be defined as loving acts performed in the power of the Holy Spirit to meet the temporal and spiritual needs of those around us, leaving the results to God.
What motivated you to write your book, The True Cross Bearers? How can it be ordered?
As with all my books, I was inspired by the Lord. I believe what is written in this book will help His church grow and mature. This book can be ordered at Squareup.com/market/rufusparkerministers or through Pentecostal Publishing House. The cost is $10 plus shipping.
Can people contact you if they have questions?
Yes. Okipreacher@gmail.com or cell# 608-792-2412.