"I want our church to be known as a church of Apostolic methods," said Bro. William Ray Johnson, Sr., Pastor of First Pentecostal Church of Denham Springs, LA. He and his wife, Jo Ann, have two sons, William Ray, Jr., and Nathaniel Lynn along with four granddaughters and one great-grandson. He serves as Section 2 Presbyter in the Louisiana District.
First Pentecostal Church, established firmly upon the templates of the Apostles and the Book of Acts doctrine, is a thriving growing church of 1,800. Pastor Johnson, well versed in Apostolic doctrine and Bible history, is adamant about training his people to be highly skilled in the knowledge and facts of both.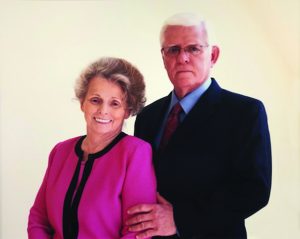 Principles of Growth and Revival
"We have always used Bible studies as our principal source for growth," said Pastor Johnson. He began teaching God's Word using the older version of Search for Truth I as the foundational study, updating it with additional Biblical resources through the years.
            Johnson's concept of church growth is training people to be productive through personal evangelism. He has 30 qualified Bible study teachers on currently on staff.  Each teacher has been personally trained by Pastor Johnson, or one of his experienced teachers, and he has coordinated an extensive library of resources that is easily accessible to every teacher. He said, "no individual is able to hold these teachers at bay in any Bible discussion. Their training far exceeds the average Bible student's knowledge. We have records on every question asked by every denomination in past Bible studies. When our teachers are asked a question from a student, they pull the research and can answer that question with confidence."
The church offers five levels of study to every member.  New converts begin with a Level One Bible study, which is an overview of the entire Bible.  Level Two covers church doctrine and goes into the doctrines much deeper than Level One.  Level Three is like a college course of church history, from the post-Apostolic fathers to modern times. The last two courses go into special studies that are chosen based upon current events and specific areas of interest.
"Our Bible studies, coupled with the capable evangelists we bring in, have provided a perpetual harvest for our church during the 48 years I have been pastor here," said Pastor Johnson. "Ministers of today must operate by the precedents set forth in the Book of Acts. We must have Bible knowledge to defend the message of the gospel while duplicating the Apostles' example in lifestyle, prayer and fasting. The early church operated by Apostolic methods until the post-Apostolic fathers changed the cardinal doctrines and went into pseudo-Christianity.  The Christian movement has been drastically changed with this false teaching."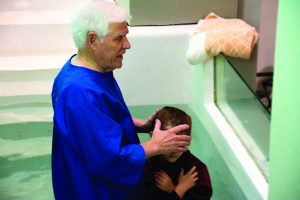 Organization & Management
First Pentecostal Church offers programs to meet the needs of every family, from nursery to the J.O.Y. (Just Over Youth) ministry. Pastor Johnson conveys his concepts and goals to department leaders, who in turn incorporate his plans into their teaching methods. He said, "outreach is our ministry goal, and 'Each One, Reach One' is our slogan. Every member of the church is involved in outreach."  Using his tried and true methods, six daughter works, including a Spanish church, have been established.
Special Miracles
Since Johnson became pastor in Denham Springs 48 years ago, God has performed countless miracles. The first notable miracle of healing occurred shortly after the Johnsons arrived.  A father with a crippled child carried his little girl up to the altar and asked Pastor Johnson to pray for her healing. Her feet and legs were in braces and she could not walk. When Johnson prayed, her bones began to snap, and her legs and feet were immediately healed. Nine prominent families joined the church as a result of this phenomenon, beginning a revival that has never ceased.
More recently, a young man arrived in a wheelchair, paralyzed from a massive stroke.  He could not stand alone or walk.  He was anointed with oil, and the prayer of faith went forth.  He stood up, walked, and pushed his wheelchair up onto the platform. A young woman with twisted feet and hands came to church using a walker. The doctors could not diagnose her condition, and she was hopeless. She arrived at church for the evening service wearing high heels, walked up onto the platform and demonstrated that she was completely healed. She jogged a mile the next day without incident. Blind eyes have been opened, deaf ears have been unstopped, and hundreds of financial miracles have been recorded.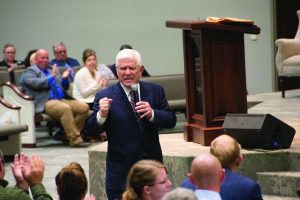 Personal Ministry
Bro. Johnson's pastor, Bro. Floyd Majors in Melville, La. greatly influenced his ministry as did Bro. Verbal Bean, Bro. James Kilgore, Bro. J.T. Pugh, Bro. D.L. Welch, Bro. T.W. Barnes and Bro. W. E. Gamblin. Many other great men of God impacted his ministry throughout the years and helped to shape him into the revival preacher he is today. It would be impossible to name them all.
He began his ministry by preaching youth services in his home church, then the day came when he was invited to preach his first evangelical revival in the town of Bayou Jack, La. He then preached revivals across Louisiana, Georgia, Alabama, and other southern states. He built a thriving missions church in Donaldsonville, La. which is a predominantly Catholic community.  When he left that city, the church was paid for and had money in the bank.
While in Donaldsonville, he had a dream of a dry dead hillside covered with dilapidated beehives. He re-queened the hives and suddenly flowers started blooming, and the bees started buzzing. The Lord told him his ministry in Donaldsonville was finished, and he was sending him to a place that was broken down and needed a pastor. God said, "I'll be with you, and I'll make the way for you." That same night, his mother had a vision of a wild stallion coming down the road, and Bro. Johnson went out to catch it. She warned him not to touch the horse, or it would kill him. However, he took the horse by the bit, wrestled it to the ground, broke its spirit and rode it. He became pastor in Denham Springs in October 1971.
Every minister has topics that they enjoy preaching as often as possible. Apostolic doctrine and church history are the subjects Johnson enjoys preaching the most. He believes that if every minister and every saint have a working knowledge of church history, they will become stronger and better able to defend the gospel. He believes saints and ministers alike must master the doctrines of the Bible.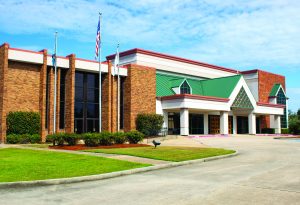 Current Facility
         The First Pentecostal Church of Denham Springs was started by Bro. Robert Henderson in the early 50's. Other established churches in the area would not allow him to come into the city to build a church. He found a remote piece of property, a cow path, and finally obtained credit at a local bank and built a one-room church on that property. He prophesied over that cow path one day and declared that in the future it would become one of the main highways into the city, and that the church he built would become one of the largest in the state. That cow path became Range Avenue in front of the church, and today it is the main highway into the city. FPC is the second largest Apostolic church in the state, just as he prophesied.
When Johnson came to Denham Springs, the church would seat 400 and had about 12-15 members. He began to teach home Bible studies in private homes. Six weeks after his arrival, they served papers on the church, stating that the church was being sold to pay off bad debts, and the pastor was going to be arrested. The former pastor had hired a contractor who bought materials from a supply company in New Orleans and gave the contractor counterfeit bonds to pay the debt. After a year of filing extensions, he let pastor know on a Thursday that he had to have the money by the following Monday, or they would take the church.
On Sunday, Bro. Johnson preached a faith message, never mentioning the debt. After church, a woman who rode the church bus invited him to her home for coffee. They had coffee and prayer, and she handed him a sealed envelope saying God had told her to give the church an offering.  In that envelope was the money, to the penny, that was needed in court the next day. Mr. Maloney, the man to whom the church owed the delinquent debt, and his lawyer, met Johnson at the courthouse Monday in Baton Rouge. Bro. Johnson's lawyer introduced him as the pastor of the church being sued. Bishop told him the story of what happened, and Mr. Maloney turned to his lawyer and said, "The court is going to rule in the Reverend's favor." Then Mr. Maloney fired his lawyer! He turned to Pastor Johnson and said, "Reverend, you're going to win, so what do you plan to do?" He replied, "We're going to pay you everything we owe you." The judge agreed the two parties could work it out on the courthouse steps. Outside, Mr. Maloney said, "If I forgive you half the debt and give you the choice of paying half, will you settle for that?" Bro. Johnson agreed, shook hands and Mr. Maloney left. When the church's lawyer asked how the debt would be paid, Bishop pulled out the envelope given to him the day before and handed it to his lawyer. Since that day, a new sanctuary seating 1,850 people has been built, along with a Family Life Center seating 900. The church sits on three city blocks and has an attendance of around 1,800.
Personal History
Bro. Johnson received the Holy Ghost at age 12 at a small country church in Melville, La. He vividly recalls the moment and place that God called him to preach. He was walking home from school on the second day of a fast. As he neared his parents' home, he heard God speak to him audibly and say, "I'm calling you to preach my gospel, and I'll do things for you that you never dreamed, in places you never dreamed. Just be faithful to me and preach my gospel."
Bro. William R. Johnson, Sr., gives all glory to God for the miracle that he performed for First Pentecostal Church of Denham Springs. He alone raised this church from the ashes and turned it into the revival church that it is today.  The entire city of Denham Springs and beyond is blessed by this thriving, Jesus' Name church sitting on Range Avenue as a monument to our God's greatness.