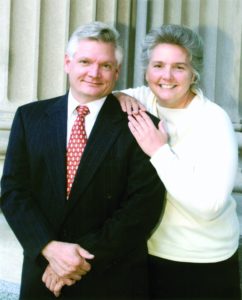 When you hear the name Adam, what one word comes to mind? Sinner? Disobedient? Loser? Whatever it is, it's probably not courage!
Adam is the root of the word adamant. Adamant, an adjective, means "unshakable, unyielding, or insistent." If we keep that in mind, we can begin to look deeper into whom Adam was. Timothy wrote of him, "For Adam was first formed, then Eve. And Adam was not deceived, but the woman being deceived was in the transgression" (I Timothy 2:13-14).
And the writer of Proverbs asked, "Who can find a virtuous woman? for her price is far above rubies" (Proverbs 31:10).
With this little introduction, I want to preach, "The Greatest Love Story Ever."
THE TWO ADAMS
In writing to the Corinthians, the Apostle Paul begins to open our understanding about the comparisons between two Adams: "And so it is written, The first man Adam was made a living soul; the last Adam was made a quickening spirit" (1 Corinthians 15:45).
Did Paul just equate Adam and Jesus together in the same sentence? Why? How could Adam possibly be compared to Jesus? The answer is, both are sons of God; both were made in the image of a loving, forgiving God; and both were without sin and perfect. Yes, God made the first man Adam entirely without sin.
"Okay, but they're still vastly different," someone might say. And yes, that's true. Paul tells us in Romans 5:17-18 that by one comes death and by the other comes life. "For if by one man's offence death reigned by one; much more they which receive abundance of grace and of the gift of righteousness shall reign in life by one, Jesus Christ" (Romans 5:17). He further writes in verse 18, "Therefore as by the offence of one judgment came upon all men to condemnation; even so by the righteousness of one the free gift came upon all men unto justification of life." (See also 1 Corinthians 15:22.)
Let's take a closer look at the passage found in Romans 5:14:  "Nevertheless death reigned from Adam to Moses, even over them that had not sinned after the similitude of Adam's transgression, who is the figure of him that was to come."
"(W)ho is the figure of him that was to come." Did you catch that? He who ate the forbidden fruit after listening to his wife is the figure of Christ to come? Adam? Really?
To understand this better, let's go back to the beginning.
Even though Adam and God met in the cool of the day and enjoyed close fellowship, God recognized a deficiency in Adam. He heard the deep sigh, saw the wistful staring off into the distance, and observed the ache deep down within despite the surrounding beauty. Have you ever seen something so beautiful, or been to some place so special that you just ached to share it with someone? Adam lived in the midst of paradise and yet had no one to love, no one with whom he could share it. And so recognizing the telltale signs of loneliness, God lovingly created for Adam the perfect companion.
The Bride from the Side
In Genesis 2:21 and 22, we learn that God caused a deep sleep, or a type of death, to come over Adam. Then opening his side—near his heart—God took a rib and prepared for Adam a beautiful, one-of-a-kind bride. There is a spiritual application of God creating Adam's bride from his side. It speaks of the sacred mystery, the bride of the Lamb referenced in Revelation 21:2, who owes her existence to His wounded side.
While the Bible gives no physical description of Eve, Adam must have experienced an astonishing, breathless, heart-pounding joy. Indeed his first reaction upon seeing this beautiful, lovely gift from God was to wax poetic with these words — "This is now bone of my bones,
and flesh of my flesh: She shall be called Woman, because she was taken out of Man" (Genesis 2:23).
Fresh from the hand of God with unmatched grace and beauty of body, mind and spirit, Eve had an advantage no other woman has ever had. She was created pure and holy. She had no inherited sin.
Yet in time, she would surrender a perfect paradise for the ungodly world of thorns, thistles and tears. Though she was created sinless, she would become the world's first sinner and, by default, all of her offspring would then be conceived in sin and shapen in iniquity.
Having Tea with the Serpent
There came a day when Eve entered into a most intriguing discussion with the serpent. Holding up her end of the conversation, she demonstrated her knowledge that all the fruits of the garden were good and acceptable to eat — save one. The woman was surrounded by every imaginable good thing within the paradise, yet Satan succeeded in convincing her to focus upon the one thing that she could not have. By his craft, he disguised this way downward as the path upward. As a true innocent who had never encountered deceit, delusion or a simple lie, Eve suspected nothing sinister in the serpent's masterpiece of subtle seduction. Innocent and unaware, she took of the fruit and did eat; and with eyes now open, she came to know evil.
The Genesis account does not record where Adam was at the moment when Eve gave in to temptation. But clearly he was not included in the conversation. Neither did Eve consult him for his opinion. So it's unlikely that he was within earshot or close enough to see what was happening until it was all over.
It is famously stated that the shortest sentence in Scripture is "Jesus wept." The Bible doesn't record this, but long before Jesus wept in a garden—over the death of His friends, or over His beloved city of Jerusalem—we can speculate that Adam wept in the garden of Eden.
"And Adam was not deceived, but the woman being deceived was in the transgression" our text from I Timothy 2:14 reads. It gives us a strong indication as to Adam's mindset. It tells us he was not deceived. He didn't fall for the serpent's seduction with dreamy expectation and mounting curiosity. He knew and believed adamantly that disobedience to God would surely lead to death. And when he saw that his beautiful, innocent bride—his cherished gift from God—had succumbed to the lethal lies of Satan, we wonder if he didn't fall to his knees with his head in his hands and scream out in agony, "You murderer! You murdered my wife!"
Because Adam was not deceived, he realized he had just lost the woman he loved. The sweet fragrance of innocence had been replaced by the stench of death. Darkness had crept into the garden, and his heart was ripped in two as he surely must have felt the widening gap between his still-innocent soul and hers. She might have tried to console him in his wrenching heartache while offering him the gift of the fruit—and yet he knew the truth. He was not deceived. With bitter tears streaming down his face, he saw her future. She must now die. Fearfully. Without God. Without her husband. Without love. Alone.
Staggering slowly to his feet, he accepted the fruit she offered him, "and he did eat." Willingly and knowingly, he did partake of that sinful act. With eyes wide open, he accepted the death sentence—not for the false promise of a lie, but for the love of his bride. He just could not and would not abandon her to experience death alone.
Adam, the Figure of Him Who Was To Come
Now we begin to see that Adam was not some kind of spineless weakling, as he is so commonly portrayed. He was created perfect in the image of a loving, self-sacrificing God. As "the figure of him who was to come," he foreshadowed how Christ, the perfect, sinless Man, would willingly go to the cross to take on the shame of sin and the agonies of death.
In similar fashion, neither the first nor the last man Adam was deceived by sin. They both took on sin—not for the love of sin, but for the love of their brides.
With this understanding in mind, we read verses 6 through 8 of Romans chapter 5. "For when we were yet without strength, in due time Christ died for the ungodly. For scarcely for a righteous man will one die: yet peradventure for a good man some would even dare to die. But God commendeth his love toward us, in that, while we were yet sinners, Christ died for us."
Verses 12 and 15 read: "Wherefore, as by one man sin entered into the world, and death by sin; and so death passed upon all men, for that all have sinned…For if through the offence of one many be dead, much more the grace of God, and the gift by grace, which is by one man, Jesus Christ, hath abounded unto many."
Beyond gaining a greater appreciation for Adam's role in pointing the way to Christ's work on Calvary, we also gain a better understanding of the parallel metaphors of the two brides. Each owes her existence to the wound from the side of her husband.
The Ruby Blood Stone
Rubies are among the rarest of gemstones and highly valued. They are deep red in color and therefore are often referred to as the blood stone. In fact, in May of 2015, the "Pigeon Blood" ruby with more than 25 carats sold at auction for a world record $30 million.
Although the purchase is impressive, scripture places the value of a virtuous woman "far above" that of rubies. For the most virtuous of women—the glorious Bride of Christ adorned in pure white without spot and without blemish—the price is the rarest of elements in the universe:  nothing less than the sacrificial blood of her husband, the Bridegroom.
John K. Slage, Pastor, New Life Apostolic Fellowship
Born near Akron, Ohio, John Slage was raised in an unchurched family. He graduated with a degree in Journalism from Kent State University and also holds a Master's degree in Marketing & Communication from Franklin University. His conversion began early in his newspaper career. In 1981, while interviewing three Apostolic ministers arrested in a legal battle over 1st Amendment Rights, he stopped the interview and asked to be immediately baptized in Jesus name. In 1995, he received the call to preach and in 2001, he founded New Life Apostolic Fellowship near Columbus, Ohio.
As a bi-vocational minister, he has more than 30 years of experience helping corporations, government agencies and nonprofit healthcare entities communicate their culture, missions, products and visions for the future.
He and his wife, Brenda, love to travel and spend vacations in Maine with their four children and 11 grandchildren.