Landmark Worship Center sits as a beacon of truth in Bethalto, Ill., and its history is phenomenal. "We are a very friendly church," said Pastor Mark Burk. "People who visit us feel that from the moment they are met by our greeters at the door." Bro. Burk, 53, and his lovely wife, Rhonda, look forward to a bright future of growth for Landmark Worship Center. The Burks have three sons, Timothy (and his wife Jen), Titus (and his wife Lyndsey), Micah (19), and four grandchildren.
Bro. Burk served as Illinois Section 4 Youth Director and as the Camp Promotional Director for Youth Camps in the state of Illinois. Sis. Burk serves as the District Ladies Ministries Secretary for Illinois.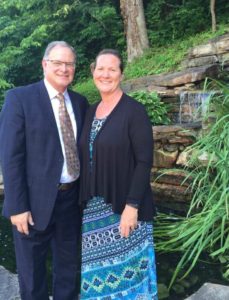 Principles of Growth & Revival
"An important key to a revival church is consistency," said Bro. Burk. "Trusting in the Lord when things aren't going right and being committed to walking with him every day. Our church is a miracle church, because we had to trust the Lord just to get us to where we are today."
Bro. Burk strongly believes a pastor's priorities should be prayer, fasting and faith. And he believes that personal one-on-one relationships work best for increasing attendance. He noted, "But we have had results with block parties and have people in our church who were won through them."
Organization & Management
"Our son, Timothy, is the administrative assistant of our leadership team. Our son, Titus, is over our student ministry or youth group. Along with our Sunday School Department, we have a children's ministry called Fusion. Our men's ministry is called Man-To-Man, and we do have a ladies ministry. Our church has a greeting/follow-up ministry for which I personally make phone calls. We have a praise team ministry and a New Life course through which we teach discipleship. The prayer coordinator of our prayer ministry is responsible for one Wednesday service every quarter, where we focus on various prayer needs.
"Our daughter-in-law, Jen, is over our media ministry. She and Timothy do a lot of projection graphics and graphics on our outreach materials. Timothy also does graphic design for the Pentecostal Herald magazine. Another ministry at our church was birthed through the burden of Sis. Burk. We host a First Ladies Conference, usually held in November. It is a ministry to pastors' wives, and wives of missionaries and full-time evangelists. Our daughter-in-law, Lyndsey, takes care of much of the details surrounding this conference. We advertise the conference yearly and invite excellent speakers and have attendees from various states.
"I meet with department heads and ministry leaders once a month and cover what is happening in each ministry. And our department heads do have specific job descriptions. As for planning, we cover our calendars three months at a time and hold a yearly vision casting planning session. We utilize Total Church Growth by Bro. Tim Massengale and have had good success with it."
Pastor Burk said about 25 percent of the congregation is involved in some form of ministry. "And about 50 percent are involved in reaching out to people," he said. "I preach on the subject of outreach, and my wife and I try to be an example. We make every effort to encourage our leaders to be examples as well. We are also in the process of working toward Home Connect groups."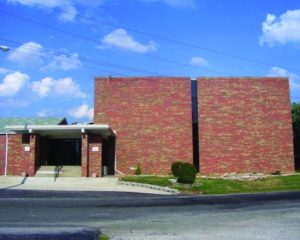 Special Miracles
"We have seen so many miracles," said Pastor Burk. "Different evangelists have preached throughout the country about various things that have happened here. We were growing where we were, in the smaller, older building. However, during revival services with my friend, Bro. T.L. Smith from Louisiana, we saw a lot of miracles that increased our faith and trust in God. He prophesied that we would double within six months, and we did. Then the next year, he came again and prophesied, in the middle of preaching, that God was going to move us out of the building we were in within six to eight weeks. He told us we might have to rent for a while, but that God would take care of all of the expenses. After that revival, we watched as God fulfilled that prophecy within six and a half weeks.
"My wife had injured her back in a car accident many years ago, and God healed her. Our assistant pastor had injured his knee and was headed for surgery, and God healed him. A man who had braces on his legs was completely healed."
Personal Ministry
The pastor reflected on his philosophy of ministry, "When in Bible college, many feel that ministry is going to be about preaching in the pulpit and people doing what you ask them to do. Ministry is more about digging deep with God, having a relationship with Him and trusting Him. Difficult times come, but we have to persevere and trust in the foundational principles in our life. My wife and family have been there for me, but personally it is about taking the Word at face value and just believing God for anything."
Pastor Burk enjoys preaching on faith and salvation. He said, "Never is there a point where all hope is lost. I am a believer that God answers prayer, but we need to be patient and trust Him when He doesn't answer for a period of time. One who greatly impacted my life in the area of faith was my pastor, Bro. Jerry Holland, in Springfield, Missouri."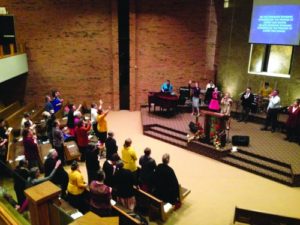 Current Facility
There were miraculous circumstances that placed Landmark Worship Center in the current facility. "Bro. T.L. Smith had prophesied God was going to move us out of our old building," said Pastor Burk. "We would drive evangelists we had brought in to see the Baptist church we were believing God for. We always told them this would be our next church property. I went to the Baptist church to talk with them, but they wanted 1.1 million dollars for the property. I explained there was no way we could do something like that by ourselves. A few weeks later, a storm moved north of St. Louis, then turned, came back and hit our old church building. We ended up having church in the Baptist church after the storm. They had asked us to pray about what we thought would be fair rent. We found out the insurance company was going to pay our rent, so we paid a portion of the utilities. The time came when the insurance company would no longer pay the rent. That week the Baptist church came to an agreement with us on a lower price. With the money we had saved and the insurance settlement, we were able to buy the building and remodel it, and it is totally paid for. Sis. Nona Freeman had preached for us and prophesied that God was going to supply a building that would be adequate for our revival."
The new church has 20 classrooms, a baptistery, a separate youth building, a parsonage that is rented out and a large fellowship hall. "We are definitely on the upswing," said Pastor Burk, "and through prayer, we are seeing backsliders come back to God. We are a revival church!"
Personal History
Bro. Burk grew up in Springfield, Mo. He noted his amazing Pentecostal heritage, "I got in church when I was 14 years old, under Bro. Jerry Holland's ministry. My parents had been in church and were away from God, but my great grandmother had lived on the Kansas/Missouri line in the early 1900s. During the time the Holy Ghost was being poured out in Stone's Folly, she saw the baptism in the Bible, and prayed for and worked on the rest of my family to get them to truth." He noted, "It was through the prayer and worship of the church in Springfield, under Bro. Holland, that faith in God was instilled in me.
"I felt a strong call to the ministry at 16. When I spoke with Bro. Holland, he told me he had felt the same thing. I preached my first sermon at 17. He began to teach me, and then I attended Gateway College of Evangelism and graduated from there. I met my wife, Rhonda, at college. Her parents, the Sheets, were missionaries to Haiti where we were later blessed to work at a Bible school through the A.I.M. program. I received my local license in 1983 in the Missouri district, then went back to Springfield and served as youth pastor there three years. We worked in a Christian school in Vandalia, Ill. under Pastor Ed Lucas and then moved to Wood River, Ill. and attended Bro. Lee Jackson's church. The Lord began to place a strong burden on my heart for Bethalto. We preached there, were later voted in and began pastoring there on May 11, 1994. There were only 13 people. At the first service, I just sat on the platform and had a chat with the congregation about my vision for the church and got to know them.
"The church was founded by Bro. Lester Bruce, who along with Bro. Rick Evans, pastor of Bethel in Saint Peters, Mo., had been giving Bible studies in Bethalto. The original church building, then Bethel Presbyterian, was built in 1865. As the new pastor, I started a future fund for the church, and that was the savings that was later used to purchase the Baptist church."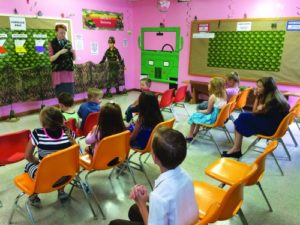 Human Interest
"I love to deer hunt and fish if I get the chance," said Bro. Burk. "My wife and I love to read, and we enjoy our time with our children and grandchildren. My favorite author is Jesus Christ, but I do like Bro. T.F. Tenney's books, and my favorite preachers are Bro. Jerry Holland, Bro. T.L. Smith and Bro. Wayne Huntley. In our home, we just enjoy the simplicity of sitting around with our family and having fun."