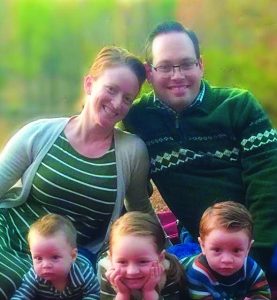 "And it came to pass in the six hundredth and first year, in the first month, the first day of the month, the waters were dried up from off the earth: and Noah removed the covering of the ark, and looked, and, behold, the face of the ground was dry. And in the second month, on the seven and twentieth day of the month, was the earth dried" (Genesis 8:13-14).
Noah's story (Genesis 6,7) is a story of starting over, of beginning with a fresh start. New Year's resolutions offer us a fresh start, a new commitment.
In golf, a "mulligan" is a chance—after a poor shot—to say, "I'll take another shot and that's the one that will count." A mulligan is basically a fresh start. Even God took a "mulligan," not because of a mistake on His part, but because those in Genesis 6 had made carnal decisions and choices. God said, "I will destroy man whom I have created from the face of the earth…" (Genesis 6:7). God showed He felt the need to scrap everything and start over.
Not Consumed: Why?
Sometimes we look at our own shortcomings and wonder how God could give us another chance. God puts in use "the mulligans." Lamentations 3:22-23: "It is of the LORD's mercies that we are not consumed, because his compassions fail not. They are new every morning: great is they faithfulness."
This fact helps us: the words mercies and compassions are plural, which means there is more than one instance of mercy, and compassions are in abundance. Three things become clear through this understanding:
God is willing to give us multiple chances within a single day.
God can give us multiple chances over the same issue.
In multiple similar mistakes, and in multiple single-day mistakes, God's mercies and compassions never fail.
We can fail and mess up so many different times, but because God's compassions and mercies are plural, they never fail to touch us. If we could have contact with a professional golfer who would offer us unlimited mulligans, it would be great! God offers us, as long as we have breath and are still here, an opportunity to start over. If you feel you've used up all of these privileges, know there is a fresh batch waiting for you on the front porch. They are just as real and new as yesterday's opportunities.
What Day Is It?
In the text, verse thirteen states the waters were dried up on "the six hundredth and first year, in the first month, the first day of the month" (Noah's New Year). Yet verse fourteen states, "And in the second month, on the seven and twentieth day of the month, was the earth dried." Other verse fourteen translations read "completely dry" (NIV), "at last the earth was dry" (NLT), and "earth had dried out" (ESV).
The flood waters were gone (verse 13), but mud and unsettled ground remained. The face of the ground was dry but not safe for Noah to exit the ark and possibly die in a mudslide. Noah could see it was READY to start over.
When you start over with God, don't allow fears to prevent you from beginning. You're not going to be perfect—nor will everything fall in order—on day one. It is a process that God puts you into that will eventually evolve you into becoming what He wants you to be. God still uses mulligans. In Noah's day, He did it without the human race. Today He does it WITH those who will allow Him.
That Which is Salvageable
A person may have the choice of bulldozing an old building, or of using the pieces of the structure that are still salvageable and working. In Genesis, God looked at the depravity of man and said, "Bulldoze it! I'll start over with Noah, his wife, their three kids and their wives. The rest, get rid of it!" But today, God looks at the broken pieces of people and says, "Let me see what I can make out of it. It's more of a remodeling project than a complete bulldozing project."
God still believes in starting over, in doing something new. He wants to do it IN you and not without you. "I want to take who you are, and what you are." When God gets ahold of you, He will make some changes in you and make you into something you didn't believe possible. As a result, we can become part of the start-over process today by allowing Him into our lives.
So how do we do this? For God to use Noah and his family in this startup process, there were some things that needed to happen. Genesis 6:8: "But Noah found grace in the eyes of the LORD." Let us not misconstrue the fact that without the grace of God, there will be no change. And without God's grace, there will be no difference made in our lives. We cannot ignore the passages of scripture that say that.
We must acknowledge there is a connection to obedience. Salvation is based on grace through our faith (see Ephesians 2:8-9), the gift of God, and not of works. We cannot earn or merit our salvation. It is strictly by the grace of God that any of us are here today, that we are not what we used to be.
There also had to be a plan for them to be saved from destruction. God instructed Noah to "make an ark" of so much length, width, height, and material, and with a door and a window. (See Genesis 6:14-21.) It was a detailed plan God gave.
A Plan of Detailed Design
There is a plan God has designed for us, to be saved from the destruction that is to come upon us as well. Peter responded to people who had become convicted and asked the question, "Men and brethren, what shall we do?" His answer was, "Repent, and be baptized…in the name of Jesus Christ for the remission of sins, and ye shall receive the gift of the Holy Ghost" (Acts 2:37-38).
Peter had already given them a message, as quoted in Acts 2:21: "And it shall come to pass, that whosoever shall call on the name of the Lord shall be saved." Yet sixteen verses later, the crowd was still asking, "What shall we do?" Some would like to take verse 21 along with Romans 10:9 and 13, and try to make a plan of salvation out of it. But those present didn't have that understanding in verse 21 because they were still asking with conviction in their hearts: "What shall we do?" They understood that was not the way, not the plan of salvation nor a finalized plan. They understood that what Peter was saying was the only way to be saved. Peter said, "Here are the basics: repent and be baptized in the name of Jesus Christ, and be filled with His Spirit."
When there is impending destruction, God does have a plan by which the human race can be saved.
Obedience as an Ingredient
What was required on Noah's part was obedience. "Thus did Noah; according to all that God commanded him, so did he" (Genesis 6:22). It was not enough for God's grace to be present. Not enough for there to be a plan. It was of necessity that Noah obeyed the plan.
The same is true for us today. Yes, there is impending destruction coming, and if there is a reason that we need to start over, to get our lives in the fashion that God would want it to be, we've got to follow His plan. We've got to be OBEDIENT to His plan.
If you say you believe but don't have anything to back it up, you're not doing any better than those in verse 19 (see James 2): "Thou believest that there is one God; thou doest well: the devils also believe, and tremble."
"For as the body without the spirit is dead, so faith without works is dead also" (James 2:26). The body without the spirit is dead. If there's no breath in the body, we know it's dead! James compared that fact to this: "…so faith, if it hath not works, is dead…" (verse 17). Salvation is based on grace through faith, but James said we show that we have saving faith by the works we perform, when we are obedient to the Word of God.
The mulligan is only of value when we know how to apply it. It is not enough for us to know God made a way of salvation. We must also learn how we can seize the salvation He has provided, and we can begin that process by obedience to the plan.
So why Is It So Important to Start Over?
"But the day of the Lord will come as a thief in the night; in the which the heavens shall pass away with a great noise, and the elements shall melt with fervent heat, the earth also and the works that are therein shall be burned up" (2 Peter 3:10).
God has promised He would not destroy the earth with a flood again, but one day He IS going to destroy it with fire. It is because of this impending doom that Peter made the statement in verse 9: "The Lord is not slack concerning his promise…but is longsuffering to us-ward, not willing that any should perish, but that all should come to repentance." God was careful to include the followers, to remind them of the impending destruction. He's patient; He's still offering a whole lot of mulligans out there.
We cannot abuse the mulligans God has given to us. He's giving us every opportunity we need to start over. He's not willing that any should perish. It's one thing to say, "I don't want anyone to jump off a bridge" but it's a big difference to say, "I'm not willing that anyone should fall off." God is not willing that any should perish. He is longsuffering toward us. God is offering us opportunities, giving us chance after chance. But He reminds us (verse 10), you can't abuse this; judgment is coming, and it will arrive. We must take advantage of the mulligans that God is giving us "for this moment."
Daily Routine
"But as the days of No-e were, so shall also the coming of the Son of man be" (Matthew 24:37).  What is eating, drinking, and giving in marriage? These are our daily routines. In Noah's day, they were going about their daily routine, expecting it to be another ordinary day…until the flood caught them by surprise and destroyed them. It's because they thought the mulligans would never cease. "There'll be another opportunity for me, tomorrow, maybe the next."
God is going to give you as many chances as He possibly can to help you get it right. But if you start ignoring those opportunities to get yourself right with God, if you stop taking advantage of the chances God is giving you, before long the mulligans are going to be gone . . . possibly in an instant. It's going to be on an ordinary day. It could be when your death comes, or when Jesus comes back for His people. Regardless, you may think it's just another ordinary day, and suddenly your last opportunity will be gone.
We're not promised another moment, or another mulligan.