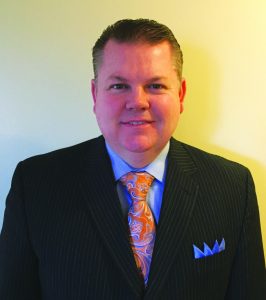 Bro. Marvin Arnold Jr., tell us a little about yourself and your ministry.
I pastor a wonderful congregation in the city of Keego Harbor, Michigan. We have at least 13 different cultures who attend our services, and our desire is to have an open door to all nations. I thank the Lord for allowing me to speak into the lives of young men in a number of our districts. Having a wonderful Pentecostal heritage, I desire to see churches have strong honorable men of faith. My wonderful wife, Teresa, and our three children, Nicole, Westan and Kaitlyn (twins), have served faithfully alongside me these past 17 years at Lakes Area Christian Life Center.
I am thankful to serve with so many great men and women in the Michigan district of the UPCI. I am honored to currently be serving as the Section 2 presbyter.
Why is this topic, Recovering from Failure, so important?
This topic is important because of the number of people who cannot seem to move past their failures. It is important for the church to help identify the roadblocks and hindrances that are in the way of an individual's return to a place of usefulness in the Kingdom of God. There are too many people, within reach of our church doors, with giftings that are lying dormant because of their fear in overcoming past failures.
What is the story behind what motivated you to address this topic?
My story is about a journey of recovery from failure. As a young man, I found myself in a place of moral and spiritual failure. I understand firsthand the effects that failure can have on one's future. Some rebound quickly from failure. Others, as I did, find themselves stuck in that place of regret, shame and inactivity. Failure, if not addressed quickly, can steal years off of one's effectiveness in the Kingdom of God. I thank the Lord for those who encouraged me and bolstered my faith into moving out of my "no man's land."
What are the primary tools Satan uses to destroy people that have stumbled?
(1) Isolation from the body of Christ — if he can separate you, you will begin to believe you do not belong in the kingdom of God.
(2) Condemnation — one of Satan's greatest tools is his supposed evidence room. If he can keep a person in a state of fear and worry about their past failures, he will have won, and they will remain in that place of confinement.
(3) Resentment — whether it be from a lack of self-worth or a lack of self confidence, it is easy to become intimidated by others who have seemingly done right before God all along, and become resentful at God's blessings on and in their lives.
What are the greatest tools God has given us to overcome or conquer Satan's lies?
Confidence found in the grace of Jesus Christ is one of the greatest tools. It is not in arrogance of lifting our head and hands after failures but a confidence that we are forgiven and the knowledge that He still loves us. Also, serving others takes the focus off of what we believe we cannot do and amazingly opens doors for our giftings to be recognized again. And, we have the affirmation from God and His Word. There are a lot of voices. The affirmation we are seeking must come first from God and not from those who have witnessed our failures. Jeremiah 29:11 states, "For I know the thoughts that I think toward you, saith the Lord, thoughts of peace, and not of evil, to give you an expected end." I often stress these words to those who are on the recovery from failure: "You may not be able to help everybody, but you can help somebody." Have faith in God's plan for your life. Last of all, there are people around you who want to see you succeed in the Kingdom of God. Thank God for your encouragers!
Who in the Bible best illustrates the principles of overcoming failure?
David certainly overcame some epic failures. Reading chapter 11 of Hebrews is like flipping through the class of faith yearbook. We read of Gideon the mighty man of valor, David the giant killer, and Samuel the prophet. Then there is a face that jumps out at us, but it isn't very recognizable to many of us, because it really doesn't seem he belongs there. In fact, he appears to be blind. It is the face of Samson. Verse 34, in the midst of this list of great accomplishments, says "…out of weakness were made strong…" I believe this applies to the life of Samson. Samson didn't have a Samuel or a Nathan in his life, but in his most public of failures, he showed his greatest desire by these words to God: "remember me." Samson asked God to strengthen him one more time. By placing his hands on the pillars, Samson, by faith, put his God-given gifting back into action. That was the moment he became an overcomer. Ask God to strengthen you one more time.
Can you share some success stories of those that have moved past their failure?
Failure does not just happen to students and young adults but has happened to couples, singles, pastors and saints. I have watched men and women rise from the ashes after forgiveness with humility, time, faithfulness and renewed credibility to be used greatly in the Kingdom of God. They are being used to be the greatest of soul winners, teachers, preachers and even pastors.
Tell us about the book you wrote on this topic. What are the major topics covered?
Escaping No Man's Land was written to encourage those who are stuck in that in-between place, somewhere between one's past failures and the future that God truly has for them. This book was written with young men in mind. With God's help, escaping "no man's land" is more than possible. The focus is evident by each chapter title: No Man's Land, How Did I Get Here?, An Esau Moment, The Importance of a Men-tor, I Will Arise and Go to My Father, The Second Call, Affirmation from God, The Lifter Up of Mine Head, Put Some Pavement Between You and Your Past, and Do Great Exploits.
How to order, cost, etc.
Escaping No Man's Land can be purchased through the Pentecostal Publishing House, SKU # 27943 or from myself directly using PayPal: arnoldmarv@yahoo.com. The cost is $10.99 plus $3.50 S/H.